Until recently I'd never heard of Ani (not many people have) in Japan. Located up in the wilds of Akita Prefecture on the main island of Honshu, the region is blessed with absurd amounts of 'Yuki' (snow) sweeping in from the Sea of Japan.
The whispers have been growing louder in the snow fraternity recently about the skiing in this remote powder paradise. Rumours of a hidden gem that's remained off the radar had my attention.
With hundreds of resorts located across Honshu and Hokkaido you'd be forgiven for thinking there's an untapped supply of powder to plunder. This was the case in the early 2000's where at the more mainstream resorts you could 'frolic in the deep' inbounds straight off the lifts.
Times have changed and the cover's been blown but there is still pockets of the old Japan to be found.
You just have to know where to look.
Japan has experienced an unusually warm winter this year. Resorts further south have struggled (particularly at lower elevation). But a favourable snow forecast for Ani had photographer Dylan Robinson and I weak at the knees (before we skied) and we headed north.
Admittedly our visit to Ani Ski Resort coincided with a full-blown Siberian weather bomb. From talking to our guide, though, this is the norm in January and February. The powder was deep and virtually untracked for our entire stay. Snow quality was also superb – maybe not quite as light as Central Hokkaido, but pretty darn close.
Ani is situated on the slopes of Mt. Moriyoshi, two double chairs and one gondola access some of the best tree skiing I've seen in Japan. Although originally built for summer sightseeing, the gondola is the main attraction, accessing the majority of the vertical.
A double chair to the skiers right offers a couple of groomed runs and some sublime tree skiing. At the base of the resort another double chair offers some intermediate trails and some steeper tree lines (worth checking out).
The terrain is what you'd expect in Japan resorts.  Not crazy steep, but steep enough.  There is a flat spot mid-mountain which is serviced by a handy rope-tow. Consistent fall-line skiing is on offer in every direction.  At higher elevations, snow laden Beech trees are in abundance, whilst lower down there is some great skiing through mature pine forests (unusual for Japan).
Backcountry skiers and boarders will be blown away by the amount of terrain on offer from the top of the Gondola. The weather wasn't favourable for us to venture too far afield (although we didn't need to). Brief clearings in the storm revealed long descents off a series of ridges through stunning forests all the way to the valley floor.
Local knowledge is as always key, so hire a guide.  We enlisted the services of local guiding company Riki Japow Guide.  These guys run a great professional show with highly skilled guides. Yu Sato was our host for the day. Yu grew up in the area and definitely knew where to find the goods.
Although not steep, this is no place for complacency.
Be sure to carry all the appropriate equipment and know how to use it.  Navigation can be tricky with steep drainages and gullies. Stay out of them. Help is a long way away if something goes wrong.
At first I was hesitant to lift the lid on Ani.  It was only after speaking with the warm friendly locals I could feel the sense of pride they have in their mountain.  They're actively trying to attract more international guests to this truly hidden gem. Do whatever you can to get here soon.
When you do visit Ani, you'll be greeted by 'Hokuto' the Akita dog and resort ambassador. These pooches are famous in the area, Hokuto would be one of the biggest celebrities in Akita.
Where to stay
We stayed at the wonderful Hotel Fusch just a minute's drive from the slopes. There's no village at the resort hence no ski in ski out accommodation. But the amazing hosts shuttle you everywhere as part of your package, so you're set.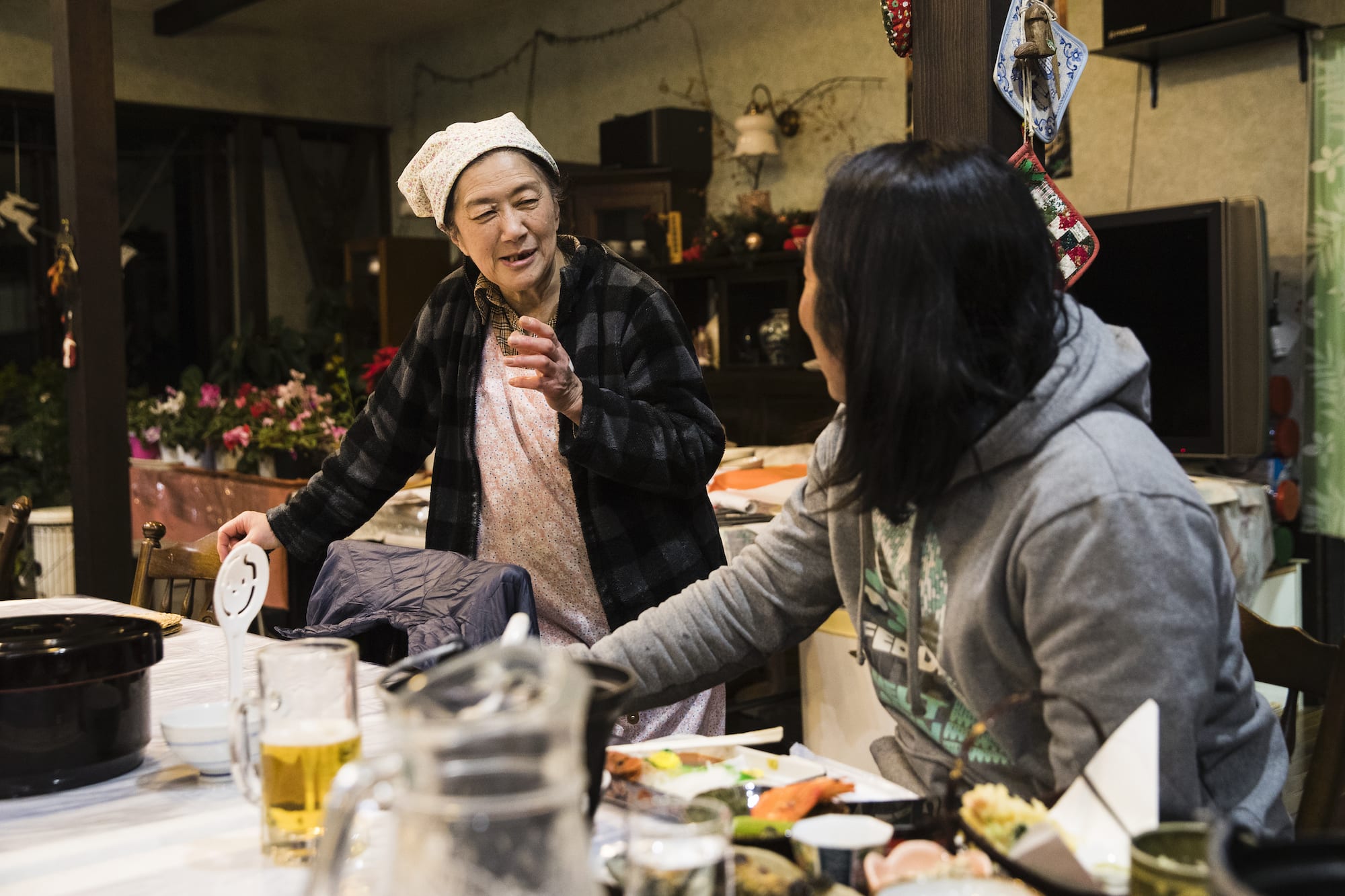 On our first night we were the only ones staying at the pension where our host 'Mama' prepares mouth-watering breakfasts and dinners full of Japanese delicacies.
Rooms are clean and warm and guests can take advantage of discounted lift tickets priced at 2,500 yen (yep that's about 30 Australian dollars).
Getting there
The best way to experience the commute is by rail, it's visually stunning. From Tokyo it's definitely a case of the fast and the slow. Hop aboard the JR East Tohoku line for the fast part and hop off at Kakunodate station.
Now this is where the journey slows and the visual overload begins. Transfer onto the Akita Nairiku line for the final leg of the trip.
It feels as though you've gone back in time when travelling on this route. Snow covered farmland blends with spectacular mountain vistas. It's obvious we were in the right spot on account of the number of people lined up on the platform with cameras.
The train itself is delightfully old fashioned and the driver even stops along the way so you can get your Instagram game on. Aniai station is your destination. Not to be confused with 'Ani' the resort which is a 20-minute commute from the station, your pension hosts will arrange transfers for you, they'll most likely pick you up themselves.
Need to know before you go
Take cash! Most of the smaller train stations and accommodation providers only accept cash. ATMs are hard to find, if at all, so grab some yen before you go.
The nearest township is 20/30 minutes away. Whatever you think you need in regards to conveniences take them with you. Don't bank on going to town.
Ani does have a great little lunch café and souvenir shop. They also have a ski hire with basic equipment. You'll need to bring all your own specialised backcountry kit if venturing further afield.
There is very little English spoken in the region. If you can, brush up on a few basic words and phrases to make everyone's life easier.
Ani is one of those places that requires some time and planning to reap the rewards. If you're after ease of access, convenience and luxury pow, this is not the place for you.  For the adventurous spirit who subscribes to the ideal of paths less travelled this is definitely the place for you.
---
Please help SnowsBest remain your independent source of snow news this winter with a "Covid contribution", from as little as $1, so we can continue to deliver the news and content you value in a season when we need each other most. Contribute here.
---