It'll be soon time to travel again – and the major benefit of lockdown is that we've spent all our time researching the places we want to go first for our upcoming ski and snowboard holidays.
Top of our list are all the Japanese destinations that get all the powder and less of the glory. You can uncover the best skiing and snowboarding by day, having the slopes all to yourself – and while not on the mountain, explore authentic cultural experiences such as castles, villages and stunning natural wonders.
This is where Aomori prefecture comes in. It's home to plenty of wilderness, World Heritage-listed sites, delicious seafood and famous sake; plus incredible events like the Snow Lantern and Cherry Blossom Festivals. Get there easily via the JR Tohoku Shinkansen (bullet train) from Tokyo, as well as regular JR trains, highway buses and by car.
Keen to discover more? Here are the top destinations to tick off in the region, both snow and non-snow-related.
Hakkoda, a backcountry Mecca
Those hunting for waist-deep powder will already have heard whispers of Hakkoda; it's a bit of a mecca for snow lovers, with approximately 15 metres of the white stuff falling every season. The base alone can be up to four metres, guaranteeing it as one of the snowiest places you'll ever visit.
It's not the easiest mountain, being more of a ropeway that provides access to the backcountry ski areas rather than a traditional resort; however, skiers and boarders who love their snow off-piste will be in bliss, surrounded by snowfall and endless possibilities.
You don't have to be an advanced or expert skier/rider to enjoy the mountain either; there are five runs suitable for intermediates, although it's not highly recommended for families. Keep an eye out for the region's famous 'Snow Monsters', giant trees covered in ice; plus the tree skiing, which will have you skiing and riding through tunnels of white trees.
There are always risks to be found with skiing and boarding backcountry style wilderness so it's encouraged to ski with a guide, always carry backcountry gear and have your avalanche training sorted.
Best of all? Hakkoda is just a three-hour bullet train from Tokyo to Shin-Aomori, then a 45 minute shuttle to the Sanroku Ropeway Station at the base of the Hakkoda ski area. You'll also find a hotel there, with an onsen to rest your weary legs with a beer from the vending machine after a big day on the slopes.
Side trip – the picturesque Tsuru-no-Mai Bridge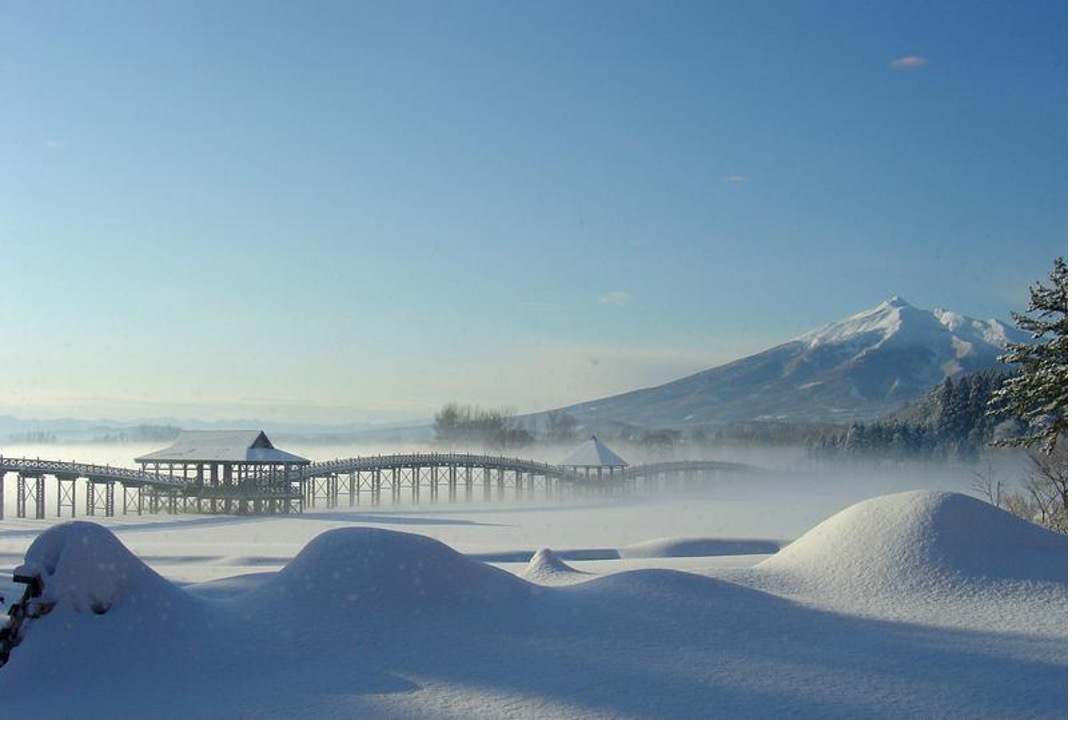 For winter scenery and insta-worthy shots, there's no missing the Tsuru-no-Mai Bridge, which passes over the Tsugaru Fujimi Lake and reflects Mt. Iwaki.
This is Japan's longest triple arch wooden bridge, around three hundred metres in length and over 150 years old.
It's said that visitors who walk across the bridge will have a long life, so you know it's worth the visit – think of all those times you'll be able to come back and enjoy powder runs when you're enjoying your long life.
Side trip: Winter Cherry Blossoms in Hirosaki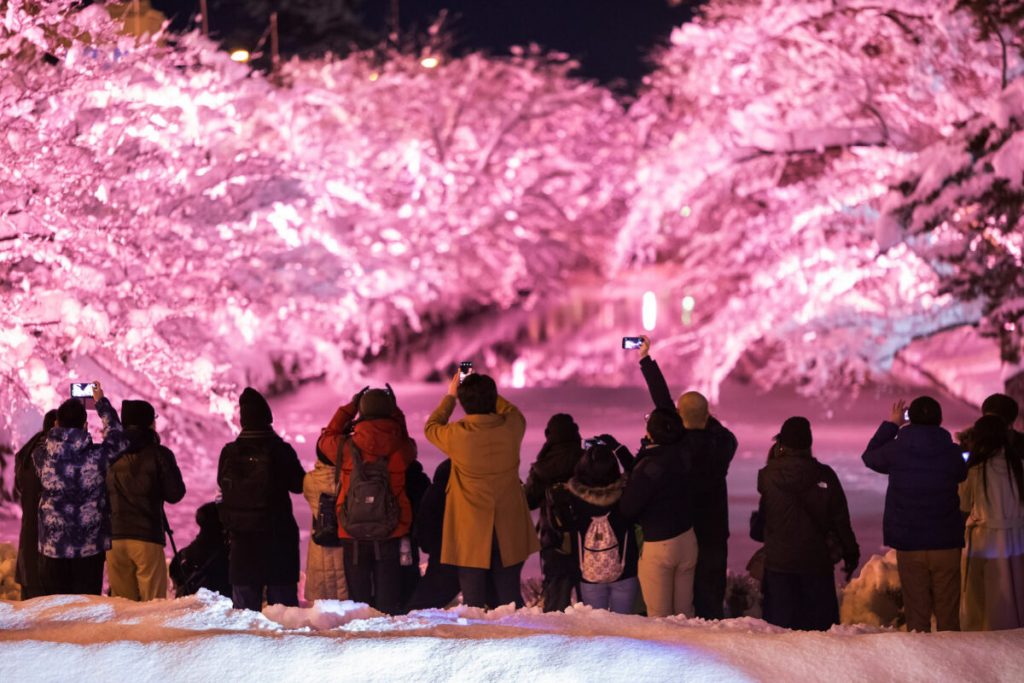 Think you can't experience Japan's famous cherry blossoms during winter? Think again.
Through some clever optical illusions using pink lights to illuminate snow-covered trees, the Hirosaki Park in Aomori creates the illusion of cherry blossoms right in the middle of February. Actual cherry blossoms still pop up across the trees around April, but it's great to be able to see the closest thing when you don't have the luxury of time.
You'll also find the 400 year-old Hirosaki Castle nearby, one of the twelve Original-Construction Japanese Castles and considered to be one of the best cherry blossom viewing spots in the country, with 2600 cherry trees in close surrounds making for a stunning view over the frozen moat.
Ready to visit? Find out more about the Aomori Prefecture here.