Sexy S-curves on untouched, ivory meadows. Powder snow tickling my earlobes, caressing branches of Aspen firs. Sparkling blue-sky days. Rambunctious nights.
They say you never forget your first love. Aspen Snowmass and I are approaching the 10-year anniversary of our first date, but my memories of her are as crisp as the corduroy groomers she greeted me with over coffee each morning.
She was my first North American ski trip – my first 16-hour flight across the Pacific to the land of stars and stripes. I had finished a year of university and was staring down three months of summer holidays in Australia – eight months before I would have a chance to click boots into bindings again.
It was time to pop my Aspen cherry.
After 16 cramped hours riding an economy cabin between Sydney and Los Angeles, my first impressions of Aspen's beauty were muted by the classic cock-blocking manoeuvres of airlines: my luggage was lost. When we finally located it in the labyrinth of security screenings that is Los Angeles International, there were overnight delay and next-day delays. A day's journey became nearly three.
Eventually, flying into Aspen airport – a dramatic event as pilots navigate over a cauldron of surrounding mountains to drop into the scenic valley with its snow-laden airstrip – was coloured by my jetlagged frustration.
But I made it to Snowmass village in time for a romantic evening: a blizzard swirling into town.
Fortunately, two Colorado locals made it their mission to wingman my date. The owners of a Snowmass ski shop – where I strolled in hoping to purchase a new set of ski boots – set about finding the perfect boot to fit the "crazy Aussie's" bunion-clad feet.
Chuck, with his Midwest drawl and deep booming laugh, raced around the shelves pulling down every brand and size. Larry, a New York Rangers tragic and diehard fisherman, stretched and warmed the stiff plastic for me to slide gently into. After two hours, I came to understand the warmth and open-armed welcome I'd heard "real" Aspen locals were known for. I'd tried on every boot in the shop. The beauties I left with still fit perfectly.
In what might be considered the first kiss of ski resort love – it snowed the very first night. I woke to one of those fabled bluebird powder days made famous by Warren Miller films. With chairs cranking at 8.30am, I was riding at 8.31.
First, I chose a get-to-know-you carve down broad, empty groomers, freshly crimped under the rising sun. No hard-packed ice rose up like in Australian resorts. Aspen corduroy stayed reliably creamy and grippy under-ski.
Next, she took me to the top of "The Cirque" – a 12,500-foot (3800m) peak, almost two times the height of Australia's highest lifted point. Endless fields of meadow powder rolled out above the tree line, with stark views over the Rockies in 360 degrees.
She tested me more after that – with a huffing clamber from Elk Camp to the Burnt Mountain Glades, where the "Long Shot" ski run pinged me into the deepest most exhilarating, exhausting, powder run of my life. It was only when I reached a tree with a sign that said "you are halfway" that I realised my love must be slightly insane.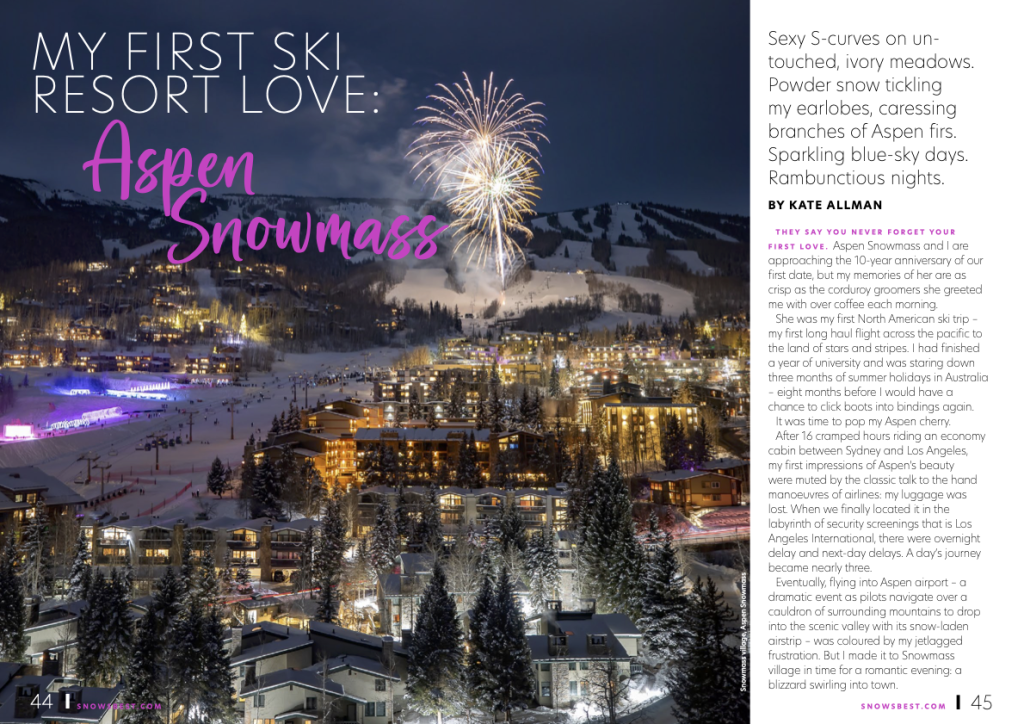 I recouped energy with a burrito I still dream of decades later – swollen with tangy pulled meat, guac and salsas, from a tin van serving takeaway Mexican in Snowmass Village. American food servings, I discovered, are sized to fuel an army. My snow pants grew tighter as I fell for Aspen, but at least I grew a plush backside to land on (literally).
I was swept off my skis discovering Buttermilk, a small area with deceptively humungous terrain parks. Home to the X-Games and hordes of extremely talented aerialists. I caught the late bus home with a bruised bum and my snow gloves covered in chocolate and marshmallow debris – courtesy of free s'mores cooked by beaming resort staff over an open bonfire.
Much like the early days of dating someone new, the trip became a dreamy blur. Mornings spent hiking Highlands' bowl, afternoons bopping between the moguls of Ajax (the original Aspen resort). Sipping Sydney-quality lattes in cosy cafes, drinking in the cowboy culture of the town's gold rush history, downing shotskis with random new friends, dancing in ski boots, and spotting the Obamas on their family weekend away (yes, this happened).
Sure, my love has been around; Aspen has a reputation globally. She's a magnet for every type of skier, from Olympians to politicians to housewives of Beverley Hills.
She's full of contradictions: cowboys click spurs next to snow boots and designer heels. She's outdoorsy, sporty, totally bougie. And she dropped me as soon as I my money ran out.
I can't wait to see her again.