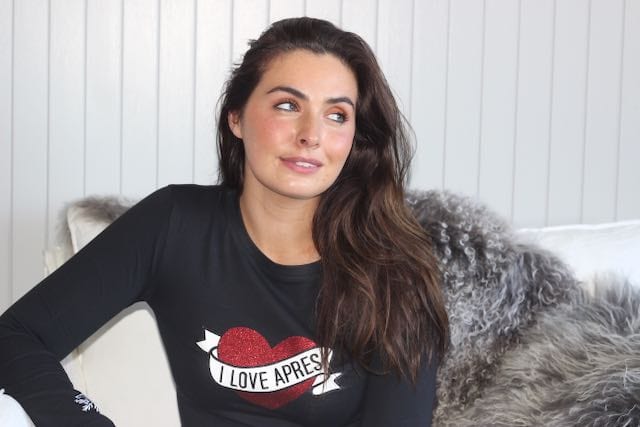 Gabi Robertson and Julie Bourke are long time ski buddies, local to the Snowy Mountains in Australia. Their friendship is cemented by a mutual love of fashion, skiing and après and the business they share, Snuxe Active Fashion. 
Once known as Snow Angel, the brand has evolved from fun loving tees and cushions to full blown active wear by day and après gear by night. Now known as Snuxe, the girls have cemented their Snowy Mountains brand in ski towns around the world and are now stocked in Vail, Aspen, St Anton and beyond.
Oh, and we have their winter beanies exclusively in the SnowsBest store, alongside our favourite capsule of long sleeved tees.
We caught up with the mountain entrepreneurs to find out how it all began.
How long have you been friends and where did you meet? 
We both moved to Thredbo 30 years ago and have been great friends ever since. We actually met in a clothing shop and realised we had a lot in common. Our business motto is "family and friendship first" as we never wanted to lose the sense of fun and passion that started it all.
Where do you both ski and live?
We are Thredbo girls at heart but happy to ski on any mountain there is snow. When the mountains are calling we always go, after all any day skiing is better than a day in the office. We are both lucky enough to live in The Snowy Mountains so when it's a Powder Morning it often calls for an official AGM on the first chairlift.
When did you decide to go into business together?
This year is actually our 10th anniversary. After running other businesses, we decided to pool our creative talents and our love of fashion and branch out with our own clothing label. We started out as SnowAngel Australia (which is still our registered business name) but our clothing brand is now called SNUXE. This name change has allowed us to expand internationally.
How has Snuxe evolved since launch?  
We saw there was a gap in the market for après fashion and our dream was to expand overseas. You can now find our t-shirts in some of our most fave iconic ski destinations around the world like Lech and Aspen. SNUXE has given us an amazing opportunity to travel to some fab destinations and follow our dreams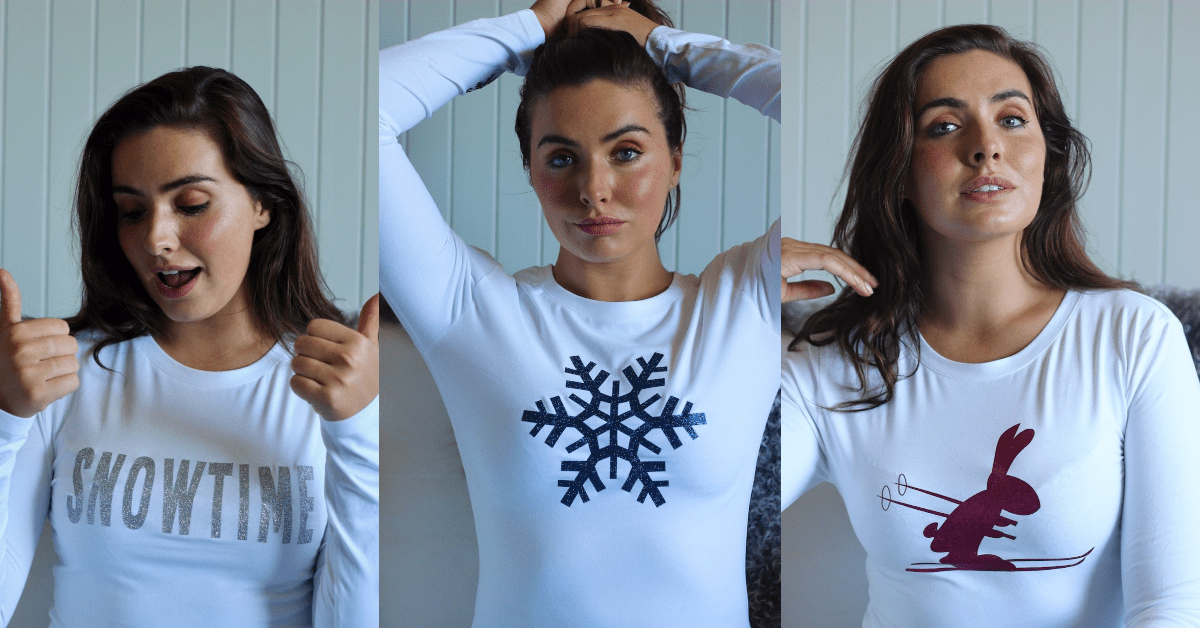 What are you most proud of about your business and your products?
We personally print every single t-shirt that we sell right here in the Aussie Snowy mountains. It is a labour of love. All our activewear is made here in Australia. We pride ourselves in doing all we can to promote ethical manufacturing.
We have had many "pinch me" moments thanks to our business, from trade shows in New York to sales trips to the Alps, seeing our product in the Iconic ski stores has definitely been something we are super proud of. We still LOVE seeing any of our creations on our beautiful customers as after all that's what they are made for.
What do you love about your customers?
We absolutely love our customers, that is the greatest joy we have taken from our business. We constantly receive messages and photos from all over the globe from customers telling us how much they love our clothing. There is something really magical about the snow community and we definitely love making people happy. 
What makes SNUXE unique?
Well our designs are definitely unique. We are the first company to sublimation print winter designs on high performance compression fabric and feel like we are still leading the way with this, we were actually a couple of years ahead of the big brands. We built the brand on creating a sense off community as after all who doesn't love a good snow story.
Where's your favourite place to ski/board and why?
Well we would have to say Thredbo, there is nothing better than a great day skiing in your hometown, but find us a patch of snow anywhere in the world and we won't say no. 
What's your après drink of choice?  
Oh do we have to have one, haha… well probably rum and hot choccy, followed by bubbles, followed by Gluhwein and we are quite partial to a hot cider. We think our new t-shirt pretty much sums it up……"Twinkle Twinkle little Star Take Me to the Apres Bar."
Check out our SNUXE Capsule here.
---
While we have you, help SnowsBest remain your independent source of snow news this winter with a "Covid contribution", from as little as $1, so we can continue to deliver the news and content you value in a season when we need each other most. Contribute here.
---