It's good news this week from Alex Zadnik, our resident meteorologist. Australia can expect cold temperatures favourable for snow making. Trust us, this is better than rain so we see it as good news. Seriously, silver lining and all that.
New Zealand has some snow on the horizon, after some rain, but it's early days as it's only June and 'winter' doesn't start for a couple of days so best you chow down on those sticky buns in Arrowtown and count the snow flakes.
The resorts in Australia are pumping out the man made snow and grooming like mad so you'll always find a turn to be had even if it's a left one into the bar. 
Australia – breathe in breathe out
Cold weather has returned to the Australian ski resorts this week, after relatively conditions last week. A cold front crossed Tasmania, Victoria and NSW on Tuesday, bringing lower temperatures and fresh snow falls of around 5 centimetres. However the base cover is still marginal after last week's rain.
Colder air will linger across the resorts for the remainder of the working week, with ideal conditions for snow making. There may be the occasional dusting of snow but no large natural snow falls are expected.
A large high pressure system will settle over the resorts this weekend, creating relatively light winds. Visibility should be reasonable as well, although there could be some lingering cloud on both Saturday and Sunday.
It's probably a good weekend for beginners though given the benign weather and the prospect of increased cover in the snow-making areas.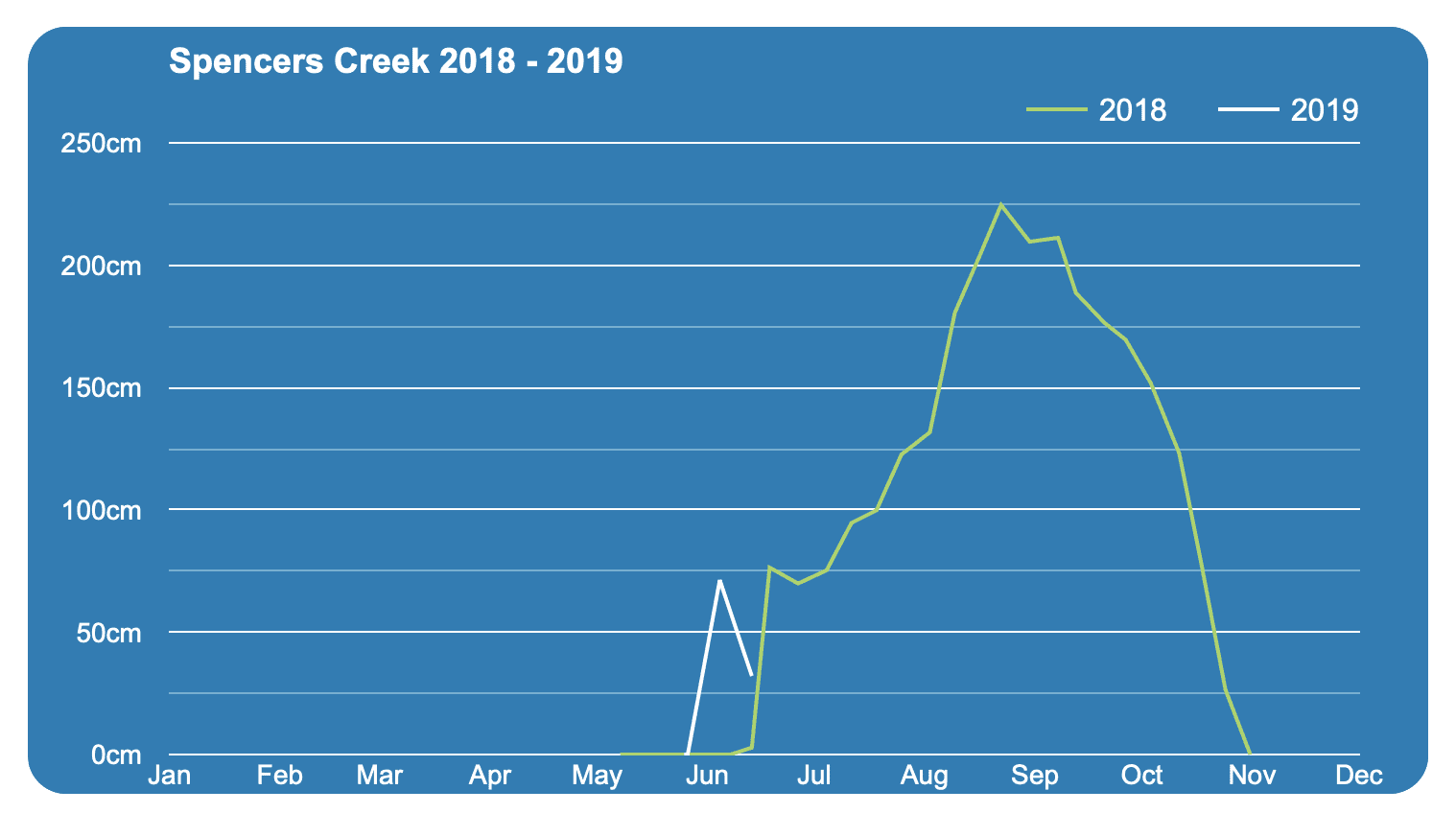 Days will become warmer through next week, although sub-zero degree nights should allow for further snow making. The large high will only move slowly eastwards towards the Tasman Sea next week and block the approach of cold fronts from the west. A mild northerly airstream will become established under this scenario, pushing daytime temperatures above zero.
Therefore it is unlikely that we'll have a substantial natural base before the end of June. There is the prospect of the blocking pattern breaking down in early July, increasing our chances of fresh snowfalls.
More on the Australia resorts in the detailed
7 day forecast pages.
 We update our forecasts every 12 hours so refresh your pages.
New Zealand – snow is possible
New Zealand has been under the influence of a cold southerly airflow in recent days, with a top-up of fresh snow helping to maintain a modest early base of 10-50cm across the South Island ski fields.
A high will bring settled conditions to New Zealand on Wednesday, with lighter winds and mostly clear skies in the morning. High cloud will increase later in the day with the approach of a low pressure system from the Tasman Sea.
This low will bring rain periods to both the North and South Islands on Thursday, with the potential for moderate falls. Snow is possible on the higher peaks of the South Island but the lower runs are likely to stay wet for most of the day.
Colder weather and snow falls will spread across New Zealand on Thursday night and Friday, with 10-20 centimetres possible for the Wanaka and Queenstown ski fields (and generally less elsewhere). 
A cold southerly airflow should persist across the weekend and some additional snowfalls are likely over the South Island. Another 10-20 centimetres is possible but it's going to be a bit hit and miss given there is uncertainty on the track of the low across the nation.
A large blocking high should drift slowly towards New Zealand through next week, bringing cold nights and mostly clear days. No significant snowfalls are expected but conditions should be good for snow making. The blocking pattern is likely to persist until early July, limiting the prospect of further snowfalls until then.
Patience is the key this early in the season for both Australia and New Zealand. 
More on this in next week's update and keep an eye on the New Zealand 7-day mountain forecasts in the meantime. We update our forecasts every 12 hours so refresh your pages.
This week's weekly weather forecast blog is brought to you by Lotte Arai, Japan's best free ride resort.