I was standing at the top of a chairlift in Falls Creek, enjoying the morning bluebird skies, when a snowmobile pulled up beside me. Attached to the back was a trailer-like sled with four plastic seats on it, snowboards on the bottom, ready and built to glide along the snow.
"Leave your skis off when you get on," the snow mobile driver, Steve, advised. "It's more comfortable that way."
Sure enough, the sled was carpeted beneath my feet. I awkwardly clambered sideways onto a seat, tucked my skis into place, and then held on for dear life as we roared into the backcountry.
This wasn't any average snow mobile tour, and my guide wasn't just any average Steve; I was on the Steve Lee Backcountry Tour in Falls Creek, run by former Olympian, killer free rider and all-round ski pro/very kind person, Steve Lee.
They reckon his backcountry tour will be your 'best day on snow', which is a bold claim to make. So like a true snowbound guinea pig (life's tough isn't it?), I gave it a whirl.
The What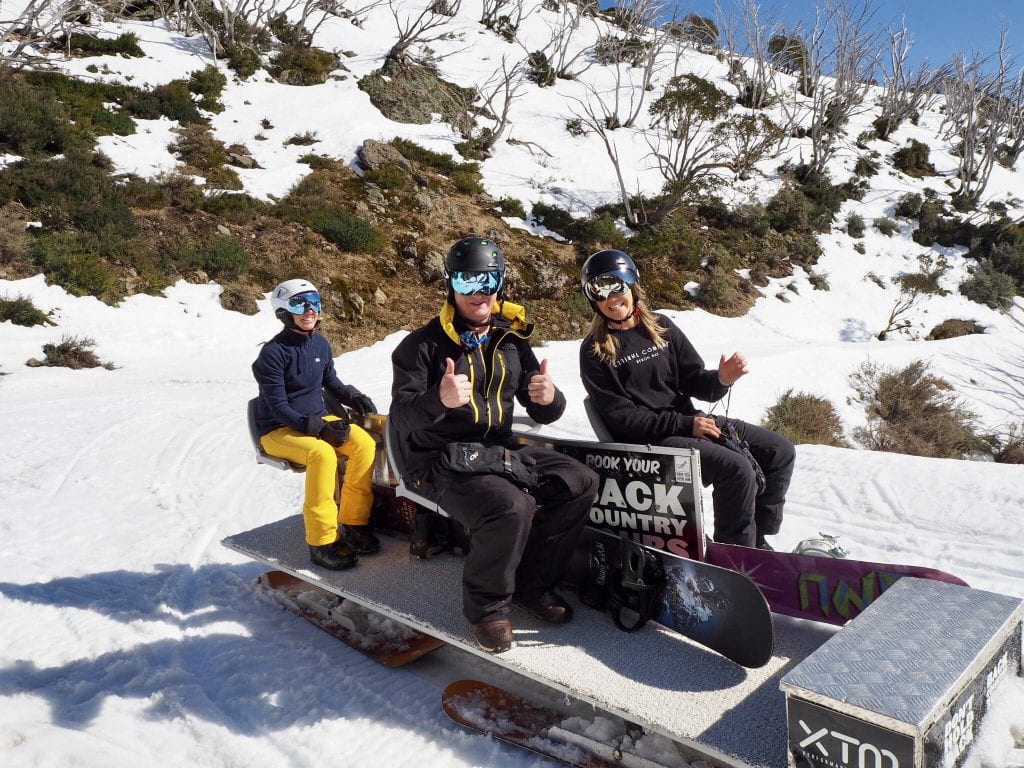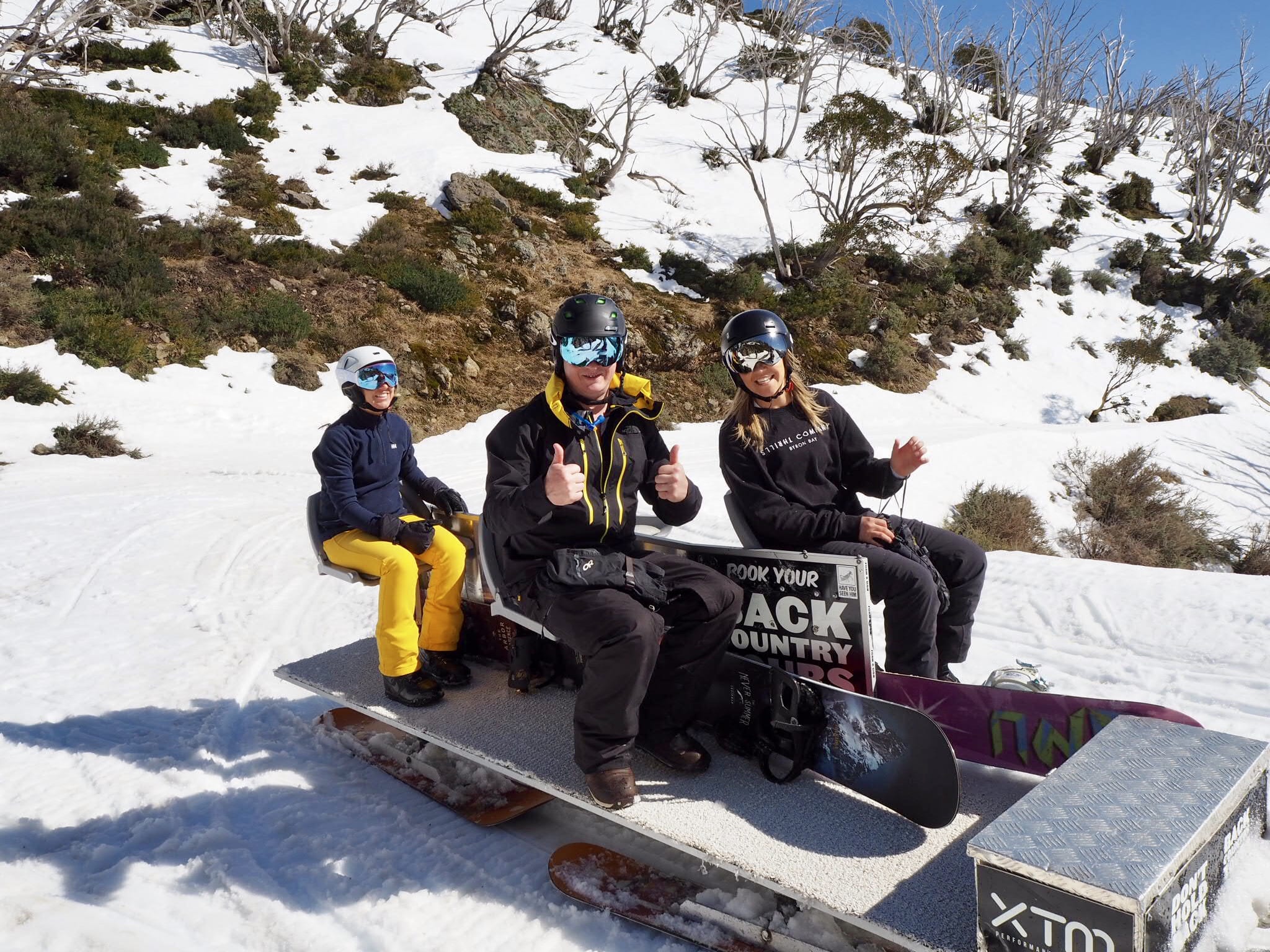 If you're looking for unique, it's absolutely the tour for you. You can't commercially ride snowmobiles in any other Aussie resort, making this the only snowmobile-lifted backcountry tour in the country.
Tours run twice daily across the 450 hectares of the Falls Creek backcountry around Mt McKay and beyond. Expect to spend three hours out on the mountain – we got 10 decent runs in throughout that time, but that can vary depending on group ability, snow conditions and all those other little fun factors that come with weather-related activities.
Your guide (Steve) will talk you through each run before leading you down, being sure to point out any hazards along the way, and the snowmobiles will be waiting at the bottom for you, ready to take you back up to top. All you have to do is hold on tight (and I mean tight, there are no seatbelts but there can be bumps).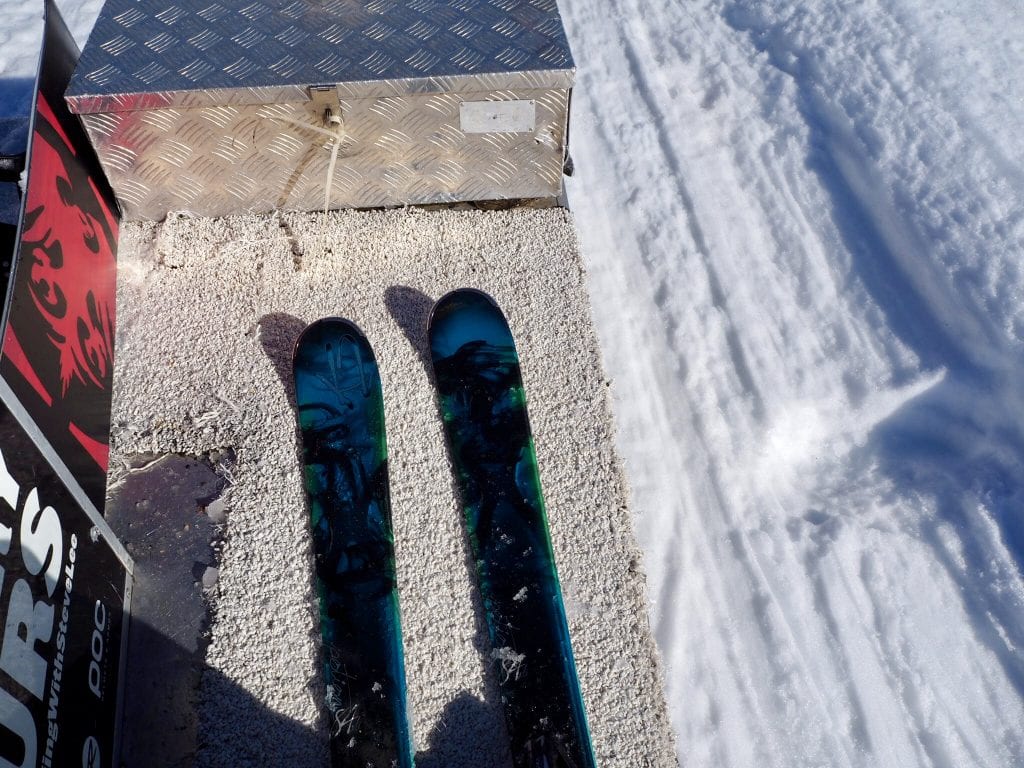 The Where
Steve has been a Falls local for a fair bit of time now, and he and the guides know the backcountry from front to, well, back.
We did everything from wide-open powder bowls to some cruisy tree skiing, along with a couple of steeper sections and more challenging rocky gullies. Expect intermediate to advanced terrain, but plenty of decent snowfall, even surprising amounts at times.
I skied in early September after a bout of bluebird days and even some rain, but there was still about a metre and a half of snow base in the backcountry, and the lines had been beautifully softened up by the sunshine in all the right spots. It's obviously the tour to be on when a powder day rolls around, although spots book up super quickly, so keep one eye on the forecast and one on the website.
The How Much
Backcountry activities can be pricey, and snowmobiling isn't the cheapest activity in the world, so you'd expect the combination to be tough on the wallet.
But the best part about this backcountry tour is that it's surprisingly reasonable for what you get – $169 for as many runs as you can possibly get in. That could be ten runs or more of decent length and time.
This is because the snowmobiles are quick to get up the mountain, and it only takes a few seconds to get on and off the sleds. If your group is relatively fast-paced in getting their gear together and kicking off with some laps, the crew will just keep taking you out until the tour is up.
It's the perfect option for those who want to try the backcountry but don't feel brave or fit enough to venture out touring; and it's even better for those whose budget doesn't stretch for heli or cat-skiing, because you still get the feel of heading out into the wild in a really unique way without the serious price tag attached.
The Must Know
To make the most of the tour, you'll want to be a comfortable intermediate skier or boarder at the very minimum, preferably with a little experience off-piste. Steve and his team of guides are nurturing and reassuring in the perfect kind of no-nonsense way – so if you're nervous about your ability or wanting to skip a particular run, you can easily stay on the snowmobile until the right terrain comes along for you. 
It's the right tour to be a skier! Snowboarders have to remove their board after each run and tuck it underneath the sled's seats, but skiers just climb right on.
Take note, however, that you may need powder skis if the conditions call for it. I was rocking an 84 underfoot but could've used 100 in the softer conditions that demanded a little more floatation.
Don't worry about taking a backpack with you; there's water provided by the crew, and you'll be moving way too quickly and having way too much fun to take more than a couple of iPhone snaps. Throw whatever you need in your pockets and don't forget a helmet.
Ride solo if no one wants to come along with you. I was alone and so were a couple of others in the group – it's super easy to make friends and chat as you're going back up the mountain.
It is hugely addictive, so apologise to your credit card and be ready to book for a couple of days out there if the conditions are right.
Natalia was a guest of Backcountry Tours with Steve Lee and Falls Creek – click here to find out more about them.