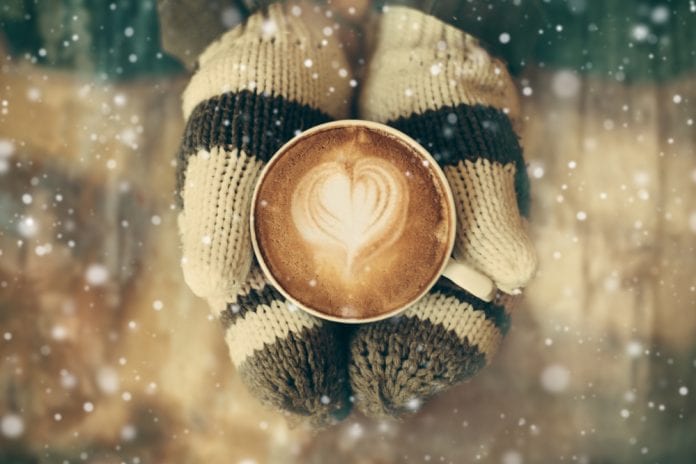 Aussies are notoriously spoiled when it comes to the first meal and drink of the day. Our smashed avos, flat whites and multiple variations of eggs benny have all lined up to make us seasoned breakfast connoisseurs, and a bad North American drip coffee can have us crying into our ski gloves.
British Columbia is, happily, home to many who know the value of a delicious brekkie and baristas who know exactly how to make a coffee just the way we like it.
We've been across the province and back again to bring you the very best from each resort so you need not cry ever again.
Enjoy.
Gnarly runs, gnarly breakfast
You need to fuel up for a day at Kicking Horse Mountain Resort near Golden, because all those double black diamond runs aren't going to ski themselves. Head down to the Double Black café at the base of the mountain for a fresh brew of local coffee beans alongside a serving of their famous Egyptian-style dukkah eggs, or a classic Eggs Benny. You know it's good because you'll hear the Aussie accents.
Dose in Revelstoke
Everyone anywhere near Revelstoke talks about Dose, and with good reason. This caffeine and cuisine delight is all very 'now' and 'you be you' – but in a heart-warming ski town kind of way – with baked shakshouka eggs, skillet dishes, avocado delights, goodness-style bowls and local baked goods all on the menu.
The owner, John, is Australian, which means that really good piccolos are always on offer. And the cafe itself is dotted with mountain types with toques and laptops covered in snow brand stickers who come for the Phil and Sebastian Calgary coffee. You may never want to leave. Until, of course, you want to go skiing at nearby Revelstoke Mountain Resort.
Whistler, where the options are endless
Welcome to Whistler, where you can easily spend an entire week just going from restaurant to restaurant, sampling all the goodies up for grabs. Start at The Green Moustache, which offers up all-organic food packed full of goodness to keep your body happy and healthy, including smoothie bowls, a Veggie Chilli and superfood-laden treats.
Carb lovers, go straight to purebread, a family bakery which was established in Whistler and offers up fresh bread along with every other savoury or sweet item you could possibly imagine in a display worthy of a Da Vinci painting.
And for the coffee to go with your baked good, don't go past the team at Mount Currie Coffee Co. These self-confessed coffee geeks will do everything in their power to make you happy when taking a sip from your coffee cup. Or, if you're in a rush to get skiing at Whistler Blackcomb, drop into the Living Room cafe and bar at Pangea Pod Hotel to find a delicious (and authentic) flat white on the go.
Nelson delicousness
Nelson, the town that's home to epic local mountain Whitewater Ski Resort, is known for being alternative and charming. But don't worry, it's not all protein balls and matcha teas in these parts.
If you want a truly delicious breakfast with a decent coffee, head to Marzano. Behind the motel facade of the Best Western lies a shiny urban retreat with neutral hues and tiny tiles, leather booths and curated stools. They'll serve up avocado smash, lashings of arugula, sautéed mushrooms and house-baked bread from Kalso Sourdough. You're welcome.
Just after a damn good coffee? Head to No6 Coffee where you'll find an Australian barista who will serve up the most perfect flat white you can have this side of the world. No6 pride themselves on ethically sourced speciality grade coffee roasting with a tasting bar where you can seek expert coffee advice and education. Ohhh, fancy.
Pastries, pastries, pastries in SilverStar
If there's any excuse to start the day with a cinnamon bun or two, it's skiing and snowboarding because – you know – calorie burning and all. Arrive at SilverStar Mountain Resort and follow the smell of glorious carbs to find Bugaboos Bakery Cafe.
Having first opened in 1996, they offer up a huge variety of delicious baked goods, including pastries, sausage rolls, meat pies, paninis, cinnamon buns, pretzels, banana eclairs and plenty more, all made with real butter or olive oil. Plus coffee with Italian espresso and hot chocolates with imported Dutch cocoa. Hello lover.
Local Rossland goodness
Skiing RED Mountain Resort? If you're lucky enough to stay at swanky ski-in, ski-out The Josie Hotel, you'll find a delicious breakfast menu covering off hot steel-cut oatmeal with almond strudel, alongside breakfast sandwiches and classic big breakfasts. If you're not staying here then arrive before first lifts and pull up a dining seat.
Need good coffee?  The Seven Summits Coffee Company serves up superb coffee with organic, fairtrade, premium beans that are roasted right there in town. The beans are even used to make the local favourite beer, one inspired by espresso, the Coffee Bomb Blonde at the Rossland Beer Company.
Breakfast mimosas in Fernie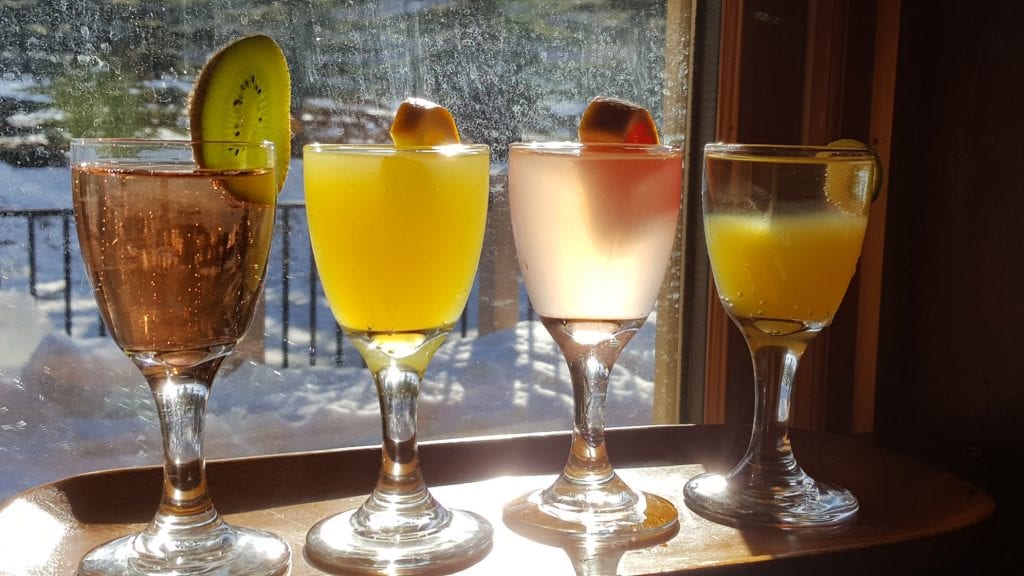 Did anyone say… mimosas? They sure do at the Blue Toque Gastro Diner, which serves up 12 different variations of everyone's favourite breakfast beverage in a flight, flask or round trip (go for the round trip tasting of all 12 – you know you want to). Their breakfast and brunch menu is also next-level delicious, including a brunch empanada, Persian eggs with dukkah, jackfruit tostados and all kinds of other goodies. Find them in the historic arts station, in the village of Fernie just down the street from Fernie Mountain Resort.
Then for your coffee, head to the Big Bang Bagel and ask for a single shot of espresso with steamed milk, which will get you a piccolo latte. They serve up Cuppers Coffee beans which are smooth and velvety, along with the bonus – fresh bagels. Nom nom.
The locals' favourite at Sun Peaks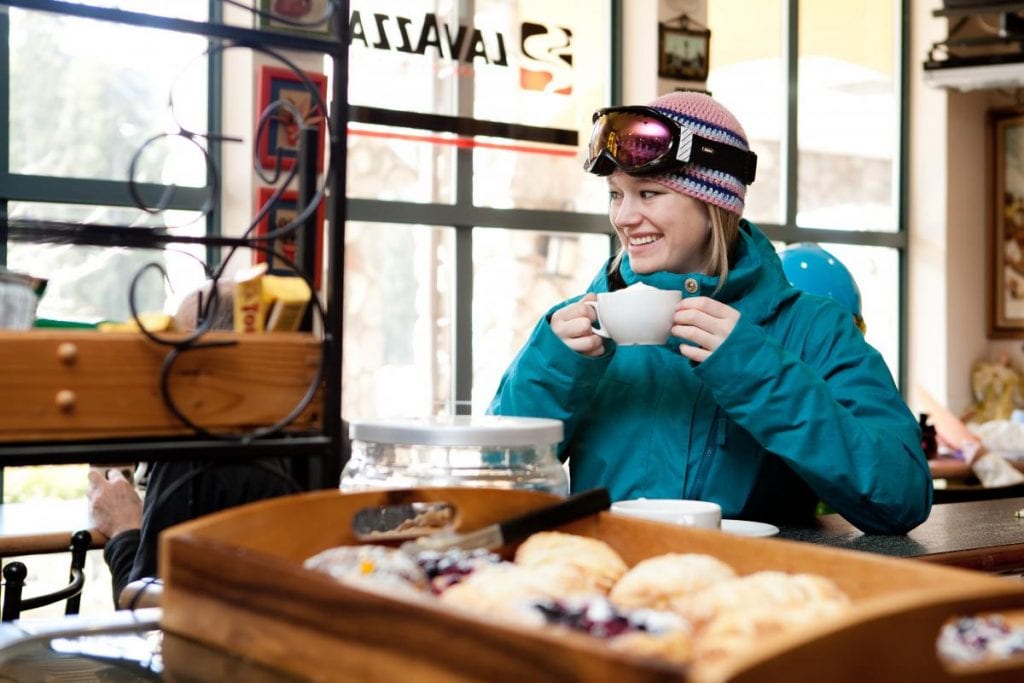 Staying on the mountain at Sun Peaks Resort? Want to get the local scoop on where to find the best powder stashes, and have the runs all to yourself? Head to the Bolacco Café, where they offer up specialty coffee alongside quick breakfasts that'll get you out on the mountain faster, including to-die-for blueberry scones that you can tuck right into a ski jacket pocket and eat on the chairlift.
Breakfast tacos and sweet buns at Big White
Breakfast is great, and tacos are great, so combine the two and you have the meal of your dreams. Head to the Globe Cafe and Tapas Bar in the heart of the village at Big White Ski Resort to get steak tacos with a Hoison sauce marinade, along with fried eggs, braised mushrooms and goat cheese. Those with a sweet tooth can opt for the Nutella churros with a chocolate hazelnut ganache and bananas; and vegetarians can get the best quick and portable breakfast of their lives with the potato scallion breakfast bun. Then there's always the Tim Tam donuts. We're not drooling, you're drooling.
Coffee at the top of the Panorama world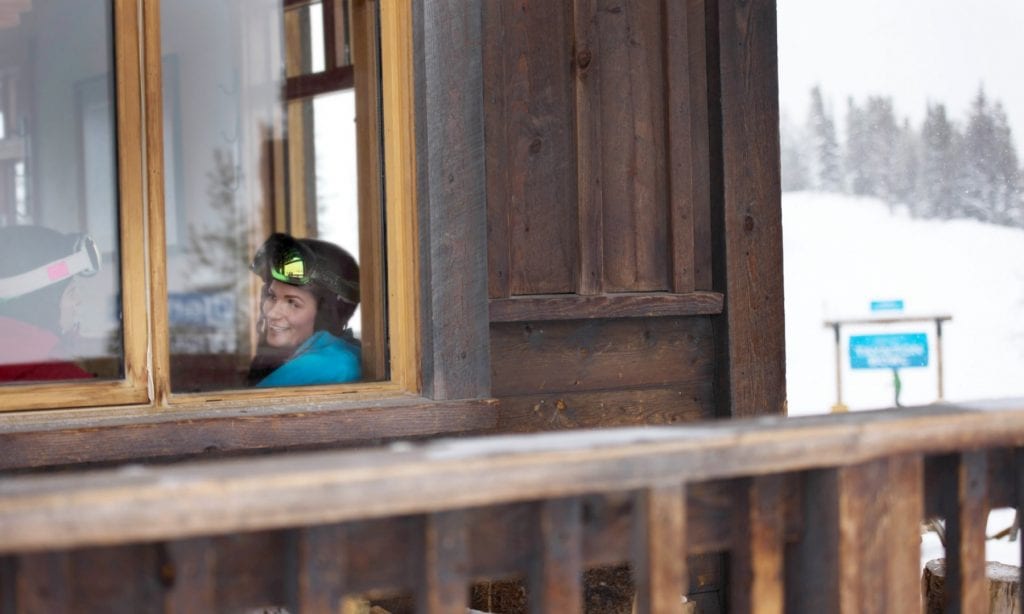 There's nothing better than a good mountainside coffee, and the crew at the top of Panorama Mountain Resort uses the local grind Kicking Horse Coffee and serves it up at the Summit Hut. The best part is that this hut has been running for over 20 years, originally without electricity or running water – just a propane cappuccino machine, a BBQ and a take-out window. There's now a few more options on the menu, but even if you're not hungry, you can't go past a high-altitude cappuccino.