Charlotte Pass may be known as Australia's highest resort at a lofty 1765 metres at the base and 1954m at the top. It may also be known as Australia's only completely snowbound resort, accessible only by over-snow transport from the Perisher Valley Skitube terminal.
But what it's really known for is family snow holiday memories, because this is where they are made.
The intimate and remote nature of Charlotte Pass tucked into the Snowy Mountain's Main Range lends a familial atmosphere to the resort. It's the kind of place you can let junior run wild, knowing he or she will always head back to base because you can always see the pointy dome of the village.
Think of it as your family's backyard covered in snow, with some chairlifts, a ski school and daily BBQs. Oh, and no lift queues. None.
Arriving at the Kosciuszko Chalet Hotel, the historic heart of Charlotte Pass Snow Resort, I'm so swept away by the romance of the grand old lady of the mountain's stone walls – sunlit icicles glinting from her eaves like costume jewels – that I momentarily forget myself, and that I'm travelling with children.
My punishment is a snowball square in the head and much giggling from my smiling kids. They are smiles that will stay firmly in place over the next few days as we immerse ourselves into the icy wonderland that is Charlotte Pass.
While the resort boasts 11 ski-in ski-out lodges with fully serviced and self-contained options, as well as a wide range of facilities, during our stay we're very happy to be living the dream in the Kosciuszko Chalet Hotel.
Located just metres from the resort's ski lifts, our room offers sweeping views over the mountain, while the hotel's common areas are spacious and welcoming with open fireplaces, recreation areas, bars and plenty of live après ski entertainment.
Monday nights are Gluhwein meet and greet followed by bingo, Tuesday night is Trivia Night, and every week there is live music for après or late night fun at The Cellar. There's even a daily traditional high tea with scones and jam in the hotel.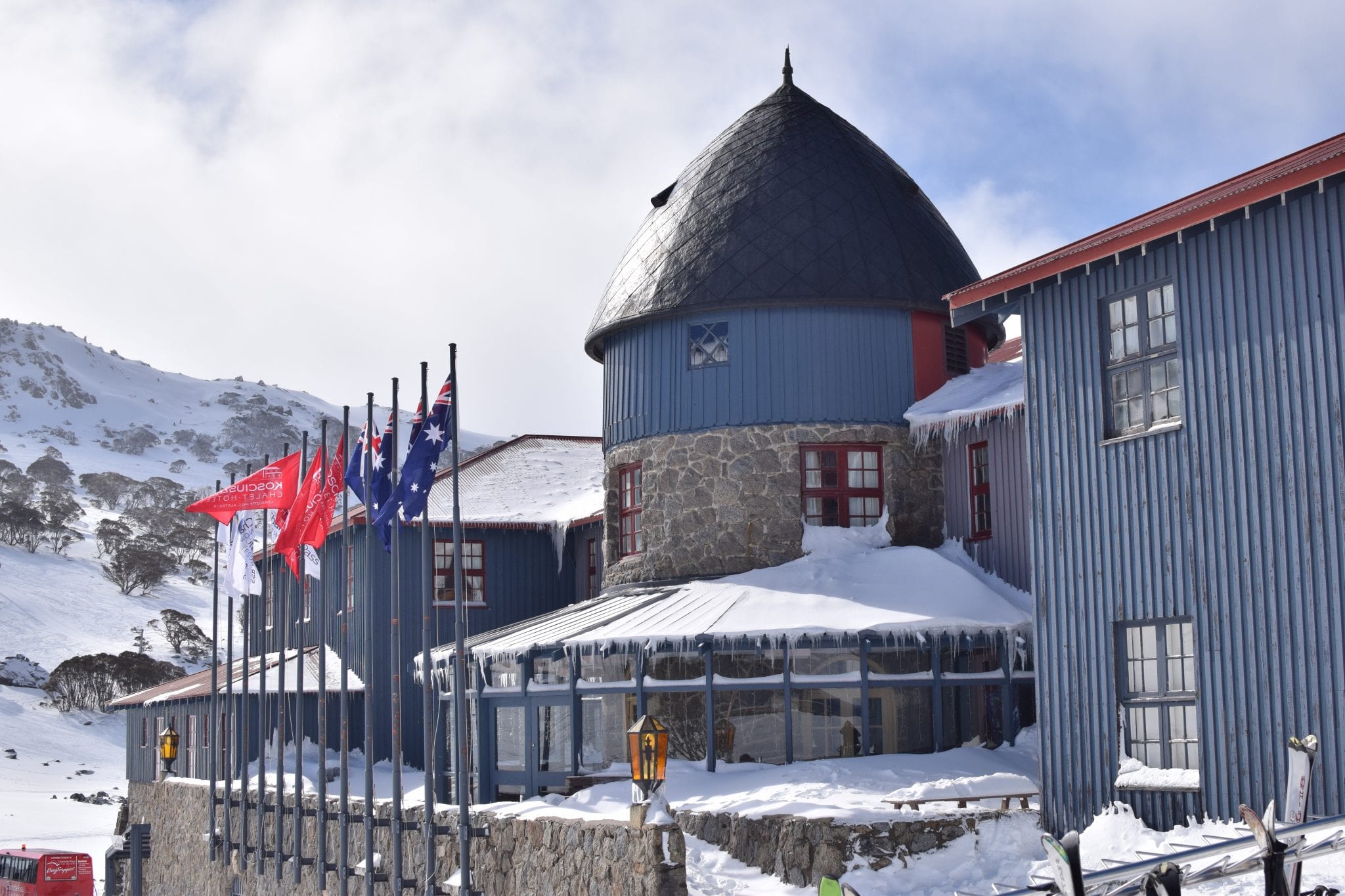 Within an hour of our early arrival, we are kitted up in ski gear from the well-stocked onsite equipment hire outlet and the kids firmly ensconced in lessons at Kosi Kids, a dedicated snowsports program for children 3-12 years. We take the Kosciuszko Triple Chair to the 'Top of the World' for a warm up on 'Home Run', stopping only at The Coffee Hut's ski-through window for a coffee, which we guzzle in the winter sun.
While the kids hone their skills with Kosi Kids' instructors, we spend our morning tackling a few of the resort's intermediate runs, constantly surprised when we reach the bottom at the lack of anything even resembling a queue at any of the resort's four lifts.
With 24 runs, there's plenty to keep things interesting, from easy greens and intermediate runs to the more challenging black runs from Guthrie's Chutes and Kangaroo Ridge Cornice.
You'll also find also an excellent Freestyle Terrain Park with a jumps, tabletops and rails for those so inclined. Plus, there's cross-country skiing, back country tours, epic tubing runs on purpose-built tracks, and night skiing on the Basin Poma on Wednesday and Saturday nights.
Our kids loved testing out their new and improved snow skills at Charlotte's Play Park and its mini jumps and snake trails, and Frosty's Chill Out Zone. The supervised kids club (not open for 2020), for children aged from three to 13, entertains with age appropriate activities, games and crafts while mum and dad tackle the resort's more advanced slopes. There's a weekly kids standard race and the introduction of Onesie Wednesday means little skiers might even spy elephants and unicorns sliding by.
Whether you're a beginner, intermediate skiers like us, or hardcore shredders like we imagine ourselves to be, there's certainly something for everyone at Charlotte Pass. But I have to say that the resort really ticks all the boxes for families.
Along with the snowsports school and the ease of ski-in-ski out accommodation, on-site ski hire saves us lugging all the extra gear that accompanies our two snow bunnies, little shredders aged four and under ski for free, plus the resort's all-inclusive packages mean there will be no unexpected bills.
After a half-day lesson, we reward the kids with lunch and steaming hot chocolates at Kosi Bar & Bistro. But both are eager to get back to the snow, so we divide and conquer, my husband staying with my daughter on the gentle beginner runs, while I race my daredevil son down an intermediate run. Only to get beaten. Twice.
Defeated, we trade places, so I can spend the rest of the afternoon helping my daughter to build an army of flamboyant, feather boa-clad snowmen. By the time the lifts shut for the day and the boys return, the resort resembles a surrealist sculpture park.
Over an oozing pot of molten cheese fondue at the a la carte Chalet Restaurant, our kids happily recount their day's thrills and spills, my son excited for tomorrow and more parent shaming on the slopes, and my beaming daughter regaling us with her ambitious plans to add to her icy army.
If there's a snow resort in Australia more perfect for this family than Charlotte Pass, I've yet to meet it.
The deal
The Kosciuszko Chalet Hotel offers package deals throughout the season for accommodation and lift tickets plus some board and even a Hotel Snow Guarantee. Contact the resort for details.
The Lucy Lodge is also ski in ski out and has a 2 night, 3 day ski package for Friday to Sunday this season for $799 per person including lift pass, Oversnow and breakfast.
Fancy just a day trip? Day-trippers pay between $79 to $129 for a lift ticket. But you'll also need to book the Oversnow to get there from Perisher.
Or you can get the  day tripper deal that includes Oversnow, lift pass and lunch! It's $2 on Two Buck Tuesdays when the second person pays full price.
*Aleney de Winter and her family were hosted by Charlotte Pass