Dreaming of skiing or riding powder in Japan? We've got the inside track on a new apartment development in the coolest ski village in Nagano.
Snowman Apartments is a brand new, boutique development at Madarao Mountain Resort, brought to you by the Aussie team at Snowball Chalet, Dan and Andy Solo. Designed with a Japanese aesthetic with western comforts, the development now offers apartments for sale off the plan.
It's not always easy to find a decent investment in Japan, lucky for you the Solo team have made it a whole lot easier for you. They've found primo land in Madarao and sourced architects and builders committed to keeping Japanese architecture and building practices alive.
You can have your own Madarao year round address from AUD$435,000 or ¥35,000,000. Live in it, rent it out or offer it up for holiday skiers and boarders ready for the 2021/2022 season.
The crew from Snowball Chalet (TripAdvisor's #1 in the region) will be managing the apartments through the holiday seasons, so you don't have to worry about a thing. Let them manage the bookings for you.
The extra-special part? This is the first time in more than a decade a development like this has been offered in this authentic Japanese town.
Madarao life
Sitting between known resorts Nozawa Onsen and Myoko Kogen in the Nagano Prefecture, Madarao offers up 15 lifts, accessing 30% beginner, 40% intermediate and 30% advanced terrain. There's also a whole lot of powder tree skiing which skiers and boarders are encouraged to venture into. 
With 12 metres of snowfall every season, you'll be waking up to powder every morning from your new apartment, peeking out the window to check out the mountain views. When you get home, you'll be within stumbling distance to intimate drinking dens and restaurants offering up classic Japanese fare.
Getting there is also simple via the bullet train, making it an easy 2-hour trip from Tokyo's Ueno Station. Resorts such as Kijimadaira, Ryuoo Snow Park, Kurohime, Shiga Kogen and Lotte Arai ski resorts are also all nearby, making Madarao a great base to access a myriad of ski resorts.
The Snowman Apartments – Temple Timbers
Designer fireplaces, a bath on the deck, views of the mountains, crazy comfy beds, cozy couches, a fully-featured kitchen, toasty warm drying room and ski locker, washing and drying machine, dishwasher, heater, firewood stacked to the ceiling, quality bathroom products, blisteringly fast internet and even a vinyl record player. Well, we're ready to move in.
The master builder of this development has embraced Japanese artisan joinery, and works to half-millimetre tolerances to perfection at every join.  
The Solo team have also incorporated 400-year-old temple timbers in the ceilings.
So you've got a little bit of history in every element.
Choose your own adventure and snap up any one of the below.
The Penthouse
Want the largest apartment in town? Go for the 4 and a half bedroom penthouse, which offers up 150 square meters of living space over two levels. It has everything you would expect from a luxury apartment in the snow – stunning views, boutique furnishings, unique artworks and a modern kitchen.
3 Bedroom Apartment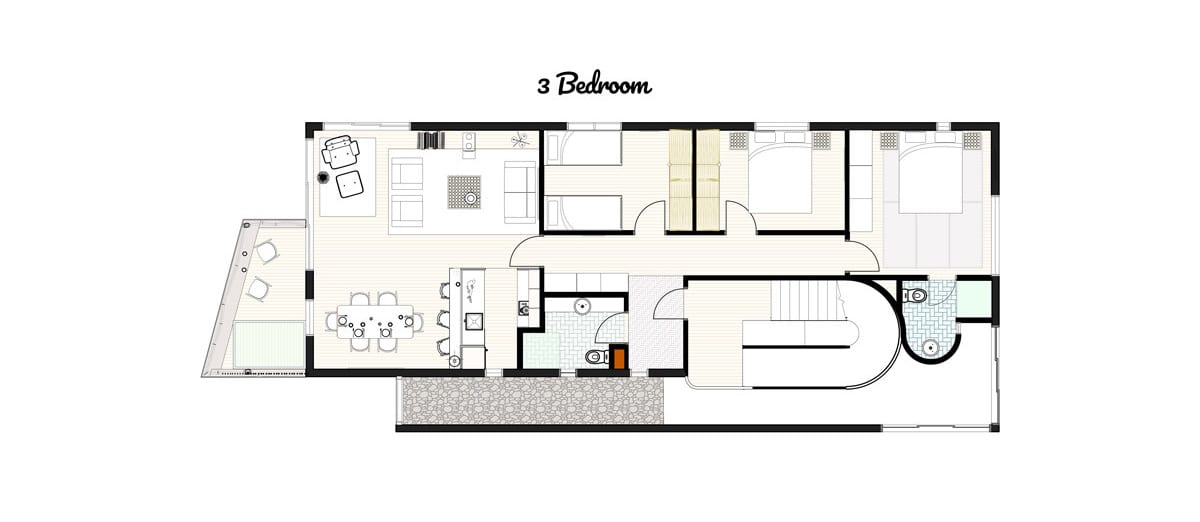 Lap up unobstructed views across to Mount Madarao in one of two 3-bedroom apartments up for grabs in the complex. Perfect for families, the apartments feature a master bedroom with ensuite, 2 double bedrooms and another full-size bathroom, complete with quality features, fittings and furnishings.
2 Bedroom Apartment
There are three 2-bedroom apartments up for grabs, one at 96m² of living space, two at 85m² each. Split over 2 levels, with relaxed lounge living and a separate sleeping space, they become your perfect retreat after a day on the mountain.
1 Bedroom Apartment
Choose from a spacious 1-bedroom loft apartment or non-loft option, and enjoy the open-plan fully-featured kitchens, Japanese o-furo baths on the deck and all your modern comforts.