Japan's ski and snowboard scene launches cultural double-whammies at you at every turn. From hot coffee in a can to slope side vending machines.
By day, indulge in deep luscious powder, by night, strip off and soak in front of strangers. Hit up the big smoke and drive a go kart around Tokyo's CBD dressed as your favourite comic character.
Anything goes in a land where cappuccino foam comes in the shape of a bear, so go prepared, even then you'll be surprised at every turn.
The vending-machine smorgasbord
Clusters of Japan's ubiquitous vending machines materialise in the most unlikely places. It takes Olympic-level willpower to snowboard past that mid-mountain Sapporo dispenser on the day's last run.
But beer is just the beginning of the vending-machine odyssey. Canned corn soup? Not bad, some say. Pocari Sweat sports drink (not made with actual human sweat – apparently), ties for business meetings, cos play costumes, fruit and vegetables and even entire floral bouquets.
Doing the coffee can-can
"Who doesn't enjoy a coffee-in-a-can when waiting for the shinkansen?" Depends on which one, says just about everyone else.
Japan's choice of canned coffee is truly perplexing, some served hot, some chilled, some pre-milked. Hardened coffee addicts will battle through a horrendous can or two before that inevitable "mmmm, not-too-bad" moment. Be warned, it can become a sweet milk caffeine addiction.
You want me to eat what?
We all know you come for the powder and stay for the food in Japan, from katsu don to okonomiyaki, milk tarts to Royce chocolate. But peruse the menu and you may find horse, sea cucumber and whale on the menu and even squid ink soft serve ice cream.
Plastic food
It takes a true artesian to make plastic or wax appetising. No matter that you can't read the menu, every restaurant worth its salt here has a life-like(ish) 'sampuru' (inedible sample) of its speciality dish frozen behind glass in all its unnatural (but weirdly appetising) glory.
Expect to see soup suspended mid-pour and display cases full of sushi that will be lodged in your windpipe before you realise it's not fish. Sampuru aficionados can even head to the riverside castle town of Gujo Hachiman, the home of sampuru, and make your own.
Lifties who grow your dinner
Forget burnt-out snow-bums and hungover backpackers, Japanese lift attendants are a different, distinctly local (and somewhat older) breed.
Local farmers at Madarao double as lifties who kindly brush your chair of powder before you deposit your derriere. In Niseko, farmers are also on snowplough and traffic-control duties.
Pristine piste stops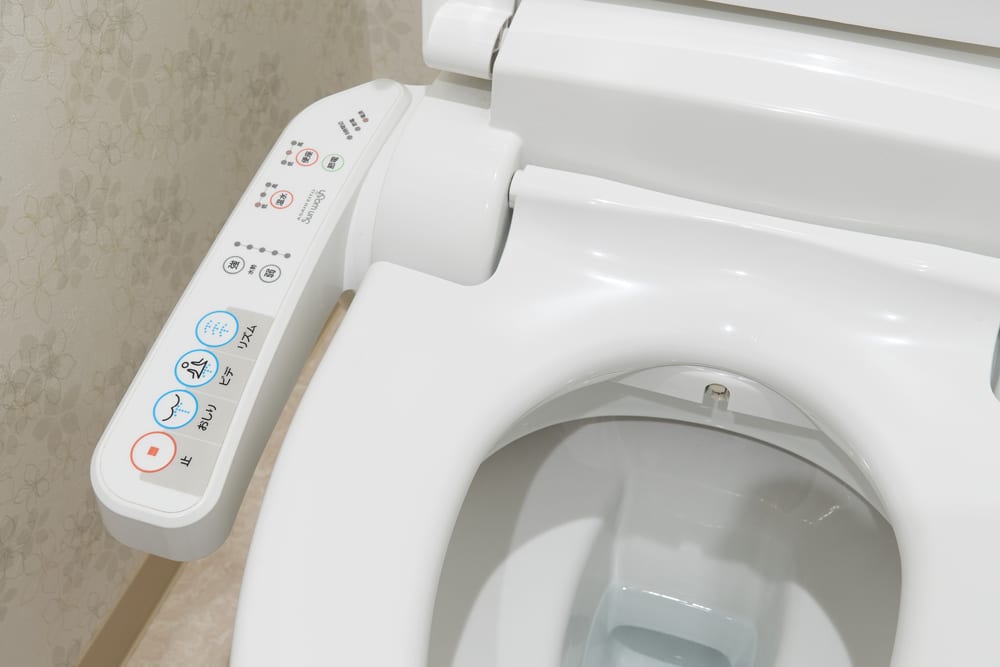 Japanese know their s***. More specifically, they know how to do 'it' in style. While not too many Westerners admit to loving the bidet sprays on the complex conveniences, most of us are grateful for heated toilet seats.
Hey DJ, spin that lift
Compared with on-point playlists at your average European resort, the tunes that emanate from Japanese lift towers can best described somewhere between eclectic and utterly random. It's not uncommon for a full-swearing Gangster rap song to be followed up by a cheesy 1960s ballad. On any charmingly unpredictable day, expect to be lullabied by Aussie Rock, obscure elevator music and Japanese punk, even an Austrian yodel.
Pizza box chairlifts
Some phobias seem extreme while others, like pizza-box-sized ski-lift-aphobia, are totally reasonable to ordinary-thinking folks. Many of Japan's little chairlifts shun safety bars, while their tiny little arms grip onto the wire like an about-to-be fallen hero. Of course, they hold on and save the day, but gusty days certainly build the tension (and your grip).
What happens after dark? No seriously…
Outside the big resorts, you may find your search for a lively club will just leave you with a cold nose. Japan doesn't really embrace pub culture so be prepared to modify your definition of après ski. This could involve wholeheartedly adopting karaoke or grabbing a 'Strong Zero' (9 per cent) from the vending machine and heading back to Club XX (insert your room number here).
Convenience stores redefined
Prepare to forget everything you know about convenience-store food. In Japan, the likes of 7-Eleven, Seicomart and Lawson are actual good-value options for decent meals. They also raise snacking to the next level; think endless Kit Kat flavours; gallons of green-tea soft serve; and mochi balls. Unfortunately, things are wrapped with enough plastic to choke the entire world's ocean population a million times over.
Laughed in mistranslation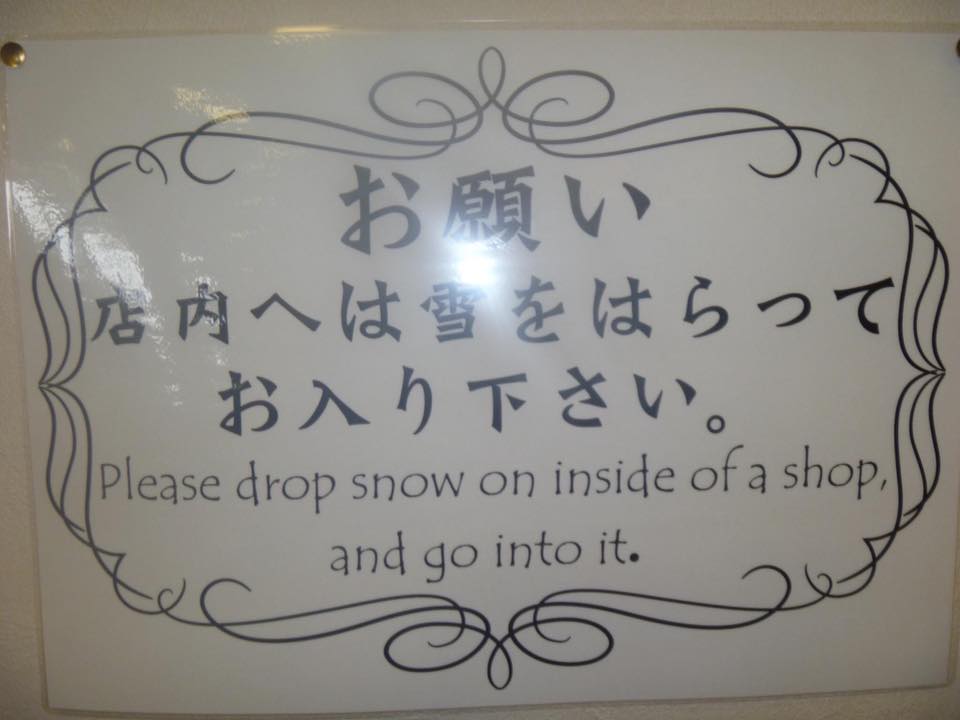 Japanese warning signs and noticeboards are guaranteed entertainment for visitors for two reasons: comical mistranslations and morbidly graphic depictions of how your day could go pear-shaped. Niseko's best? "Be careful: 10 minutes of woo-hoo, lifetime of sadness for your family".
Get naked with strangers
Everyone agrees: a dip in an onsen (traditional hot-spring bath) is the ideal end to your day on the slopes. However, F.Y.I., it's customary to bathe communally in your birthday suit (tiny 'modesty towels' not withstanding). There are mixed-sex onsens, too. So, eyes ahead, suck in that gut, and stride in confidently.
The daily festival of ramen
Forget cold pizza and over-cooked pasta, loudly and proudly (culturally appropriately) slurping up hearty, aromatic and warming Ramen noodle soup makes lunchtime an event to behold. Of course, there's plenty of new foods to try (see above).
Snowboard with Sailor Moon
Japanese cartoon culture finds its way into the nooks of every ski resort, from kitschy life-sized ski mascots to strategically placed Manga dolls. Our readers' favourite iteration of on-slope pop culture is the soft-toy "bum pillows" spotted on the derrieres of both men and women riders.
Pyjamas at dinner
Traditional Japanese hotels are the height of charm and simplicity. No need to don your evening wear because it's kosher to wear yukatas, a style of kimono, to meals. Yukata etiquette 101: always wrap left over right (right over left is for the dead) and remember to wear underpants! Leave your expensive Western shoes at the door, too. Slippers are provided for every conceivable occasion, including designated toilet slippers.
Airport sayonara
Remember, look out of the plane window at regional Japanese airports because ground-crew bow and sometimes wave bye-bye to departing planes with their white-gloved hands.