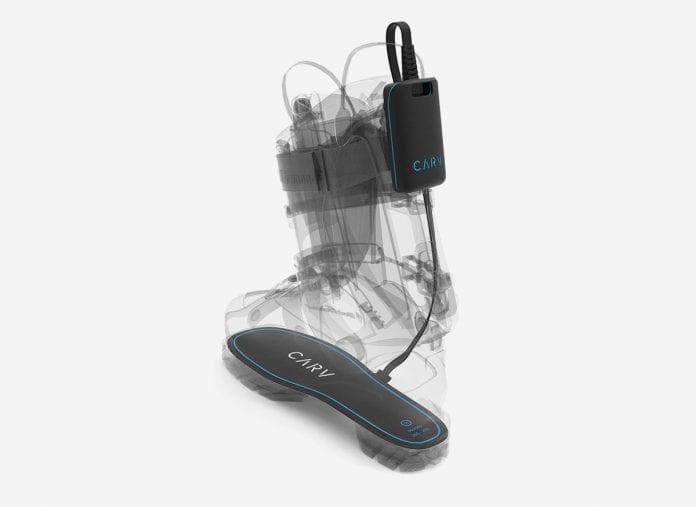 Having a ski lesson is great until the lesson is over, the instructor is gone, and you can't quite remember what they said about your stance needing to be different through a certain part of your turn.
For those who want to improve their skiing but don't want to spend all their spare time and money in ski school, there's a new toy on the slopes aiming to revolutionise current industry ski coach offerings.
Carv is a simple digital set-up in your ski boots that pairs with your smart phone. Ski instruction is then delivered through your headphones with every turn, so you can travel with "your instructor" without having to pay for their flight. 
How it works
You slip an ultra-thin 'smart insert' into each ski boot; each insert has 48 independent pressure sensors, which know exactly what your foot pressure is doing inside your boot with each turn. The inserts are connected to a Bluetooth tracker on the back of your boot, which wirelessly connects to your own smartphone and headphones.
From there, the in-boot sensors work to analyse your balance, edging, rotation and pressure in real-time, and provide instant feedback, such as telling you to get out of the backseat, or adjust your stance.
You can opt to have this feedback in 'training mode', where you get an audio cue after each turn; or you can switch to 'free session' mode, where Carv silently tracks your skiing and provides you with feedback after your run, or after your entire session, on how to improve for next time.
There are also drills and challenges that you can try along the way, plus you can compete with friends and family to see who can get the best edge angle or the most carve time.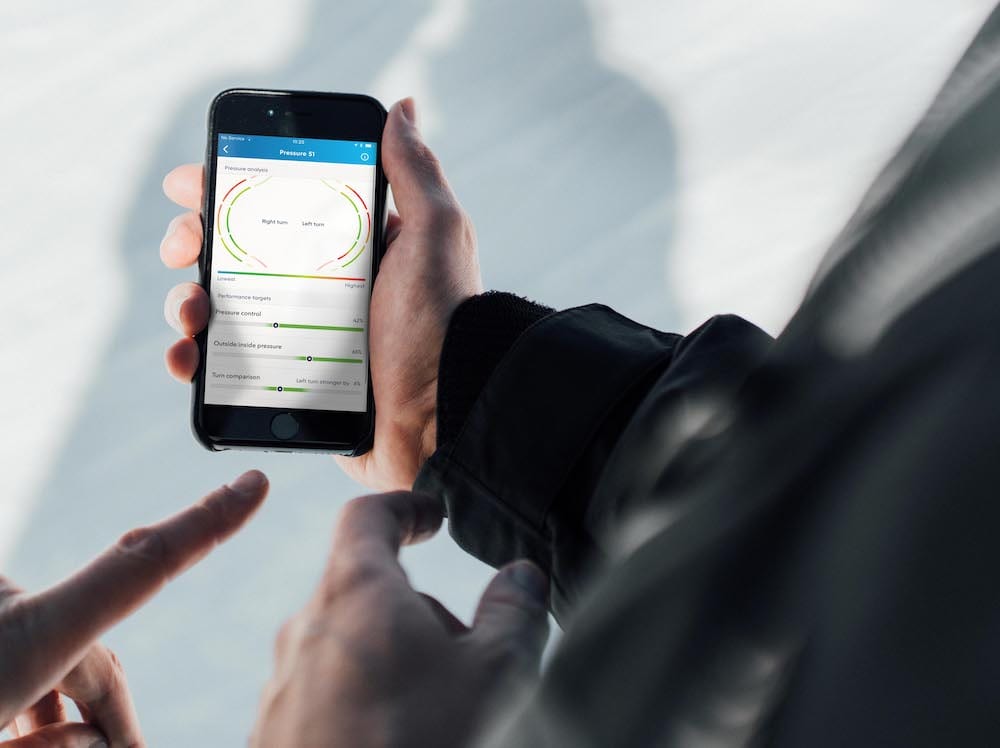 The best bits
The technology is clever and works even when offline, so you can take it overseas where you might not have phone reception. Plus the inserts are just 2mm thick, so they work with custom footbeds and other inserts; they also fit any ski boot, are boot warmer compatible and are also fully waterproof. The battery life lasts up to an average of 30 hours (depending on outside temperature) and charges up in just two hours via a USB. This is clearly a product made by skiers for other skiers. 
Despite being relatively new on the market, you can also rest assured that you won't be losing out by buying an early version of the Carv. The software is where the big updates are going to happen with the Carv team, and these will be available for everyone to access as the technology gets better with each passing year.
The major perk is that it's perfect for those who want to improve their skiing without having to take time away from their family and friends on the slopes. You might still get the odd lesson here and there from a real-life ski instructor, but most of the time, you can have your very own personalised advice at the touch of a glove.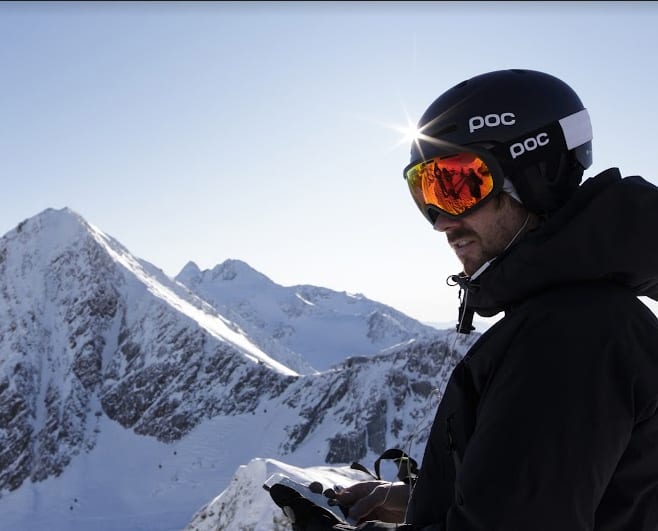 The challenges
It may be a fancy bit of ski gear, but it still has its limitations. Carv was developed with the perfect technique for on-piste skiing in mind; as a result, the algorithm is going to assume that you're skiing on a groomed run, without any moguls or other obstacles getting in your way.
Don't expect to be getting tips for how to be the best powder skier or how to out-perform everyone else in the park, and don't be surprised if it doesn't realise you're way in the backseat because you've gone flying over an unseen mogul.
Equally, don't think that it'll teach you how to ski if you're a beginner skier.
It's very much for the intermediate to advanced skier who is looking to perfect their technique on a groomed run.
That said, once you're more comfortable on-piste, those skills will translate off-piste too – you may just need a real-life ski instructor to talk you through your first time in powder.
Carv is also currently iOS only, so Android users will have to wait for a future version of the app, or get their mitts on an iPhone.
How much?
Ah yes, the real important question. This baby will set you back AU$369 but does come with free shipping, a 30 day return period and a one year warranty period. If you're heading through Jindabyne this season you can find it instore at Rhythm in Cooma. 
Keep in mind that a a group ski lesson in Australia can set you back about $75 for two hours, and a one-hour private lesson can be anywhere from $200 and up – so if you're an intermediate to advanced skier looking to get more bang for your ski analysis buck, Carv very well could be the gadget to put on your Christmas wishlist.
We'll let you know how it works when we trial it this year. Watch this space for a review.