For those already planning out their next Japan adventure (when it's safe to return once again) consider the city of Nagano and the resorts of the main island of Honshu.
The city of Nagano started out as a town of temples and has now become one of the best ski hubs to Japan's best resorts, from the little-known hidden gems (Ryuoo Ski Park, anyone?) to the big kahuna of Happo One and friends in the Hakuba Valley.
Beyond the snow, there's so much to love in this town that many international visitors accidentally skip over in their travels. If you're looking for a deep dive into Japanese culture, some incredible historical relics and mythical stories, this is your place.
Spend some time in Nagano before venturing on to the snow fields, and while you're there consider finishing up on the stunning coastal town of historic Kanazawa. 
Getting there
Nagano is an 80 – 100 minute trip from Tokyo on the Hokuriku Shinkansen. It's well worth snapping up the Japan Rail Pass for the trip and your subsequent adventures, as it's only available to tourists at a price that residents dream of. You'll be dropped off in the heart of the city at Nagano Station, ready to get exploring.
First stop: Sake and soba in Nagano City
Everyone raves about the food in Japan, and you'll be happy to know that Nagano has plenty to offer for famous offerings. Plan to stay in the city for a few nights just to explore the local cuisine; particularly the soba noodles, which are well-known for being among the best in the country. Ask for Togakushi soba and be prepared to dream about them forever.
Did we mention that thanks to the rich natural environment, climate and pure water sources of the area, it happens to also be the perfect place for sake? It's your lucky day, there are over 80 sake breweries in Nagano Prefecture, making it one of the leading sake producing areas in Japan.
Short on time, then find your favourite at Shinshu Nagaya Sakaba – the store features an exterior made of sake barrels and offers up a sake selection from 72 breweries in Nagano Prefecture, along with a wide variety of local dishes such as local sausages, wild plants (sansai), tofu dishes and, if you're feeling particularly brave, even horse sashimi. You can't miss
Second stop: Zenkoji Temple and Higashiyama Kaii Gallery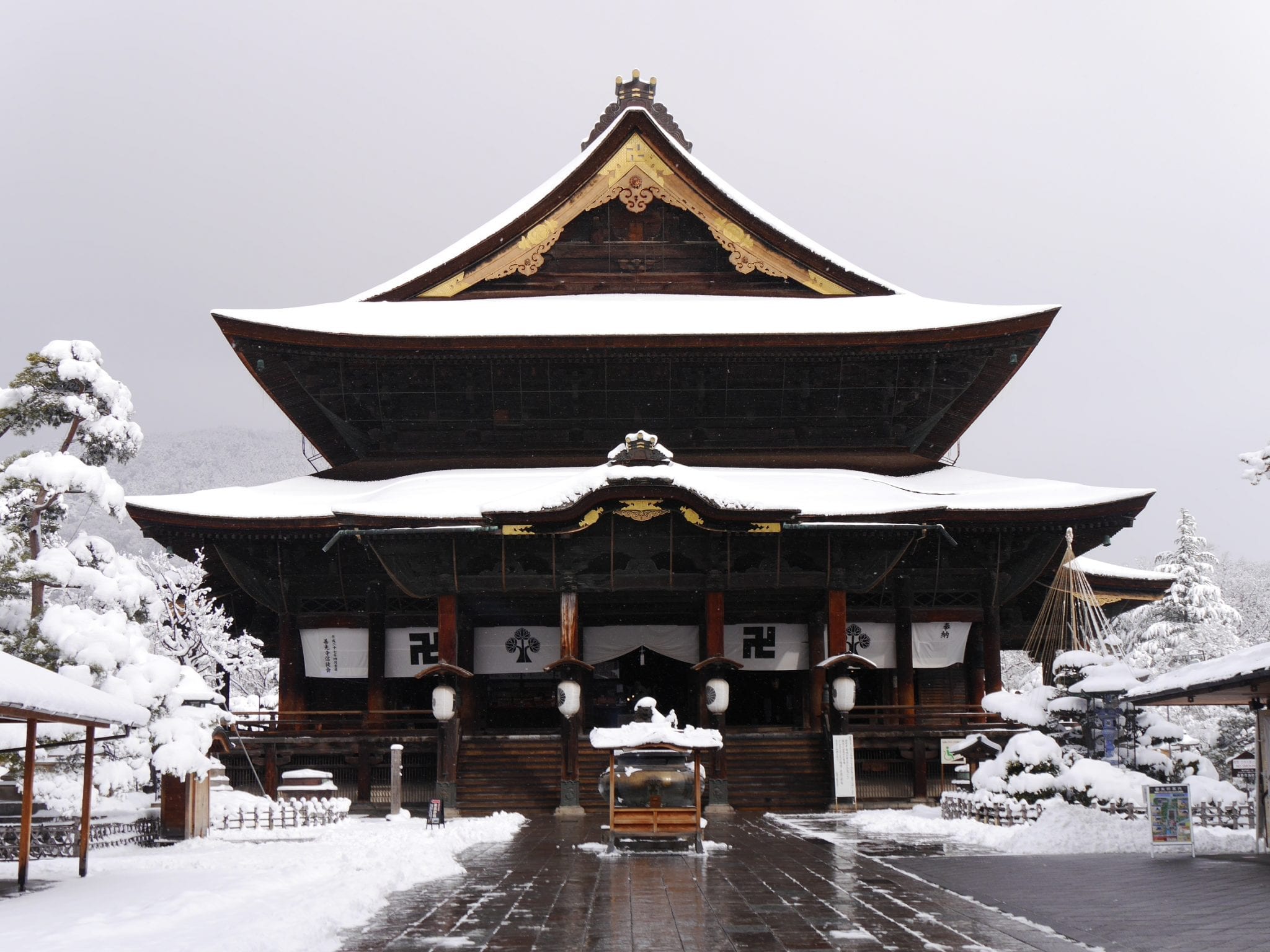 After sleeping off all that sake and staying the night in Nagano City, it's worth stopping by Zenkoji temple. The temple is said to have been founded in 644  which give it a history of nearly 1400 years.
It is said that if you visit the temple at least once in your life, you will be promised a life of paradise.
In the afternoon, head next door to the Higashiyama Kaii Gallery. It was designed in 1990 by Yoshio Taniguchi, a world-renowned architect who also designed the New Museum of Modern Art in New York, and houses 960 works by Japanese painter Kaii Higashiyama. Admission is only 500 yen (or about AU$6).
Third stop: Togakushi Shrine
The Togakushi area is about an hour from the city centre and well worth a day trip. Known as one of the most sacred places for pilgrimage in Japan, it's a special spot for an authentic spiritual walk, home to towering cedar trees and rich mythical history.
The remote location is easily accessed by the Alpico Bus. There are five shrines to see in all, and the path winds through a village and the forest to the summit of Mount Togakushi, stopping along the shrines: Houko-sha, Hinomiko-sha, Chu-sha, Oku-sha, and Kuzuryu-sha.
There's a five-shrine tour, which takes about four hours, but it's well worth it to feel the power from this longtime Japanese sanctuary and hear all the stories. You might also like to stop by the mirror lake, Kagami Ike; or, if you're there in the months between April to November, there's even a ninja museum and training ground.
Fourth stop: Togakushi Ski Resort
This resort is located right near Togakushi Shrine, and rest assured you'll essentially have it all to yourself. It's truly authentic local skiing and riding, and you'll get the best views of the Togakushi mountain range to go along with it. It doesn't hurt that a day ticket here is only about 4500 yen (or AU$48).
With seven lifts and 19 ski runs, along with 550m of vertical, there are excellent little tree runs to be found for the more advanced skiers and riders of your group, plus plenty on offer for beginners/intermediates to have fun for a day or two. You'll also find some of those famous soba noodles at the quaint restaurant on-mountain, plus a hotel at the base to rest your weary head after a big day on the slopes.
Fifth stop: Hakuba Valley Skiing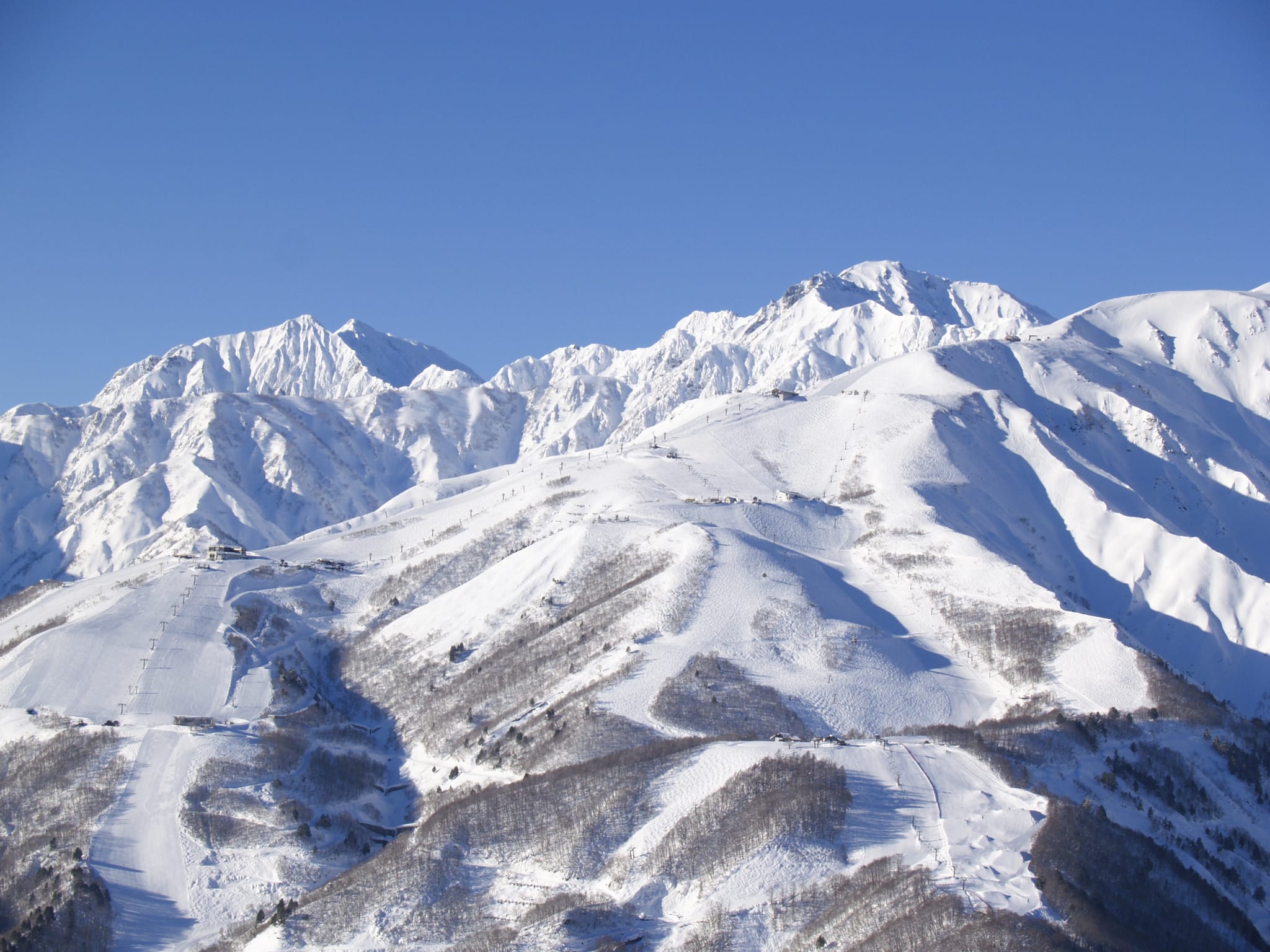 Venture from the low-key yet high-reward terrain of Togakushi to the famous slopes of Hakuba Valley.
You've got a lot to discover here, as the valley boasts eleven ski resorts, from the light powder tree skiing at Cortina to the terrain parks of Goryu to the off-piste backcountry steeps and deeps. Expect over 200 ski trails and 135 lifts accessing the peaks of the Japan Alps that create a spine down the main island of Honshu.
Hakuba Happo One was the site of the 1998 Nagano Winter Olympics, and is commonly a favourite with families for activities such as the snow rafting. Plus it's conveniently located just one hour and 20 mins from the centre of Nagano City by bus.
Expect a selection of thriving mountain towns and villages through the valley, all serving up traditional izakayas and mineral onsens for when the chairlifts stop.
Find out more about Nagano here.  
Next stop? Road trip to Kanazawa. Read on here for the second part of your journey.