The ski world has seen some amazing innovations over the years, from the invention of the snowboard to the heated socks and Bluetooth ski goggles now on the market.
But there's now a potential game-changer that has just hit the mountains. It's the Elan Voyager, the world's first folding all-mountain ski, born out of the Slovenian alps and tested rigorously for the recreational skier.
We know. Folding skis. What the? And no, it's no early April Fool's joke – the real deal is here.
We know you have a lot of questions, so do we.
Why a folding ski?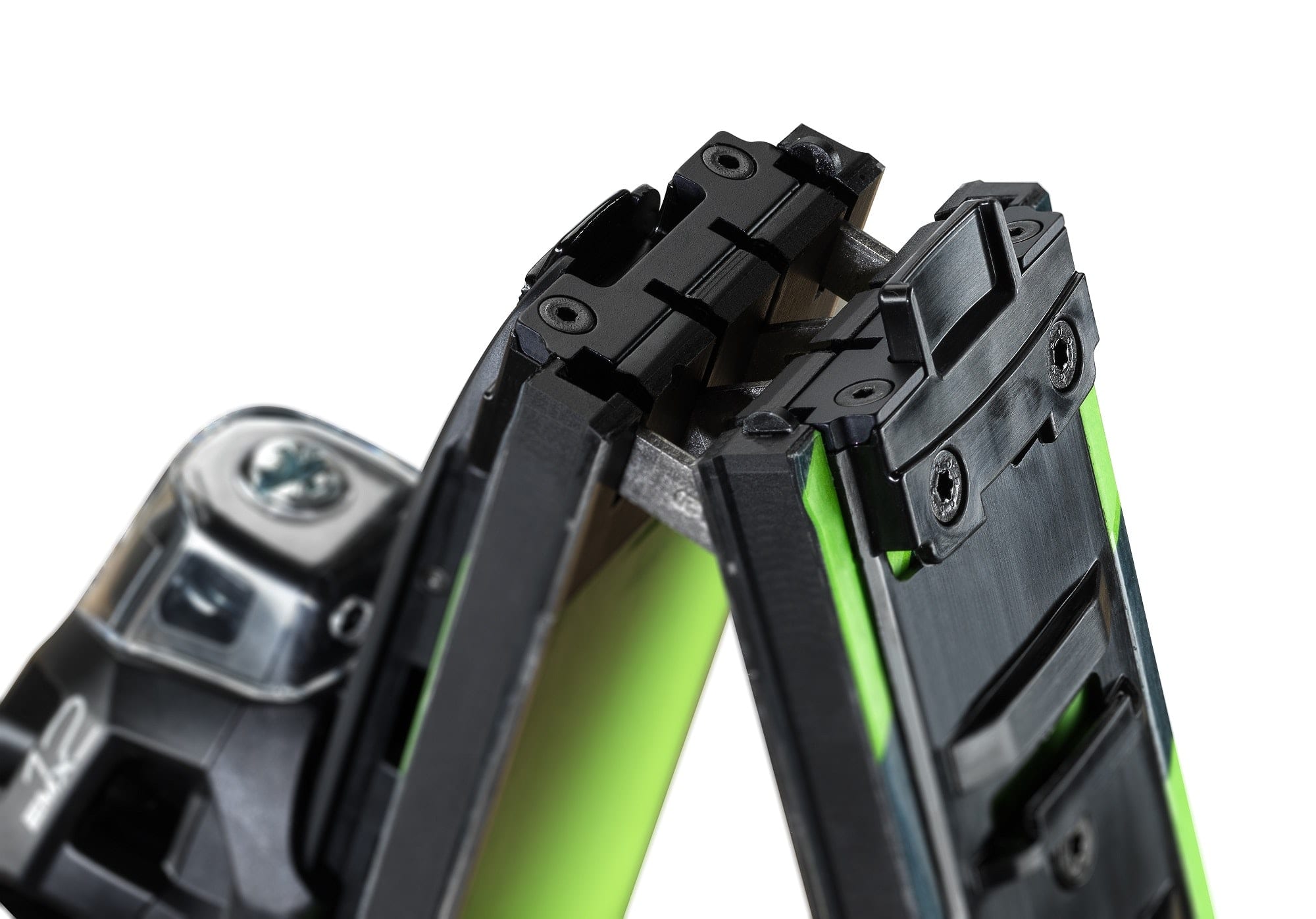 Think of the pre-COVID days of travelling with your skis. You'd have to sort the extra-large Uber for the ski bag, lug everything through the airport then drag your bag to the oversize baggage counter, where the baggage attendant would more likely than not act as though they'd never seen a ski bag before.
Then you'd have to find somewhere to store it all when you got to the other end. No thank you.
With the new foldable ski life, all these woes may soon be a thing of the past. According to the press release: "The Voyager is super convenient to transport by any means. It simply folds in half and quickly packs into its own custom bag. It is easy to take to and from the main ski lifts, and at folded length under 1 meter, it stores just about anywhere."
It's not only an excellent storage solution for the home, but also for the car. Think of those long road trips to the Aussie ski fields; there's no more fiddling around with roof racks, or shoving the skis awkwardly between seats. Plus no wasting time in lines at the rental shop once you get to your destination – bonus.
There's also the additional selling point for those who love touring; strapping folding skis to a backpack is much easier than full-length skis, allowing for way more manoeuverability for technical ascents.
But… how?
Elan's had a military folding ski for a few years, which was developed for the Slovenian army to increase mobility and transport capability, especially with helicopter operations. This testing then inspired them to develop a recreational model.
The folding joint of the Voyager features a four-axis mechanism that bonds and seals the ski together; there's also a carbon-reinforced fusion plate as a load-bearing platform. When unfolding the ski, you rotate the binding, align it and lock it in, releasing the ski brake in the process. The whole process takes from 15 to 30 seconds, and is marked on the ski to prevent confusion.
When it comes to performance, the Voyager features the same Amphibio tech as other Elan flagship all-mountain skis, the Ripstick and Wingman. This essentially means that the ski design has integrated both rocker and camber profiles to the left and right skis to allow for precision, edge grip and stability on the inside edge, with a more forgiving outside edge.
The ski comes with bindings, adjustable poles and the custom bag, which measures 100cm X 26cm X 16cm – actually pretty compact.
But can it still, well, ski?
We haven't had the chance to test them, so we can't say for sure; but the Elan team claim that the foldable ski has no compromise on performance: "The Voyager can easily handle any ski conditions from a day out with the family to a day of carving up groomers, floating through powder and attacking moguls."
This hilarious video may serve as some proof.
Elan tasked skicross world champion Filip Flisar to put them through their full paces – and the result does look pretty good, especially as Filip really doesn't go easy on them (watch as he specifically tries to break them against a box, two pallets and his own body weight).
He also takes you through the whole process of unpacking the ski, locking it in and going for gold from there. And yes, it seems easy enough to do once you're up on the mountain.
I'm sold! Where can I get them?
They are not on the market in Australia just yet, so hungry caterpillars will need to hold off until they come to a shop near you, especially as COVID has impacted distribution.
They may also be shaping up to be pretty pricey in the Aussie economy, with current pricing in Europe at €1,499.95 (or about AU$2352.00 at time of writing).
Specs will be as follows:
160cm (packed to 87cm) – 127/78/110 width / 12.6 radius
166cm (packed to 89cm) – 127/78/110 width / 13.7 radius
172cm (packed to 93cm) – 127/78/110 width / 14.9 radius
There are also three colours available: green, black and pink.
Watch this space for more, or head on over to the Elan website for more information.