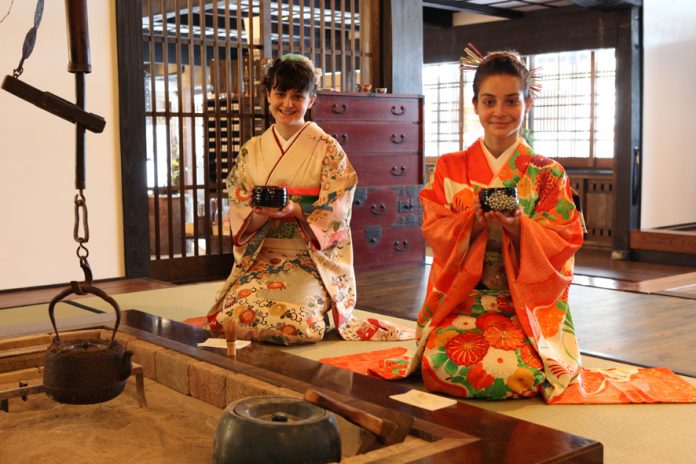 There's a lot to love about the mountain towns of the Hakuba Valley. Located just three hours from downtown Tokyo and full of that famous Japow snow, there's something for every kind of skier and boarder, along with something to suit every taste and every style of après.
Expect 10 ski and snowboard resorts scattered across three key mountain towns – Hakuba, Otari and Omachi. That's 143 runs, 103 lifts and seven terrain parks, making it the perfect place to explore and re-ignite your love of travel when it's safe to go again.
We've asked the locals for their tips for the best skiing, dining and après options for each mountain town. Once in Japan, you'll know exactly where to go first, as per the local recommendations.
Hakuba
Hakuba is often the first place people think of when wanting to mix up Japanese and western culture to get the best of both worlds – traditional onsens right aside fun night life and popular restaurants and bars. The options here are endless, but here's where to begin.
Ski: Hakuba resorts are known for their steep slopes and powder, including Iwatake, Happo-one, Hakuba47, Goryu and Sanosaka. All are on the one pass, so you've got plenty of exploring to do. Expect a mix of uber groomed and deep powder across all kinds of terrain. For those who love night skiing, you can find it at Goryu, and the course has been running on 100% renewable energy since December.
Eat: There are endless spots to find delicious options throughout Hakuba, and you'll be spoiled for choice for all Japanese and Western cuisine options. If you'd like to stick to local favourites, keep an eye out for Shinshu salmon, eaten both cooked and as sashimi; Hakuba pork; and Hakuba Galette, which is essentially a sweet or savory crepe made with local soba flour.
For fun for the entire family, or group of friends, sign yourself up for a Jingisukan (also known as "Genghis Khan" or… grilled mutton!). This involves getting a special round grill on your table to barbecue your meat and veggies.
Après:  From sports bars to English-style pubs and traditional izakayas, you won't be short of options in Hakuba to get a drink after a nice onsen. But on the onsen side of things, that's where things get unique in Hakuba. The area contains six spring sources, so testing them all out – and comparing them accordingly – is a great way to soothe weary muscles after a ski day. Vending machine milk, sold in glass bottles and in different flavors, is a great post-onsen perk for children and those who aren't keen on an alcoholic beverage.
Omachi
The perfect place to have a modern yet authentic experience, with a history of mountain people having lived here for over 6000 years.
Ski: If you have a beginner in your group, or you want somewhere cruisy to adventure with the family, Omachi is your go-to. Jiigatake Snow Resort is perfect for little ones, with uncrowded, gentle slopes for exploring along with spectacular views over the mountains – and even some tree runs for the grown-ups up top. Kashimayari is a compact, all-in-one resort featuring a kids park, tree runs, terrain park and also has the longest snow tubing course in Japan. Both are on the Hakuba Valley lift pass.
Eat: Omachi has a retro arcade street called Omachi Meitengai, which offers local eateries and shops. It's worth wandering along to find izakaya and teppanyaki-style dining, Japanese comfort food, and more. On the main street, keep an eye out for some of the local delicacies, which include Omachi Kurobuta Pork and Kurobe Dam Curry. The curry dish represents the actual dam, with rice served in the shape of the embankment and the curry representing the water behind it – fun!
For the more adventurous, you can sample game meat such as deer katsu and shabu, along with… locusts! What's a ski holiday without a bit of excitement?
Après: Love sake? This is the place for it. You can explore the city's three sake distilleries for sake tasting. They're made from locally produced rice and alpine waters from the Northern Japan Alps, with generations of history behind them. Then bed down in the historic Omachi Onsenkyo area, known for its onsen and ryokan (Japanese-style, traditional inn accommodation).
Otari
Otari is the perfect accompaniment to the lively streets of Hakuba. This sweet and quiet village is tucked deep into the valley, and the perfect place to go to wind down by night while still enjoying big snow by day.
Ski: Powder tree ski lovers will have heard about Hakuba Cortina Snow Resort, full of perfectly spaced tree runs for mega powder days. It's also interconnected with Hakuba Norikura Onsen Snow Resort, where you'll enjoy little to no lift lines and an authentic type of charm. You'll also find the little-known yet enormous Tsugaike Mountain Resort, the second-biggest in the area, with plenty of backcountry access and terrain parks for those who want to shred hard.
Eat: This is the kind of village where you want to get out and explore the roadside station, which showcases lots of fresh, local produce and original merchandise. Otari pickles, for example, are one of the must-have local delicacies; they're sweet and salty, made with a secret soy sauce, and go well with a bowl of hot rice or a drink. Bonus fun fact – back in the day they were a valuable source of nutrition in winter when vegetables weren't available. Another traditional, and delicious, Otari food is chanoko, a type of dumpling with the dough made from boiled potatoes, soba flour, and wheat flour. See if you can find unique fillings such as miso, pumpkin, spicy eggplant… yum!
Après: Less dancing on tables, more wine by the fire in the lodge that you're staying in. Otari also has an onsen at each of the ski resorts, which makes for a convenient heaven after a big day on the slopes. Or check out Cortina's Wonder Village, with kamakura (also known as igloos) and other fun activities.
Save the date! Super early bird specials for the 2021-22 Hakuba Valley Season Pass start August 11 – stay tuned for more details.
Ready to discover Japan's largest resort? Find out more about Hakuba Valley here.