For true adrenaline junkies, or for those tired of the same old holiday activities, Canada is the place for you. With so many thrillseekers in the one country, it's the ultimate destination to tick off the kind of things you'd never even think to put on a bucket list.
Keen for more on the best possible, yet crazy winter adventures to be had? Love the sound of anything that involves reindeer, helicopters and/or sunrise festivals? Step right this way.
Bungee jumping in the snow
 

 

View this post on Instagram

 
To get the heart pumping, head straight to Whistler and try jumping off a bridge that runs high above the glacial-fed Cheakamus River. North America's largest ski resort is also home to British Columbia's highest, year-round bungee, Whistler Bungee, so you can catch your thrills while on a ski holiday. Even in the height of winter, you'll get to experience a 50 metre drop while surrounded by forest and rugged cliffs.
Heli Fondue
This is one for the Instagram feed, and set to commence in Panorama next month. Board a helicopter at Panorama Mountain Resort and take a scenic flight on the way to the Summit Hut, where you'll settle in by a crackling fireplace and enjoy a fondue for an après at 8000 feet. It's one of the most unique experiences you'll ever have, made even better by all the melted cheese and chocolate.
Dog sledding
 

 

View this post on Instagram

 
There are dog-sledding experiences to be found all over Canada, but why not try it in the Yukon, where dog-sledding is less of an exciting activity and more of a way of life in such a remote landscape.
With the dogs howling with excitement, head out on a half-day adventure around Whitehorse, or go for a multi-day experience at Sky High Wilderness Ranch. For four, seven or even 14 days, you'll sleep in a remote wilderness camp, care for your own team of dogs and enjoy the views of the dancing northern lights overhead – just like the Yukon mushers once did.
The Inuvik Sunrise Festival
Head to the Northwest Territories for one of the best festivals to be found anywhere in the world. This sunrise festival quite literally celebrates the rise of the sun after the 30 days of darkness experienced by Inuvik from December through to early January. Expect everything from snow carving to snow yoga, a giant bonfire and plenty of food, drink and winter activities.
Reindeer herding
 

 

View this post on Instagram

 
While you're up in the Northwest Territories, you also need to go reindeer herding. Yes, really. Head out with Tundra North Tours to drive down the engineering feat that is the Mackenzie Valley highway, before jumping on a snowmobile and heading out to the reindeer herd of over 3000 of Santa's favourite creatures. It's a unique atmosphere and culture to this part of Canada, and it's spectacular.
Axe throwing in Revelstoke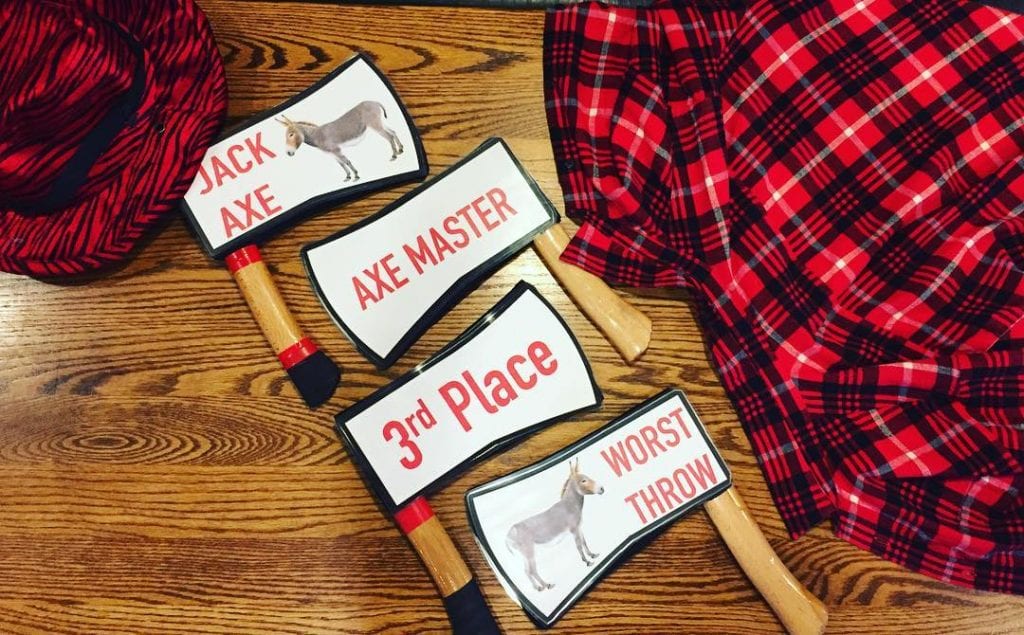 The old-school railway town of Revelstoke is home to plenty of local steep and deep runs, but there's something more exciting on the agenda for those looking for a little break from the mountains. The team at Peak Axe Throwing plays host to those hoping to try their hand at throwing an axe at a bullseye – and while it's simpler than it sounds, it's also surprisingly addictive. Bring your friends and get ready to play some games along the way, where the highest score wins.
Ice fishing
 

 

View this post on Instagram

 
There are Canadian experiences and then there's ice fishing – perhaps the most Canadian experience of them all. At Sun Peaks, you can pair your ski and snowboarding holiday with an ice fishing trip, perfect for those looking to reach maximum Canadian levels in a short period of time.
Just put on your 'toque' (beanie), bring your Go Pro, then head out onto one of the mountain lakes to huddle up in a heated ice fishing tent as your fishing guide hands you a hot beverage and shows you exactly how it's done along the way. Your guide will even gut, prepare and vacuum-seal the fish for you to take back to your accommodation, so dinner = sorted.
Ice walking
 

 

View this post on Instagram

 
Ice walking – like ice skating, except more extreme, because it involves wandering creeks, rivers and waterfalls that have frozen in just the right way. Strap some cleats to your boots and take your camera for the kind of sport that involves immersing yourself in some seriously beautiful canyons. For beginners keen to see the best of the best, start off in Alberta and hit up Johnston Canyon in Banff National Park, Maligne Canyon in Jasper National Park, and Grotto Canyon near Canmore.
For more ideas on the best adventures to be had in beautiful Canada, click here.