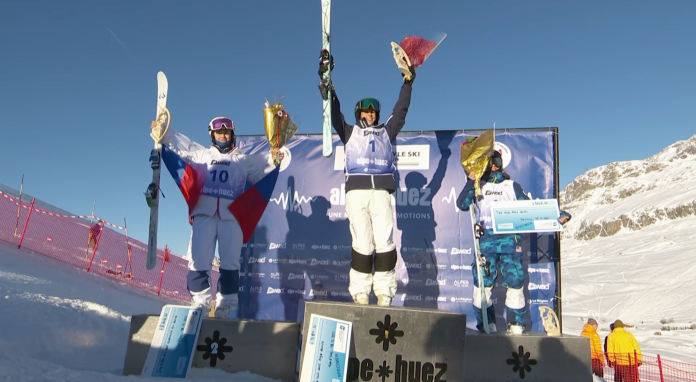 What a weekend for Australian mogul skier, Jakara Anthony from Barwon Heads.
The 23 year old has won back to back gold medals in a stellar FIS World Cup season, with a podium in every event so far. This gives her two gold, one silver and two bronze in the 2021 season closer before the competition picks up again in the new year.
After finishing in top-3 in each of the previous competitions before coming to France, Anthony first  claimed the top spot in single moguls on Friday, just to back it up with her second victory in two days in Saturday's dual moguls.
While it was a crash-filled day of competition as the world's best moguls skiers pushed their limits on a challenging course in Alpe d'Huez, Anthony remained calm, cool and in control throughout the day, keeping her turns tidy, her speed up and her wits about her as others struggled.
In the big final Anthony matched up against the 2021 dual moguls World Champion Anastasiia Smirnova (RUS), who somehow struggled so far in 2021/22 campaign after wrapping up last season with two medals in Almaty (KAZ). On Friday, however, also Smirnova was keeping her tips pointed down, acing the middle section and launching stylish backflips mute grabs off the bottom air.
It was a tight big final on the women's side with both Smirnova and Anthony putting down flawless runs, but in the end it was Anthony who won this matchup by a single point (18 to 17), thus claiming her second victory in two days.
Smirnova finished the competition in second place for her best result so far in the season, while Kai Owens (USA) rounded out the women's podium in third place, after edging out her teammate Jaelin Kauf in the small final.
"There were a lot of tight duals today and I'm just out there skiing my run and hoping that puts me through every round," said Anthony post competition.
"It's very exciting to have the yellow bib, this is the first season that I have managed to get hold of it so I'm excited to head into the next World Cups with it."
With the victory on Saturday, Anthony also moved atop the dual moguls standing, while pushing Perrine Laffont (FRA) down to second place. Laffont decided not to compete on Saturday, following her heavy crash in single moguls the day before. Heading into holidays break, Anthony is now leading the way in moguls, dual moguls and overall moguls rankings.