It takes a unique set of mountaineering skills to conquer alpine and glacial travel. Skills that can take years to acquire, but you have to start somewhere, right?
There's no better place than New Zealand to learn them, with big alpine terrain, glaciers and soaring peaks. Accomplished guides can help you earn mountaineering skills to give you a solid and safe foundation, all while climbing peaks and bedding down in remote huts.  
You won't know yourself when you come out the other end of a seven day course in the great Southern Alps outdoors.
Christie Board reports on going from amateur to wanna-be pro in seven days…
It can be a great feeling when you realise you are seriously out of your depth. It struck me for the first (but certainly not the last) time as I watched the shadow of our AS350 B2 Squirrel Helicopter fly across the Franz Josef Glacier. Below us, tourists squeezed between the tight blue crevasses, but our sights were aimed a little higher: 2000 vertical metres above sea level in New Zealand's Southern Alps.
Only two weeks prior, the senior guide at renowned company Adventure Consultants, Steve Moffat, had convinced me to sign up for their Mountain Instruction Course.
After mentioning a daunting experience climbing in Nepal about a year ago, Steve advised me that their courses "give a set of skills and importantly judgment for climbing all around the globe". His advice, along with AC's excellent reputation, made me confident I would have a positive experience learning how to navigate the unforgiving world of ice and rock.
Due to an incoming snowstorm, our nervous pilot dumped us a kilometre downhill from Centennial Hut. For the first time in 18 months my feet crashed into snow, which would be my home for the next seven days.
Our guide, Richard Raynes, let us indulge in a few happy snaps of the four mountaineers to-be who formed our group. But as Rich distributed the week's food stores, stern faces quickly replaced our smug grins. I silently thanked my new best friend, Damian Ross Murphy, as he stealthily replaced the sack of potatoes I had been given to carry with bundles of soft bread. After a quick instruction on glacier travel, we were roped together and led uphill.
Throughout the week our course itinerary was dictated not by our guide but by the west coast's notoriously difficult weather. That is the nature of the Westland National Park, which is so exposed to the Tasman that a rust-coloured record of Australia's bushfires and dust storms can be seen on the face of the alps.
Each day after breakfast, we began the 40-minute-long bonding process of sorting out our arsenal of technical gear and finding the perfect combination of thermals and softshell clothing to combat the day. As we roped up for glacier travels, we carried the 60-metre lengths coiled across our chests and tied spikes to our boots, giving us all an extra couple of inches of height.
The fresh powder had hardened by the time we zigzagged across its surface each morning, stomping the sharp peaks of our crampons into the thick crust. For safety reasons, our experienced guide demonstrated the important act of self-arresting. Skidding across the ice, he expertly pivoted on to his belly before piercing the side of the hill with his ice axe.
At low altitude, bringing your slide to a halt is achievable.
But at high altitude – and fighting illness and fatigue – many experienced climbers plummet to their deaths.
Typically each day we found ourselves peeling off layers, surrendering to the baking midday sun that was blistering the white bowl of glittering snow. We tested our knowledge of complicated knots, forming strong anchors. At first the knots seem impossible to learn, but my fingers soon became used to the patterns and by the end of the week I understood their applications. After making snow anchors we tested their strength, because the ice is unforgiving and good enough doesn't always pass.
I was surprised to find I didn't miss television at night. No wi-fi connection was available either and our phones were locked away in storage, along with our wallets and passports.
One day, as we traversed the nevé, we were treated to front-row seats to an afternoon storm. Cocooned in a cloud we managed to get in a few hours of iceclimbing, establishing a belaying station at the base of a vertical slab of ice. As I reached up and swung the axe, it pierced the cool-blue surface, raining ice-chips over my cheeks. I repeated the kick-kick, swing-swing process and felt grateful for years of Taekwondo training. Fitter, more experienced climbers crawl around frozen waterfalls like spiders on a ceiling, anchored only by ropes, lifesaving ice-screws and harnesses.
As the bad weather settled in, we spent the next day abseiling from our bunk beds and practising crevasse rescue while dangling from the ceiling beams in preparation for our journey to Pioneer Hut.
On the map, the distance between our base (at the top of the Franz Josef Glacier) to the head of the Fox Glacier was two handspans. In reality it would take us two days.
The weather was unusually hot and I found myself sweating heavily under my pack before the perspiration froze in the breeze. I had to bite my tongue and force my mind to appreciate the expanse of brilliant snow around us. The afternoon sun turned the hard ice to slush, and crossing the glacier fields felt like packmarching through soft sand in summer.
Climbing the saddle, we took in lunch and the view across the Tasman Sea. A quick walk up Mount Von Bulow and Chancellor Dome and we were all smiles once again with the sense of achievement and top-of-theworld view that comes from summiting any mountain.
After being on our feet for 10 hours straight, we slept out under the stars. A thin tarp, goose down and a bivvy bag barricaded our flesh from the mattress of ice. After a necessary amount of giggling we settled in and admired the sunset crowning Mount Tasman.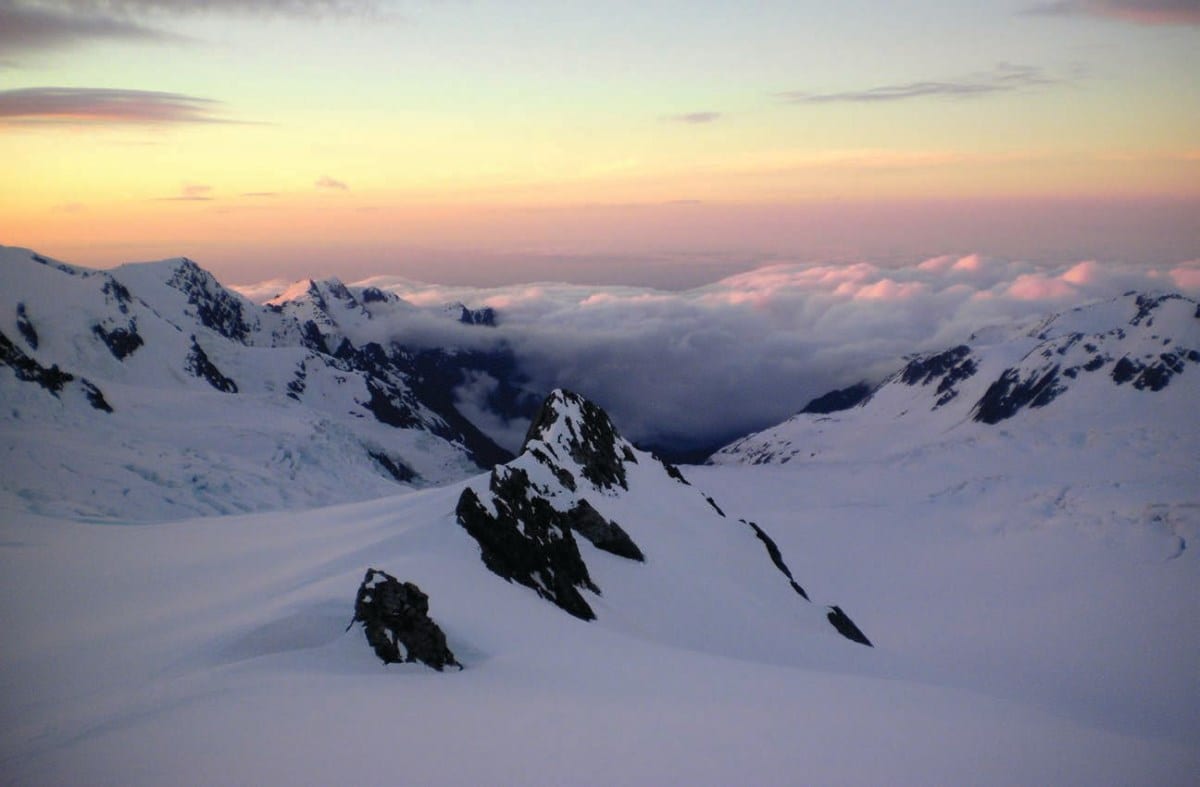 In the morning, our tiny campsite was frozen solid and stray toilet rolls and gloves accidentally went skidding downhill. As we tramped the length of New Zealand's version of Nepal's Khumbu, our environment slowly changed, leaking in colour and the sound of running water.
Outside Pioneer Hut my body ached as I peeled off my boots and harness for the last time. That final afternoon saw us play a fierce game of cards where we battled it out for a shot of whisky we found abandoned on the window sill. Just six days ago we were strangers, but now we shared a camaraderie earned from surviving in the wilderness.
The next morning our helicopter arrived and the pilot took one shocked look at our comical beards of sunburn and wind-worn cheeks and said "what have you lot been doing?" As we flew through the narrow tunnel of the Fox Glacier, our trials were over. I smiled to myself with the knowledge that in just a few hours we would be enjoying a shower and lakeside beers in Wanaka.
The course
The Mountain Instruction seven day course runs from October to March. Cost is NZ$2950 and includes guide fees, hut fees, all meals and snacks, equipment, ground transport, Department of Conservation fees, 15% NZ goods and services tax and aircraft access and egress.