Tristy and Peter Sheridan took their two kids to Myoko Kogen for a family ski holiday in Japan and loved it.
This is why.
The excitement at the airport was palpable, our children could hardly contain themselves at the prospect of flying to Japan and we had to remind them to stay close. The airport hummed around us with other travellers, bags being dragged, children calling out and long lines snaking out from check in counters.
The excitement rose again when we boarded the plane to Tokyo for a family ski holiday, and it took some time for our children to wind down enough to fall asleep.
Arriving in Tokyo in the morning we thought it might be easier to catch a bus directly from the airport to Myoko Kogen ski village in Niigata Prefecture, as we were carrying all our ski gear. As always in Japan, there were some funny moments on the bus where we tried to talk to our bus driver, who was very patient, explaining in halting English where we would stop for food.
Our youngest, Indi, was two and loudly announced to everyone to "Put your seatbelt on!" As the laughter died down the bus got on its way, and we settled in for the trip.
We stopped for food at a place we assumed was like a truck stop. We found a machine inside that had Japanese writing and pictures on it. This was how we ordered our food. We were not sure what we were really ordering but the food that arrived was delicious.
As we got closer to Myoko Kogen the famous Japan powder snow started falling, and it quickly piled up along the side of the freeway. We noticed the snowbanks growing and by the time we were in Myoko Kogen they were as tall as the cars and in some places taller. There was going to be some fun powder skiing ahead.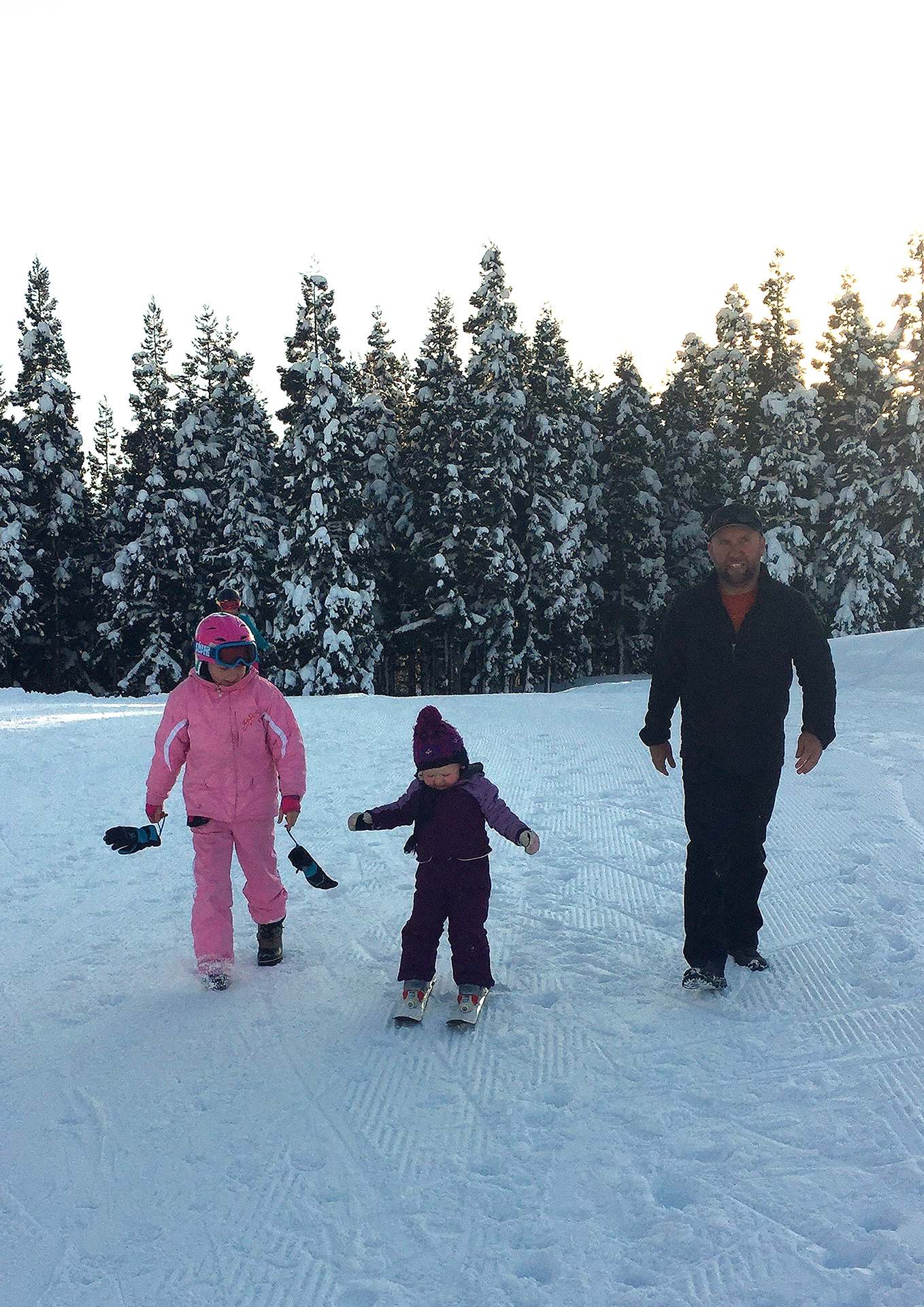 Myoko Kogen is a cool traditional Japanese ski village with a main street that links different resort areas and a ton of Izakayas and cafes so you're always well fed and plenty of hot spring onsens for some post ski soaking. Our hotel was walking distance to both the ski school and chairlift and walking distance to the thriving village.
We booked our eldest, Alta, into ski lessons at Myoko Snowsports, a respected ski school with plenty of English speaking instructors with global credentials and founded by Falls Creek local Tom Langtry.
They even offer childcare up the road which was perfect for our youngest daughter, Indi who got to socialise with other kids in the morning. The team really knew how to ensure the whole family had a great holiday. Come lunch time we took Indi out for a little ski with us, which of course she loved.
Kids sorted and it was our time to hit the slopes and explore all that Myoko Akakura had to offer. Myoko is known for mega snowfall every season so there was plenty of snow for us to shred.
We spent most of our time on the Akakura Kanko side of the resort, where the runs were a bit steeper and after skiing nonstop for a few hours in powder our legs were a bit wobbly, so we went looking for a restaurant on the mountain. We found all the on mountain restaurants very cosy and filled with Japanese culture and yummy baked goods.
The rest of our week was spend venturing out and making the most of all that's on offer in Myoko. My husband, Pete, went on a backcountry tour with Tom from Myoko Snowsports to ski some steep and deep powder and came home with burning thighs and a smile from ear to ear.
Myoko is home to five resorts Akakura Onsen, Akakura Kanko, Ikenotaira Onsen, Myoko Suginohara and Seki Onsen with local buses to each. We took a day at Suginohara and explored the wide open groomers and the steeper runs at the top.
Nights were spent on the main and side streets of Myoko trying all the different restaurants. Strolling back to our hotel through softly falling snow, buying ice-creams, making snow angels in the fresh snow and admiring the snowbanks on the side of the road that was well above our heads.
The time at Myoko went super-fast, as it does when you're having fun. Before we knew it, it was time to head back to Tokyo.  For the return journey rather than take the bus, we sent our luggage ahead with a luggage service ("The Black Cat"), and hopped on the Shinkansen bullet train to Tokyo.
The kids loved the Shinkansen, it goes super fast (only two hours to Tokyo) and there's food and drinks on offer and it's a sleek way to make it into the big city and was so much easier without our skis and luggage.
We'll definitely be back, the ski school and childcare and the ease of village access and plethora of both ski resorts and dining options made Myoko the perfect family destination.
The Enjoy Niigata website has some excellent information about visiting the Myoko area.