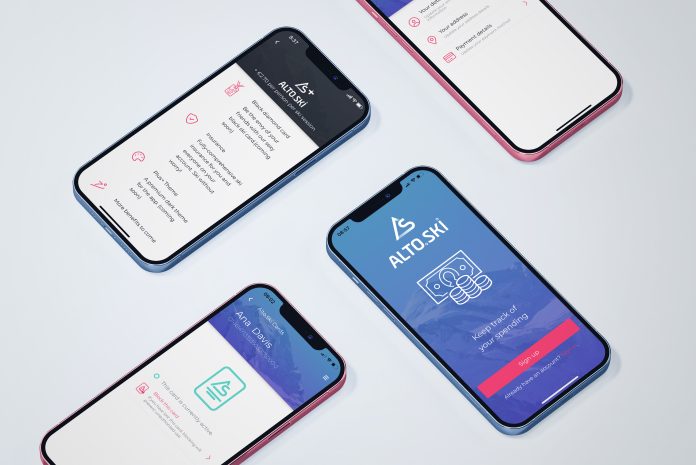 There's a new app in town, just in time for the European ski season.
Alto.Ski is a British technology start-up that provides skiers and snowboarders with a convenient, contactless solution for ski passes, meaning no more queuing at resort ticket desks.
The pay-as-you-go system offers lift ticket flexibility. Don't want to ski for a full day? Then the app calculates the best price based on use and charges only at the end of the day.
With ski resorts offering much more away from the slopes now, this flexible approach will save skiers money, as they are not paying for a 6 day pass up front.
With Alto.Ski, there's no queuing at ticket desks when arriving at the resort. The card is activated during the registration process and connected to the app – skiers can start using the lifts immediately.
The card is compatible with the electronic ticket gates now found in most ski resorts in Europe and it offers more than just ski passes too.
Hassle-free insurance
Daily travel insurance can be purchased automatically through the Alto.Ski+ page and is activated the moment you pass through the first lift gate of the day. Countries such as Italy now legally require insurance for all skiers and snowboarders and it's possible to purchase a policy right up to the last minute, before hitting the slopes.
Ski rental options
Ski and snowboard rental can be arranged directly through the Alto.Ski app with the huge network of Skiset partners across the Alps.
Accommodation bookings
Integrated into the Alto.Ski app is a mapping system that pulls availability from a host of major accommodation providers, making it easy for users to see and book stays in the partner resorts.
How to use the app
Download the Alto.Ski app and then order an Alto.Ski card. The card will be sent in the post, then simply scan the QT code and it's ready to use. Once registered, skiers and snowboarders can use all the functions available. The wooden lift pass also reduces plastic waste and means you just need one pass for every ski trip.