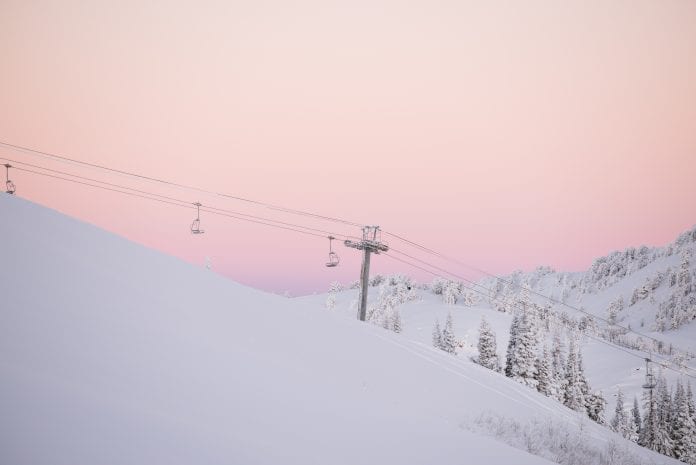 It started with the friends I was staying with, over several wines by the firepit of their home in Eden, Utah, an hour north from Salt Lake City. A few years before they had started looking for the perfect place to retire to, with great snow, wonderful lifestyle, yada yada yada.
They visited quite a few ski towns, but then Powder Mountain kept coming up in conversation. So, they came for a visit, and are now PowMow converts.
Next day my delightful friends, keen to convert me, drove us up to their beloved Powder Mountain, with a stop at First Lift Coffee, a café in the funky Compass Rose Lodge in the gorgeous little town of Huntsville.
It has Australian Campos coffee, does a decent flat white and has chairlift seats. Plus there's a bunch of really interesting ski memorabilia on the walls.
Suitably caffeinated, up the hill we go to Powder Mountain base and Timberline Lodge. They head off to their favourite corners of the mountain and I meet up with my guide for the morning, John Burrows.
As we head up our first chairlift on this slightly socked-in morning, I hear some of John's Pow Mow story, which unpeels another layer every lift we take.
He volunteers as a mountain guide and has impeccable credentials for this task. He used to run Loon ski resort in New Hampshire, was a giant slalom racer, and is also a singer.
He was looking for the perfect place to retire to, wanting a place with a great feel, lovely people, relaxed vibe and above all else, incredible terrain to ski and board on.
So, friends told him about Powder Mountain, and he came, and you know the rest. I'm sensing a theme here. 
The terrain
We do a few runs off Timberline chair, learning the main points about the mountain. John tells me that Powder Mountain has the largest skiable terrain in the USA with 8464 acres.
Apparently you can ski everywhere on Powder Mountain, giving it the edge over other resorts that might try and claim that largest skiable terrain title, and who am I to argue. The "acreage" also includes the 1200 acres of off piste powder skiers and boarders can access via Sundown, Timberline and Hidden Lake Lifts. Ski to the road and take the shuttle ride back to base.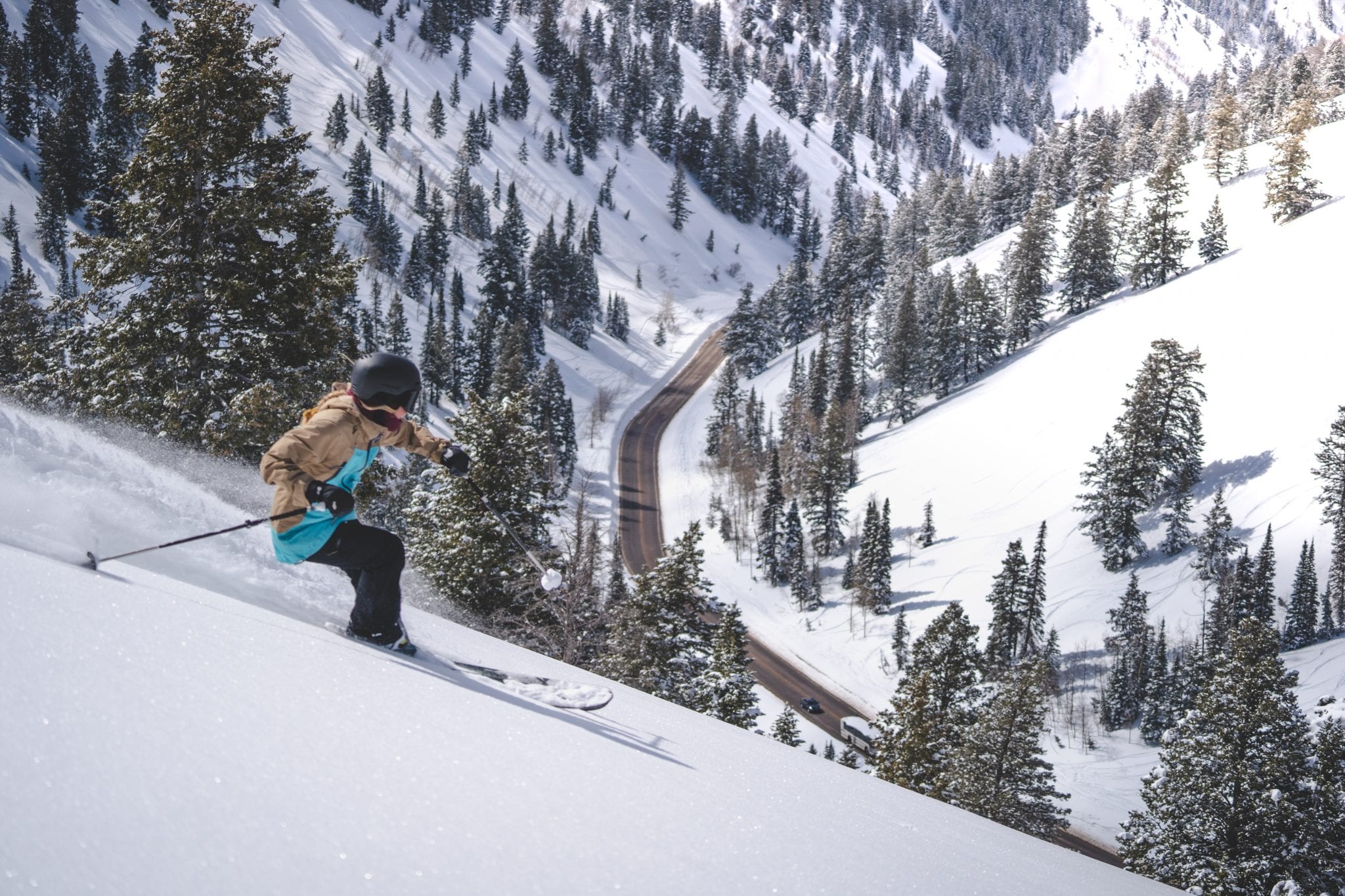 Powder Mountain has nine lifts, with a breakdown of 25% beginner, 40% intermediate and 35% advanced. It also offers pay per ride cat skiing (also included in that acreage figure) to the top of Lightning Ridge and Raintree for $25 per ride. Get a lift up, ski or snowboard unguided back down.
The conditions up top improve, so my tour continues, over to Hidden Lake, where we have a ball between the trees, to Lefty's Canyon, where we see the first lot of luxury homes as part of the Summit Group's big development plans. 
There are more under construction with talk of Richard Branson even owning a home in what The Guardian referred to as A Utopian Club for the Millenial Elite. The founders of Wired Magazine, 8Minute Solar Energy, PayPal and the CEOs of Netflix and Blue Bottle Coffee are all building homes here.
We also see the first lot of Horizon Cabins, which will be a place that artists and musicians and other creative types will be able to come and, well, create. 
The why
While frolicking in Mary's Bowl, in perfect powdery snow. John explains one of the reasons he personally chose this place was because it is a 100% natural snow with over 500 inches (12.5 metres) each season. There's not one icicle of man-made snow from water-hungry snowmaking guns. It is beautiful blower powder underfoot.
We drop down into Cobabe Canyon, named after Alvin Cobabe, the man who originally created this resort back in 1972, and admire the view up the Paradise chairlift.
Back at Timberline Lodge, we meet up with my friends for lunch and talk about the things they love about Powder Mountain. One is the fact that skier numbers are capped at just 1,500 per day. With so much space to ski and snowboard in, it really does feel as if you are the only people there.
They also love the village feel of the place, and the sense of community. I notice where locals have been dropping off winter coats to help people less fortunate – there is quite a pile and the server says it is just from today.
It's here that John reveals he is a singer and has a band – the John Burrows Band. He shows us the video for his new song, where he aimed to sing and play the guitar while skiing. Turns out that that is rather more difficult that he thought it would be, so he ended up doing a snow plough down a bunny slope as that was all he could manage. We are in fits of laughter.
In the afternoon, John heads off to rehearse his next gig, and my friends and I ski until our legs are cooked. We have a drink at the Powder Keg on the mountain to revive ourselves, then on the way home, they take me to the Shooting Star hotel in Huntsville, the oldest pub west of the Mississippi.
It even has a ceiling covered in dollar bills with names on them, including some with a wedding proposal. Then there's the "Violators will be shot. Survivors will be shot again." sign that keeps us all laughing.
The town of Huntsville was once traded for two ponies, which appeals to my love of the wild west and explains the pretty mural of two ponies on a building in Huntsville Square, and photos of two ponies in the Compass Rose.
On the drive back to Eden, we go past picturesque barns with murals on the sides, a herd of deer, horses grazing. And all the while, the snow-capped mountains stand sentinel in the background.
I look around and think maybe I could join the crowd and retire here, living the PowMow dream.