Private ski and snowboard lessons are one of those non-essential snow items that a lot of people never experience over the course of their snow trips.
Waterproof pants? Eye protection? Something to keep your head warm and safe? All necessary for a good time. But three hours with an instructor for over $300 a pop? When group lessons come in at a much lower price point? Yeah… not so much.
I've never signed up for a private lesson because I had my doubts about them – so I headed out to Blue Cow and met with an instructor first thing in the morning on a beyond-beautiful bluebird Tuesday morning. He spent two hours getting me back up to scratch for the slopes after an 18-month hiatus, and I spent two hours trying to work out all the perks of being solo with him.
So let's go ahead and bust, or confirm, some of those myths.
It's expensive
Well, yes. If you know anyone that's throwing $300+ (or $800+ for an all-day private) at things without even blinking an eye, please send them my way so they can fund my lifestyle.
If you're already spending all your spare cash on a ski trip and surviving off two-minute noodles in your off-mountain time, maybe it's not the best time to be investing in private lessons.
But that is the reality – a private lesson with the right instructor is an investment. Generally, instructors placed on private lessons tend to be more qualified and more experienced, equipping them with the right tools and knowledge to figure out – pretty quickly – exactly what advice you need and what you don't.
You're also getting extra perks just by being with an instructor on busy resort days, thanks to being able to skip the bulk of the lift line. Despite being there on a Tuesday morning in the shoulder season, we still might've been in a 15 or 20 minute wait at some chairlifts. And when you're paying for a lift pass, time is money.
Keep in mind that you can also throw in family and friends of a similar ability to you if you'd like to get more bang for your buck; however, as my instructor reminds me, make sure you split up if you're of completely different levels, or you'll spend the entire lesson focused on the weakest link.
Tip: If you book early for a private then you get 10% discounts. Even better, Perisher offers a 2 hour afternoon private lesson for $199 if you book ahead, $205 if you book on the day. Now we're talking.
But is it worth it?
The reality is that group lessons can be ideal for absolute beginners, or people who are lucky enough to have just a handful of people in their lesson.
I also love a group lesson when it's specialised, like conquering the terrain park, or gathering with a big group of ladies.
But value for money really drops down in peak periods when you're an intermediate-to-advanced skier or boarder. You might be in a group with nine other people, where the instructor might spend half an hour assessing everyone's ability. From there, you might only receive basic instruction or basic ideas to carry you through with the rest of the week.
Private lessons are deeply personalised compared to that, and you'll get a lot of information over the course of two hours – sometimes so much that you might need to write it all down at the end (and the right instructor should be able to summarise a lesson and its key points for you at the very end).
If you weigh up what you might get out of four individual group lessons vs. one private lesson, it could be well worth it.
Are there perks?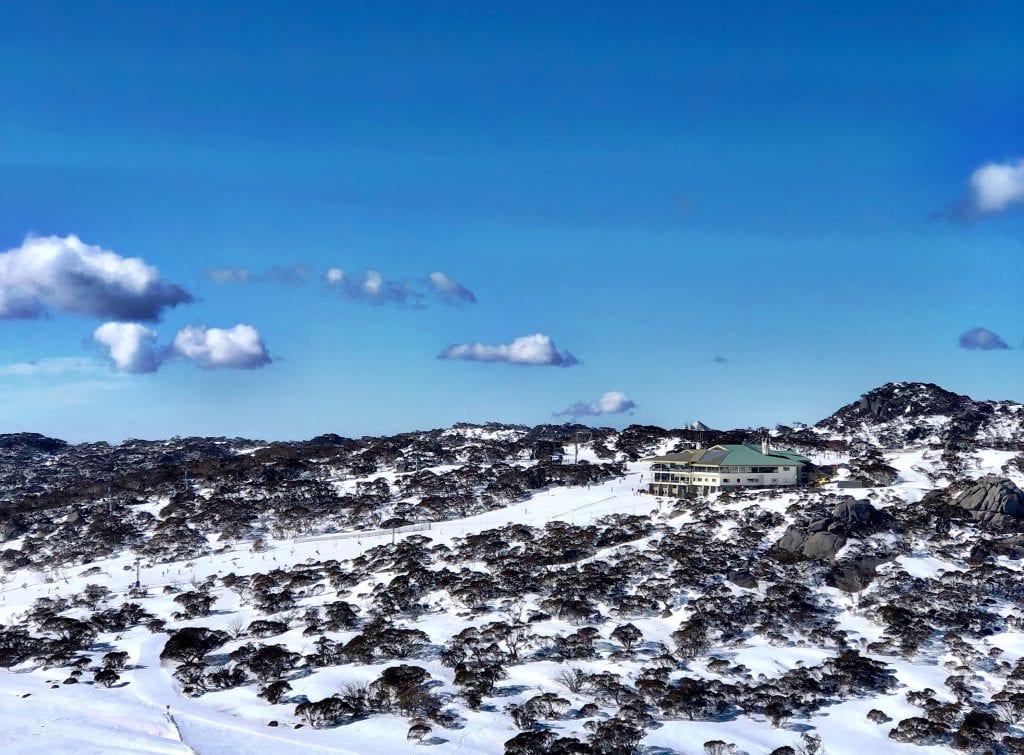 We took the ski tube over from Perisher, loading our pockets with hot mini donuts along the way, and landed us on some fresh groomers, away from the occasional mayhem of Front Valley.
From there, we met up with our instructor Thomas and skied all over Guthega and Blue Cow, stopping off to see – among many other things – the local favourite hot chocolate and beer haunt, the mogul championships underway, and all the best runs for the conditions. All the while being taught technique, of course. 
I hadn't been on any snow for over a year so we worked on turn shape and getting some confidence back, remembering the feelings you're supposed to be having on snow after being off snow for awhile. 
I also hadn't been to Perisher in years and was feeling a little overwhelmed by the trail map (47 lifts, anyone?!), so this was the perfect way to be familiarised with the mountain. While some mountains offer free tours, they can't always take you on more advanced terrain, or offer a really personal assessment of what might suit you best.
This is a great way to be guided through all the runs you'll enjoy the most, without wasting too much time staring at maps at the top of chairlifts, trying to figure out where you are. If it's a good instructor and you ski pretty quick, they can cover a whole lot of ground in one lesson – geographically and skill improvement.
Bonus – you'll get all that insider knowledge on the best local snacks and drinks (very essential in my mind) and get priority ski lift line, so no queues and more time on snow.
Natalia was hosted by Perisher.