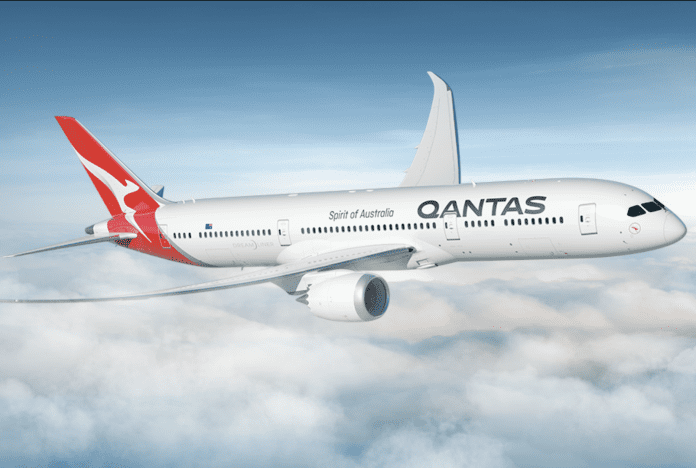 Did someone say game changer? A non stop direct flight from New York will be test driven this week by Qantas.
Look skyward and you may just see the new Qantas Boeing 787-9 embark upon the 19 hour direct flight. It's all part of a data collecting trial run for the hopeful launch of direct flights from Australia to New York (and London) as early as 2022. 
The plane won't be full, far from it. A mere 40 crew and passengers will be fitted with data collecting technology to monitor body impact of long haul travel. Sleep, movement, body clocks and wellbeing will all be monitored. Most importantly, pilots will be monitored with an EEG device to track alertness and carbon emissions will be offset.
This is the first of three research flights over three months. The on-board research is being designed in partnership with Sydney University's Charles Perkins Centre and Monash University in conjunction with CRC for Alertness, Safety and Productivity.
Monash University researchers will work with pilots to record crew melatonin levels before, during and after the flights.  The aim is to establish data to assist in building the optimum work and rest pattern for pilots operating long haul services.
"Ultra-long haul flying presents a lot of common sense questions about the comfort and wellbeing of passengers and crew. These flights are going to provide invaluable data to help answer them" said Qantas CEO Alan Joyce.
"For customers, the key will be minimising jet lag and creating an environment where they are looking forward to a restful, enjoyable flight. For crew, it's about using scientific research to determine the best opportunities to promote alertness when they are on duty and maximise rest during their down time on these flights.
Qantas has already conducted data on passenger sleep strategies on its direct Perth–London service, and some of these initial findings will be assessed further as part of these dedicated research flights. Customer feedback on food choices, separate stretching and wellbeing zones and entertainment options will also be tested.