Sophie Deutsch reminds us all why skiing in Australia is always worth it.
Our global ski and snowboard friends may laugh and shake their head when we say we ski in Australia. But we know the beauty of skiing amongst the snow gums, just one of the joys of snow in a sunburnt country. Here's seven more.
Say no to frostbite
Australia is one of the only destinations where you can ski to your heart's content without spending the entire day shivering in your ski boots and chattering your teeth. Whilst temperatures can range from -10 to an icy -30 in the Canadian Rockies and Swiss Alps, the lower altitude of Australia's mountainous regions make the climate here much more tolerable. Thredbo's average winter temperatures are as low as a bearable -3.6 and as high as a bluebird +6.6.
Ski in ski out
Australian snowfields offer ski-in ski-out options for those avid skiers who truly can't bear to be off the slopes. The ski village of Falls Creek in Victoria is pedestrian only. No cars means skiers and snowboarders can literally ski down the road into their lodge. At Hotham, also in Victoria, the village sits on top of the mountain which means you step out of your accommodation and ski down to the first chairlift. The highest ski village in Australia, Charlotte Pass, is only accessible during winter via a purpose built snow cat that transports weekly guests over the snow from Perisher.
Hang with the world's best 
In 2016, Perisher won the SIA 'Best Terrain Parks at a Resort' award for the fourth year running. And as one of the most impressive terrain parks in the Southern Hemisphere, the skiing destination attracts numerous world-renowned freestyle skiers and snowboarders. You could find yourself riding the chairlift with Jamie Anderson, Joss Christensen, Russ Henshaw, Jamie Anderson and other X Games medalists and Winter Olympians. Shaun White even had a super pipe made specifically for him at Perisher so he could train before the Sochi Olympics.
Marsupials marsupials marsupials
Australia's sunny ski runs feature an array of native wildlife you won't find anywhere else. In late August, kangaroos, echidnas, wombats and emus can be spotted along the Alpine Way to Thredbo. Ski-patrollers have even been known to stop skiers and boarders mid-run to escort a fossicking wombat across the slopes.
[srizonfbvidsingle id=1307750125905954/]
One word. Après.
We Aussies like a party and no more so than at the snow. If you want serious après then ski in to Kareela Hutte at Thredbo at lunch time and open the champagne. Be warned you'll be there till lifts close and will have to ski back down. In Mt Buller try Snow Pony for a Melbourne apres scene, Astra Lodge at Falls Creek for vodka, Zirky's at Hotham and The Man From Snowy River at Perisher for live music.
Thredbo's flare run
The Supertrail in Thredbo, the longest run in Australasia at 5.9km, illuminates with flaming flares every Saturday night in the winter months. Skiers and snowboarders hold burning orange flares in both hands, then ski from top to the bottom of the mountain creating an exquisite snake-like trail of flares amidst the powdery snow. Even the kids get involved on Thursday nights with their own mini 'flare' run on Friday Flat.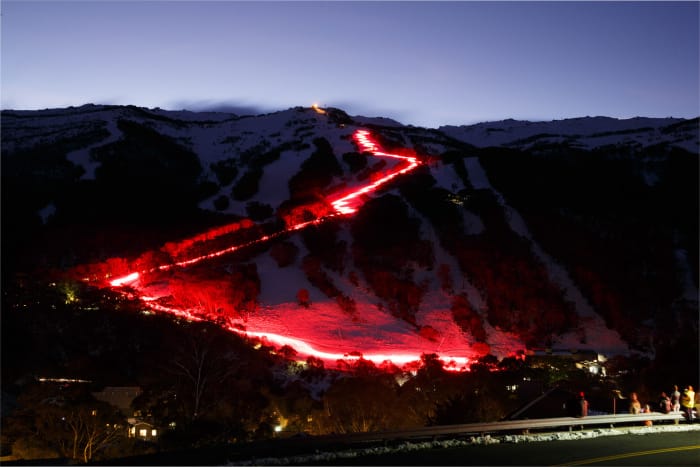 But wait, there's always more.
Snow shoe to the peak of Mt Kosciuszko, ski tour the backcountry in the Main Range with a guide behind Perisher, go tubing at Dinner Plain at Hotham, jump in a dog sled with huskies at Mt Buller, try the world class cross country trails at Falls Creek.