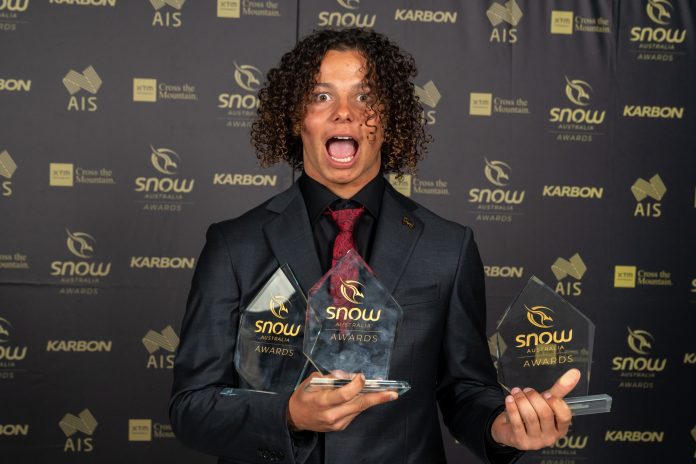 The annual Snow Australia Awards were held last night in Melbourne where the country's best snow sports athletes gathered for the ceremony.
After a stellar northern hemisphere FIS season, 18 year old Valentino Guseli swept the award categories, winning three on the night.
There was no surprises there given the New South Wales south coast athlete took home  two snowboard park and pipe Crystal Globes, six FIS World Cup podium results and a FIS World Championships silver medal in the snowboard halfpipe in the 22/23 season.
Guseli jointly won Male Athlete of the Year (Olympic Discipline) alongside freestyle skiing world championship silver and bronze medallist Matt Graham.
He also won Junior Athlete of the Year alongside snowboard cross world championship silver medallists and junior world champion Josie Baff.
Finally, Guseli won the prestigious Alex 'Chumpy' Pulling Outstanding Achievement Award as the first snowboarder in history to achieve FIS World Cup medals in all three park and pipe disciplines in a single season, earning him the overall Park and Pipe Crystal Globe, and Big Air Crystal Globe, while finishing second in the world rankings for snowboard halfpipe and third in slopestyle.
"I am super honoured and grateful to be here and to have been given these awards," Guseli said on the night.
"I'm very proud of my best season yet and I had so much fun just taking in all the beautiful moments throughout the whole season and it's pretty cool to be here now reflecting on it.
"I think one of my main goals for this season was to take every moment and enjoy the journey, and I really did enjoy it and I am looking forward to doing it all again next year."
As well as her Junior Athlete of the Year award, Josie Baff was named joint Female Athlete of the Year (Olympic Discipline) alongside freestyle skiing FIS World Championship silver medallist and aerial skiing FIS Crystal Globe Champion Danielle Scott.
"It's really awesome, the calibre for Female Athlete of the Year was just absolutely outstanding this year and to be named with Dani is amazing," Baff said of her win.
"I used to help look after Val and his little sister when they were young, so it's really nice to have this experience together and to someone to relate to – it's really special," she added in relation to her Junior Athlete of the Year award.
In the Paralympic disciplines, Ben Tudhope won his fourth straight Athlete of the Year award, jointly shared with Women's Snowboard Cross World Champion Amanda Reid.
Tudhope podiumed in every single World Cup event he entered this season, winning the Para Snowboard Cross World Championships and placing third in the Dual Banked Slalom World Championships to win the Men's LL2 overall snowboard Crystal Globe and the boarder cross Crystal Globe.
"It was great to be able to win something that I've wanted to win since the start of my career," Tudhope said, reflecting on his World Championships title.
"I kind of switched up everything this year. I moved away from my international team after the 2022 Paralympic Games and got a new coach and that really put everything in place and I feel like my support network and team dynamics this season have been absolutely amazing."
Coaching awards were also presented during the night, with Ben Tudhope's new coach Nickie Rodgers winning the Paralympic Disciplines Coach of the Year Award, while Australian mogul team coaches Kate Blamey and Peter McNiel were recognised in the Olympic Disciplines category for the second consecutive year for their contribution to Jakara Anthony's extraordinary season and the men's moguls team results.