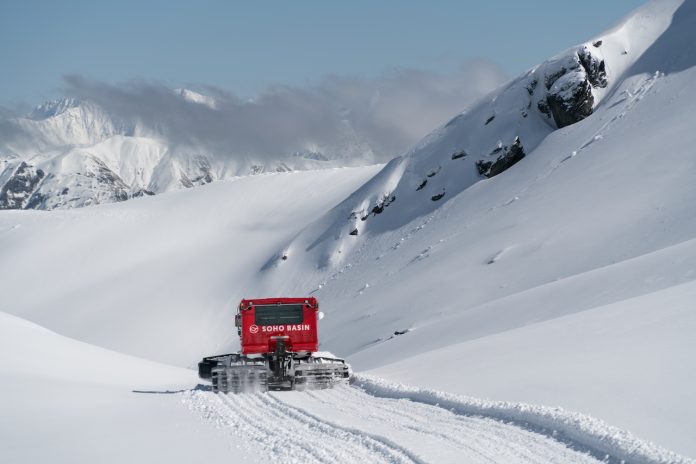 Soho Basin is New Zealand's best-kept secret. It's a bespoke cat-skiing experience that gives you access to an unspoiled powder playground, exclusive to you and your mates.
Imagine cutting laps all day long with over 1000 acres to explore, stopping only for a chef-made gourmet lunch in a mountain hut with alpine wines to match.
Having been set up by passionate locals, it combines everything there is to love about off-piste alpine experiences with the ease and the comfort you might expect from a luxury ski resort – just amped up a few notches.
And so for those looking to celebrate a special occasion or tick 'private mountain' off the bucket list, here are a few reasons to love Soho Basin and all it has to offer.
1. The cat skiing location
High above the Cardrona Valley, Soho is a 60 minute drive from Queenstown, 40 minutes from Wanaka or a 10 minute flight via helicopter.
Being adjacent to Cardrona Alpine Resort, you can expect spectacular scenery over the Wakatipu Basin, all the way from Fiordland to the West Coast and Wanaka to Queenstown.
The ski terrain offers 500m of vertical with the highest point being at 1925m of altitude. Just make sure you're inviting your mates who are comfortable intermediate or advanced skiers or riders; they'll be able to make the most of the terrain, which offers everything from wide-open slopes to challenging chutes.
Pack your fat skis, you'll be needing them for the powder turns that await you.
2. The cat skiing experience
The day commences with a safety meeting over coffee and pastries, before you climb into the custom-built Kassbohrer Pisten Bully machine for your first run of the day.
A major perk of cat skiing is that you can go as fast or as slow as you like. The cat waits at the bottom of the run to take you back in style, with heated passenger cabs letting you relax in comfort as you skip the chairlift lines.
In total, you can expect a total of 12 to 14 runs throughout the day. With no rush along the way, it's a great environment to improve your off-piste skills, all with support from the team, who are circulating the area to assist and advise. Take their lead or select your own lines across ungroomed zones, slopes and chutes.
3. The food (and drinks)
At lunchtime, you can expect a delicious three-course meal prepared by the chefs next to the mountain hut.
And it's not quite the hot chips and burgers you might expect from usual ski resort fare. Think locally sourced ingredients including local charcuterie and cheeses; crayfish bisque, wild game en croute with kumara, bread pudding, vanilla and whiskey. All accompanied by Amisfield award winning wines.
4. The cat skiing team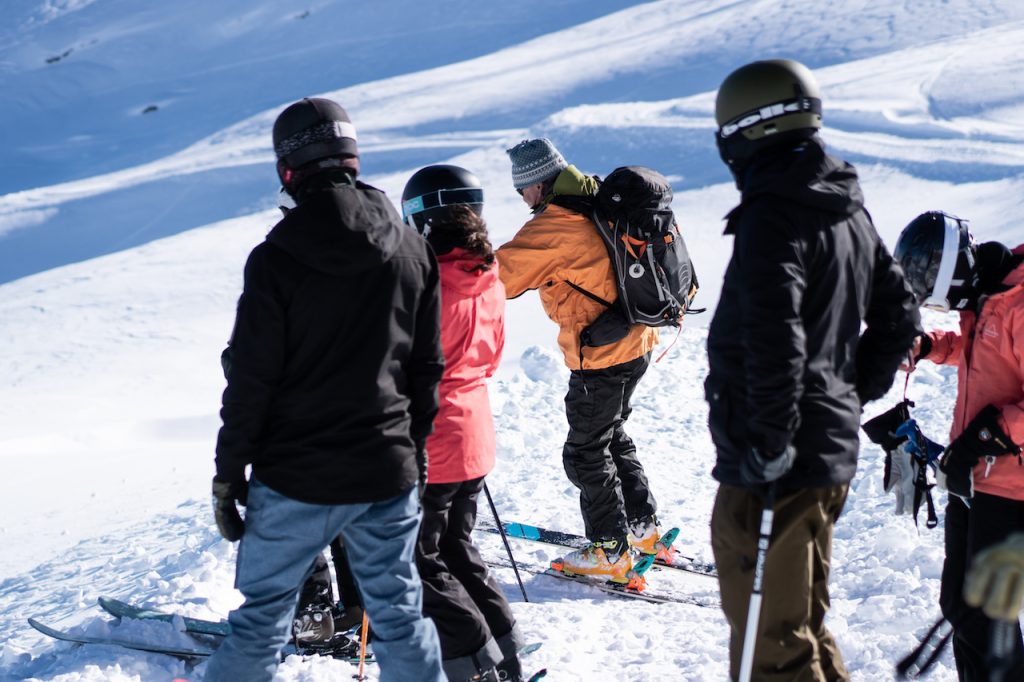 With a qualified ski instructor as a host, along with a team of experienced snow safety experts and cat drivers, you know you're in the safest of hands throughout the day.
The team are hand-picked for their qualifications, experience and knowledge to ensure the operation runs safely and smoothly. You have fully qualified guides and avalanche forecasters to look out for you, and a snow cat chaffeur that has navigated Antarctica among many other locations.
With the terrain managed as a ski area, you can be assured there's a safety management plan along with cat-skiing patrollers to keep everyone happy and well.
Ready to go and discover it for yourself? Just be quick – they limit skier and boarder numbers every day for a reason.
Soho Basin is now available for private charter this winter. A day on the mountain is approx. NZ$12,000 based on a group of 10, and includes everything you need for the day. Find out more and enquire here.