Our number one tip for booking a ski holiday in Canada? Turn towards the sunshine and plan your trip for February, March or even early April.
With plenty of snow still on the ground, you'll also enjoy better deals thanks to travelling out of peak season.
Especially at Sun Peaks in beautiful British Columbia, where spring time means longer days and more time spent on the snow.
That's a win win.
1. 2000 hours of sunlight
Love the snow, but also the sunshine? Those bluebird days are more likely to roll around in the spring, especially in Sun Peaks, which is known for over 2000 hours of sunlight every year.
You won't be missing out on powder either; the resort's location in interior British Columbia means that it gets an average of six metres of snowfall every season. You'll get to look forward to skiing and snowboarding in light, dry, fluffy snow that is everything your powder-loving dreams are made of.
The bonus is that by visiting in February, March or April the snow base has had a chance to build up, giving you more opportunity to explore the bowls, glades and groomers across the mountain.
2. More time in the day to explore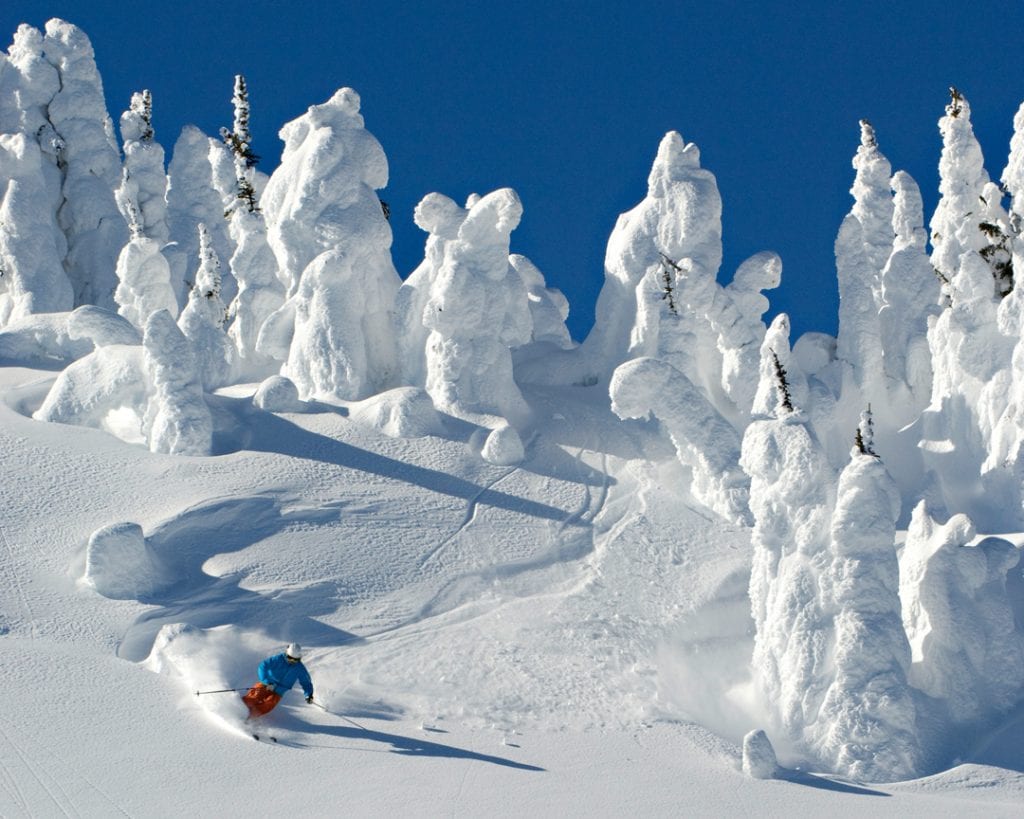 Thanks to longer daylight hours, Sun Peaks run their chairlifts until 4pm from February 1. That's important when you consider that it's British Columbia's second-largest resort, second only to Whistler. Crunching the numbers, you have 4270 acres of terrain with 137 runs, included 17 gladed areas and two bowls; 13 chairlifts; and a 10 acre terrain park. The longest run is 8km, so get those legs ready to burn.
3. Leave the layers behind
Because the temperature's going up! Spring is great news for those who hate the bitter cold of winter – average temps in Sun Peaks go from -9.5 Celcius in December and -6.7 in January to -6.1 in February, a mild -3.9 in March and a positively balmy -1.1 in April.
4. No crowds
Warn your legs that they won't be getting much of a rest, because you won't have any lift lines to hang out in. The crowds in early spring are non-existent, thanks to most visitors not arriving until spring break – that means you'll have those beautiful groomers and powder bowls all to yourself.
5. One word: Après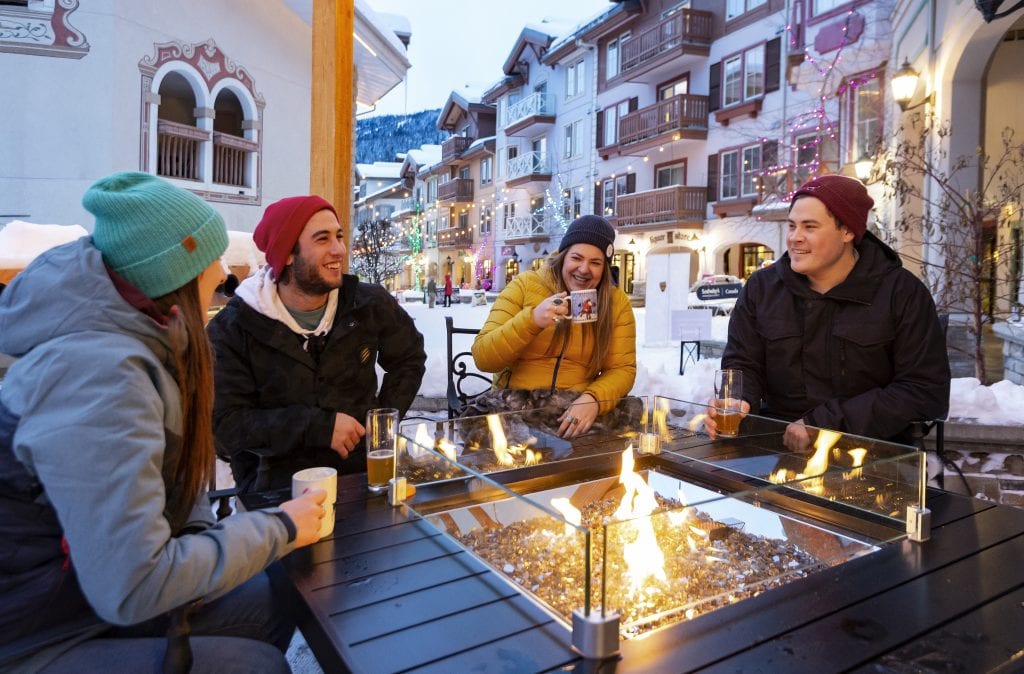 Sun Peaks offers up over 40 bars, restaurants and shops spread throughout an intimate, pretty pedestrian village – so you know that when après o'clock rolls around, you'll be able to find a deck and a drink to keep you company while you soak up the last of the sunshine. For a truly Canadian experience, order a Caesar and a poutine and make friends with some locals. 
6. Fondue & starlight.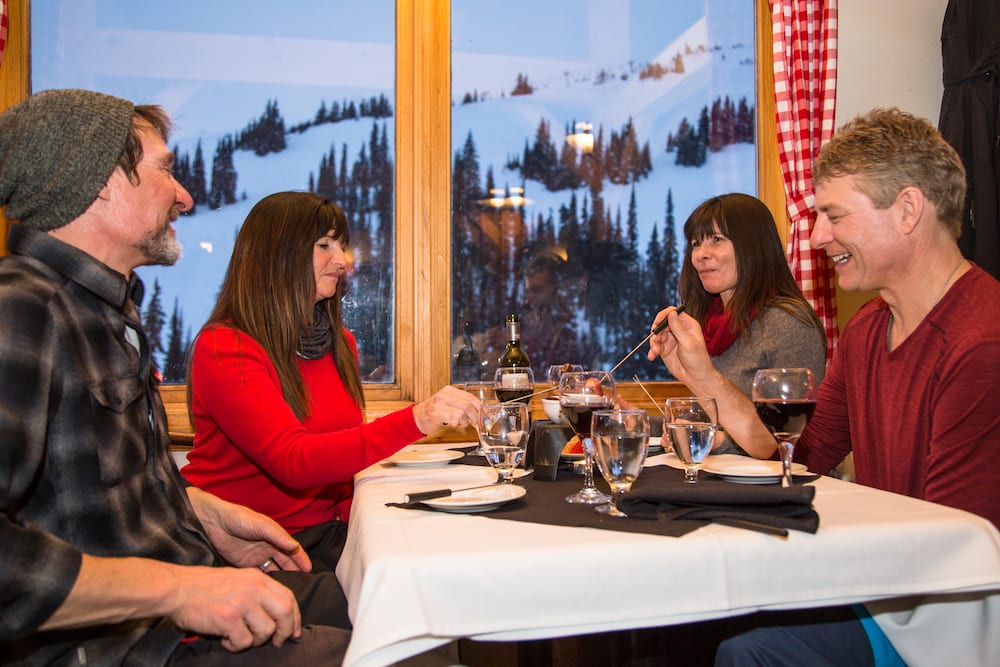 The ultimate experience to add to the Canadian resort bucket list, and it's best in the spring, when the sun takes the extra time to set. Sign up for the Alpine Fondue And Starlight Descent to board the chairlift for a twilight ride to Sunburst Bar, where you'll enjoy incredible views along with a Swiss-style fondue with cheese, meat and chocolate.
After dinner, and with the help of a head torch and a guide, you'll click into your bindings and descend the freshly groomed 5 Mile back to the village, while stars blaze overhead in the crisp mountain air. This activity runs every Wednesday or Thursday until late March.
7. Endless things to do, places to go, fun to be had
The resort may be heating up in spring, but the activities don't slow down. Go snowmobiling, snow biking, ice fishing, skating, or dog mushing; head out on a sleigh ride; take a shuttle to a Kamloops Blazers hockey game; book in for a hydro and hot stone massage at the Sun Peaks Spa; or take the interresort shuttle and be at Revelstoke or SilverStar within 3 hours.
8. Did we mention… wine?
Last but certainly far from least, the Sun Peaks Food and Wine Festival is scheduled in for March 5 to 8, 2020. Over the past 20 years the festival has grown into Canada's best winter party, thanks to being a celebration of the famed wineries of the province, along with the very best of Sun Peaks dining. Sign. Us. Up.
Ready to go?
Find all the best Sun Peaks deals at Blue Powder Travel here.