Australian software developer, Dan Solo, first discovered Japan's infamous powder back in 1997 and has been snowboarding across the country every northern winter since.
Dan and his spouse, Andy, ran a crowd funding campaign to purchase their own commercial ski lodge in Madarao in 2016 and Snowball Chalet opened its doors the following year. The Bondi couple have been welcoming guests every season since (until Covid hit) and now own both the chalet and the Shaggy Yak restaurant in town.
Global travel bans and border closures mean Japan's 2020/2021 season has been hit hard. With no international chalet bookings and a lockdown spent in Australia, Dan's business visa for Japan still needed to be renewed to keep it valid. So he returned to Japan to a closed chalet in the hope that Andy would follow. 
Border and visa complications meant she hasn't (yet) and now Dan is "stuck" in Madarao during a record snowfall season with lifts still running. 
This is Dan's story, the second in our series of foreigners "stuck in ski towns".
—
I thought it was going to be really difficult to return to Japan but actually it was super easy. My re-entry permit was still valid until December the 10th so I just had to arrive prior to that. I filled out the exemption to leave Australia at 11:30pm on a Sunday night and by 9:30am on Monday it had been approved. I booked a flight with ANA for $900 return and that was basically it.
When I arrived at the airport in Sydney they asked for the letter of exemption to leave Australia which I handed over. They checked my luggage and asked me to wear a mask on the plane. There were no people at the airport so I had checked in and cleared customs in less than 15 minutes.
Once I arrived in Japan they kept asking just one question – where are you from? I kept saying Australia and they kept saying go through that line which was empty. Did that four or five times and eventually got handed a pass to say I had passed quarantine procedures. Popped out into arrival hall with my luggage within 20 minutes from landing.
I hired a car and drove it to Nagano where our Chalet Manager, Takenoshita san picked me up. I then spent two weeks at Snowball Chalet in quarantine. When that was over I went to Nagano to extend my visa which all went smoothly. Now I can stay in Japan for another year before renewing my visa and in theory can leave and return whenever I like even with the new tighter restrictions.
We are in a small village in the Japanese Alps which is more or less deserted.
There is not really any major risk of transmission of virus here as not much is open and there is nowhere you go where the locals aren't wearing masks all the time. You never ever go out side without a mask and never ever into a building without one. Every single shop, restaurant and house has alcohol hand wash and you have to use it before entering. That said Japan does have an issue with an increasing virus count every day which is primarily focussed in Tokyo, Kyoto, Kanagawa and Chiba. We just don't have very much exposure to it or those areas.
I have access to what is more or less the same as Medicare here because of my visa type. I think it costs around ¥17,000/year ($210/year) and I also have travel insurance for everything else. The area we are in still has a lot of capacity in the hospitals, although I believe in Tokyo that is getting to be an issue. They just crossed 50% threshold of advanced care beds being occupied.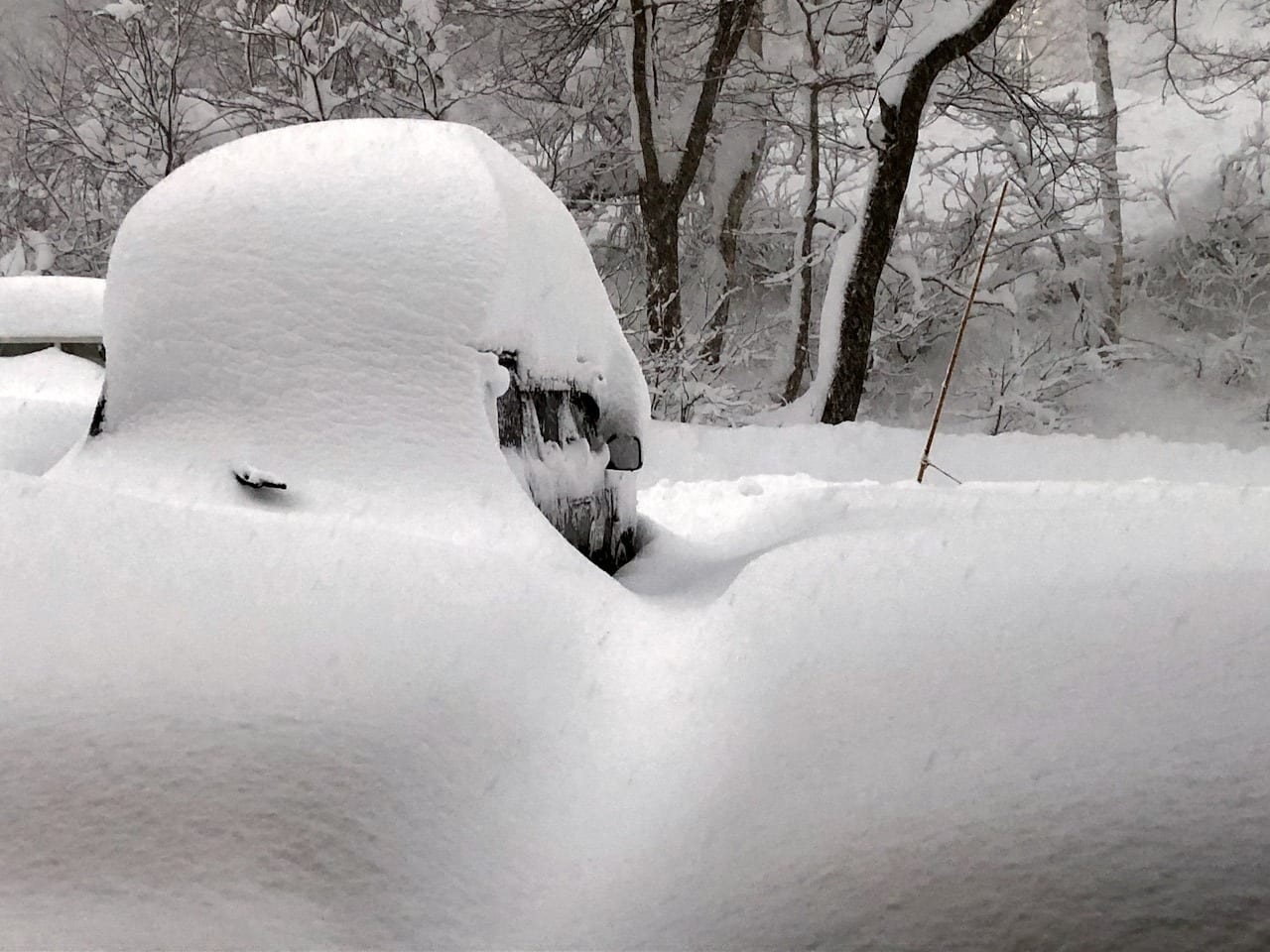 The ski resort itself is so quiet – a metre of fresh snow and 14 people in the lift line for first tracks. I have no idea how the resorts are staying open.
At Snowball Chalet we are a little insulated as we have no debt on the business so even though we have no revenue which is super hard, the business itself is not at risk. I know there will be other ski lodges in Madarao that would be doing it really tough though.
Rebuilding momentum will take time. There will be numerous ski businesses that won't re-open which will be really sad as so many people put so much of themselves into the businesses. I am sure the future of Madarao itself is very secure.
I think if anyone was already sitting on the fence they will be seriously considering going from a commercial lodge to a family home. It is something that has already been happening in Madarao and the surrounding resorts. For those who have much bigger ventures the pain of non operation has been far greater. At Snowball we simply hibernated. Big hotels can't easily do that and even if they do there are still significant overheads to take into consideration.
We're lucky, both Andy and I have also been able to have non-related supplemental income as we have come from other careers and have been really lucky to be able to step back into them – I'm working with a software startup remotely. The startup has people in multiple time zones and because I do split days it works really well as I cross a few of the time zones which knits the team together. I feel like the luckiest person alive to work in a team like that and ride mountains of joy until my heart is content.
What about the snow?
Basically all the lifts are spinning. We know the patronage is super low so we are very appreciative we still have mountains to ride but from the operational perspective not much has changed. The lifts spin, the snow cats groom, patrol patrols and the restaurants are open.
We have had weekly storms and persistent cold temps so even days after a storm we are still riding blower pow and getting face shots on every turn.
I know without a shadow of a doubt this will be the best snow season of my life.
LaNina year and no people on the mountain. It is totally amazing. We have definitely done a lot less back country riding because the main tree runs which Madarao and Tangram are famous for are in such perfect condition and have fresh lines for days.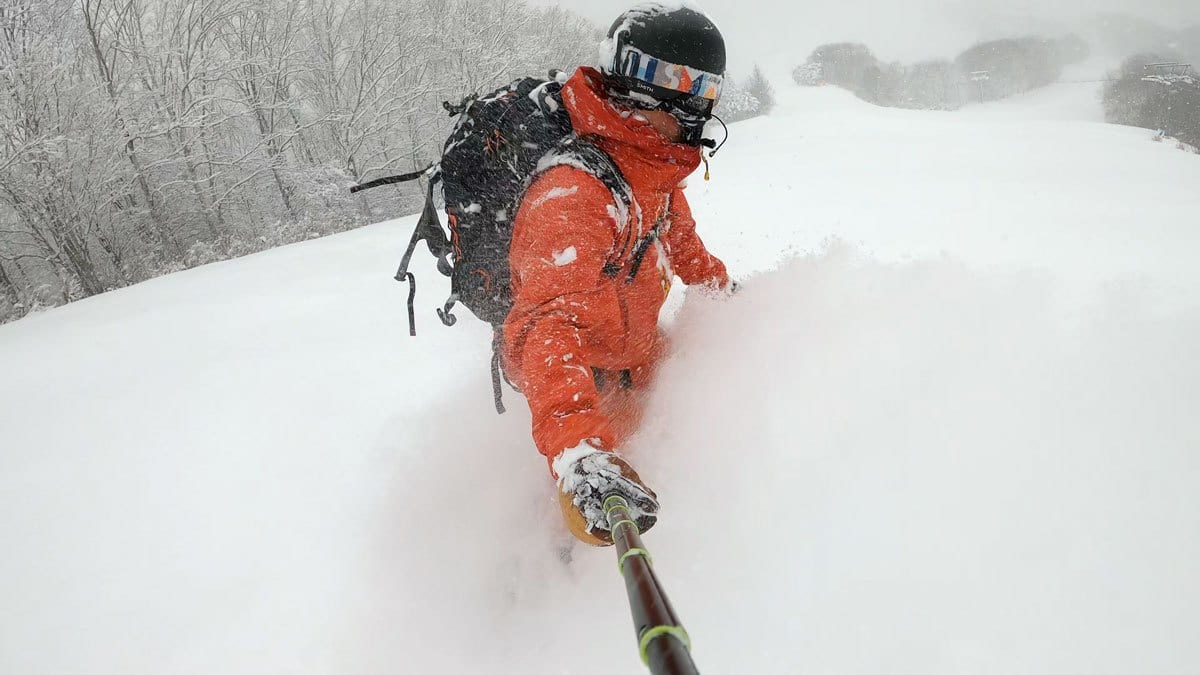 The snow is so light that once it is kicked up it floats for an impossibly long time. Pulling into Kings powder bowl and looking back at 30 foot rooster tails peeling off the trailing edge of my board is a special kind of joy. Every jump is off soft and every landing is into pillows of pow. I
I have also been heading to Joetsu for the occasional surf (COOOOOLLLLDDDD) which has cleared the head a few times. The surf here in winter is exceptionally good world class waves that are more or less completely deserted so it gives a bit of variety and breaks up the weeks which is a nice thing for mental health.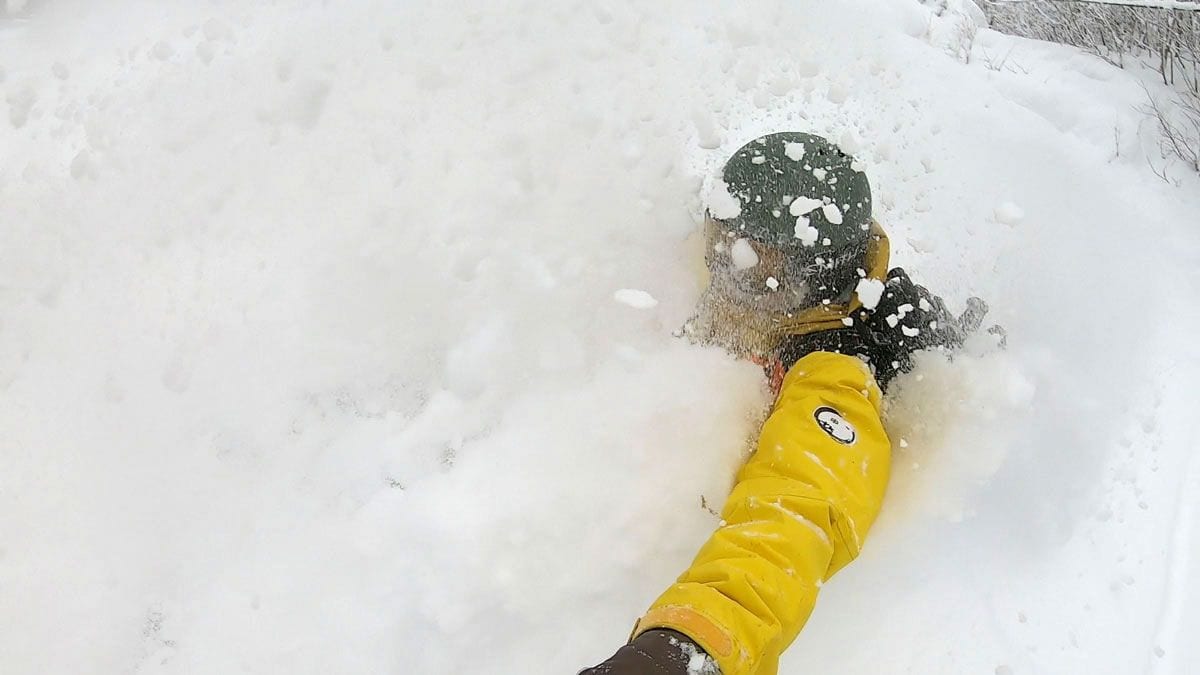 It has definitely been hard without family, friends and guests though. I am not great at being alone. I like people. Couple that with the additional sadness of the issues in the world it kind of compounds the loneliness.
Normally Snowball Chalet is full of life, laughter, music and of course Japanese whisky and sake in front of the open fire waxing lyrical about the epic turns of all the guests. I am really really missing that magic and feel really sad so few people can experience the amazing snow and riding of this season.