Hokkaido needs little introduction. For skiers and snowboarders keen on incorporating a cultural element to their snow trip, it's the dream destination; easy to get to, packed with incredible snow experiences, and the perfect mix of popular and off-the-beaten track adventures.
For those planning their next snow sojourn, this is the one and only guide you'll need.
Make yourself a cup of tea (or, better still, pour yourself a sake or a Sapporo beer) and settle in as we walk you through the must-dos, the must-eats and the must-skis.
Begin in Sapporo
With Hokkaido rapidly rising through the ranks as one of the world's top ski destinations, the airlines have started to sit up and take notice. There are plenty of airlines that fly to Sapporo; it's worth keeping an eye on the Qantas website for news on their direct flight from Sydney. Otherwise, you might like to stopover via Tokyo or Singapore. It takes about 7 hours from Sydney to New Chitose Airport by direct flights (flight undecided for 2022-23), and takes about 12 hours by connecting flights.
You'll land in New Chitose Airport, a freshly renovated airport complete with a Streetcar Dining district, the Doraemon Waku Waku Sky Park and even an onsen.
With Japan on a similar timezone to Australia, depending on where you're flying from, you'll have no jetlag to deal with. Purchase yourself a Hokkaido Rail Pass, jump straight on the JR rapid train and head into Sapporo, which will only take you about 40 minutes.
A vibrant city full of festivals, fantastic food, fun arcades and other things to do, you won't have any trouble keeping entertained in Sapporo – but here are a few ideas.
Eat, eat, and then eat some more. Sapporo has one of the best downtown areas in Japan, and is the food capital and home of fresh Hokkaido ingredients. From the Nijo fish market with its fresh fish, king crab legs and sashimi, to the deliciously deep bowls of miso ramen at late-night delicatessens, you'll go home and forever be talking about "that soup curry I had in the back streets of Sapporo one snowy night"…
Head to Susukino, one of Japan's largest entertainment districts. This is a one-of-a-kind mix of city lights, restaurants, bars and karaoke. Have a stroll around at night and get your perfect Instagram pic at the bright lights of the crossing.
Wander Tanuki Koji, the oldest shopping street in Sapporo, a great way to meet the local people. A shopping district with over 135 years of history, you'll find all kinds of souvenirs here alongside the best sake, whiskey and wine to enjoy.
Discover the birthplace of the Kaitakushi Brewery, and is the first city where beer was brewed in earnest by the Japanese and forerunner of the world famous Sapporo Beer Company. The history is almost as cool as the beer itself; it was invented in 1876 by Sapporo's first brewmaster,  Seibei Nakagawa, who travelled to Germany to learn the craft of brewing at a time when travel was strictly forbidden.
Visit the famous Sapporo Snow Festival, held in February every year. The biggest winter festival in Japan, it's been running for over 70 years and features larger-than-life snow sculptures that are as elaborate as the real things and over 10 metres high.
The best day trips
If you're staying in Sapporo, you're lucky to be within an hour's drive of both Sapporo Teine Ski Resort and Sapporo Kokusai Ski Resort.
The urban yet powdery resorts are popular with Sapporo locals, so you'll enjoy the authenticity to be found; plus you'll have the slopes essentially to yourself on a weekday. They're both home to some of the steepest in-bound terrain in Hokkaido, but beginners and intermediate skiers and boarders will be just as happy.
You might like to also schedule in a day trip to Otaru, an amazing historical town on the ocean. With gentle waves that lap up against the snow-lined shore, an ancient whiskey factory and alleyways home to delicious fresh seafood, it's an unforgettable destination that few Westerners get to see.
When you're ready to rest your weary ski legs, there's no going past Jozankei Onsen. It's an incredibly relaxing trip from Sapporo, with the all-natural hot springs nestled into the trees. Soak up all the minerals then enjoy the delicious buffet lunch between dips, or wander around town and find the free foot baths along the way. And while it's easy to do a day trip here, it's even nicer to stay a little longer and stay a night or two in a hot spring town surrounded by nature.
Venture a little further
True powder hunters know that the snow quality in Hokkaido is second to none thanks to the weather systems that blow in from Siberia, picking up moisture over the ocean and landing it onto the mountains of Hokkaido.
If you're looking to see the very best of what this island has to offer for resorts, try…
Niseko: Hokkaido's most well-known resort, just two hours from Sapporo by car, train, bus or private transfer. Once there, explore four integrated Niseko United resorts – Hirafu, Niseko Village, Annupuri and Hanazono. A Niseko United All Mountain Pass will  allow you to explore all interconnected ski areas, with the backcountry also accessible (best with a guide). Off-snow, you'll find stacks of après action. Don't miss a soak in Goshiki onsen; a drink in the cosy Toshiro's Bar, with over 400 different bottles behind the bar to choose from; or the region's famous cheese tarts and cream puffs at Milk Kobo.
While in Niseko, you might also like to duck over to Iwanai resort; a town by the sea less than an hour away from Niseko United and two hours from Sapporo. Famous for its abalone, it also happens to be well-known for the cat skiing. Head to the top of the mountain for views of the ocean, and ski back down, enjoying the powder snowfall along the way.
Asahidake: Authentic and wild, because, well, it's an active volcano! Located in Central Hokkaido, just 2 hours from Sapporo by train or highway bus to Asahikawa, the base of Asahidake. Asahikawa Airport is only about 90 minutes away from Tokyo with many direct flights.
This is the highest mountain in the area and serviced by a cable car. This spot is for those seeking the best powder runs, with the cheap lift tickets and minimal lift lines attracting many to seek out the 14m of powder that falls here each season. Again, a guide is highly recommended for the backcountry.
Kiroro: In Akaigawa, it's about an hour and 15 minutes from Sapporo. Despite the location, you won't be spending any time in lift lines here as you discover the terrain. With groomers to suit every level of skier and boarder, the backcountry access from the resort also happens to be world-class, managed by a system designed to encourage safe backcountry skiing for all advanced riders; families will also love the night skiing, with the runs lit up to enjoy longer.
The most adventurous skiing you'll ever do
If you want to feel like you've ventured to the ends of the earth for skiing, Rishiri-Rebun-Sarobetsu National Park is the destination for you. A backcountry skiing haven famous with those who want to earn their turns, it's on the bucket list for many.
There's a romanticism to this island, paired with a mysteriousness and a beauty. With blue-green swells, icy shorelines and plenty of snowfall, expect plenty of storms as it battles the winds that are swept in straight from Siberia; but if the sun comes out and you're in the right tour group, you'll understand why it's referred to as the "floating island", as the powder is second to none.
Get there by taking a five-hour train ride from Sapporo up to the most northern town in Hokkaido, Wakkanai, then taking the ferry over to the island. There are also flights from Sapporo's Okadama Airport and New Chitose Airport to Rishiri, both of which take about 50 minutes.
You'll be able to bed down in various ryokans across the island, sooth your weary muscles in the local onsens and enjoy ALL the seafood you could ever want.
Bonus must-sees and dos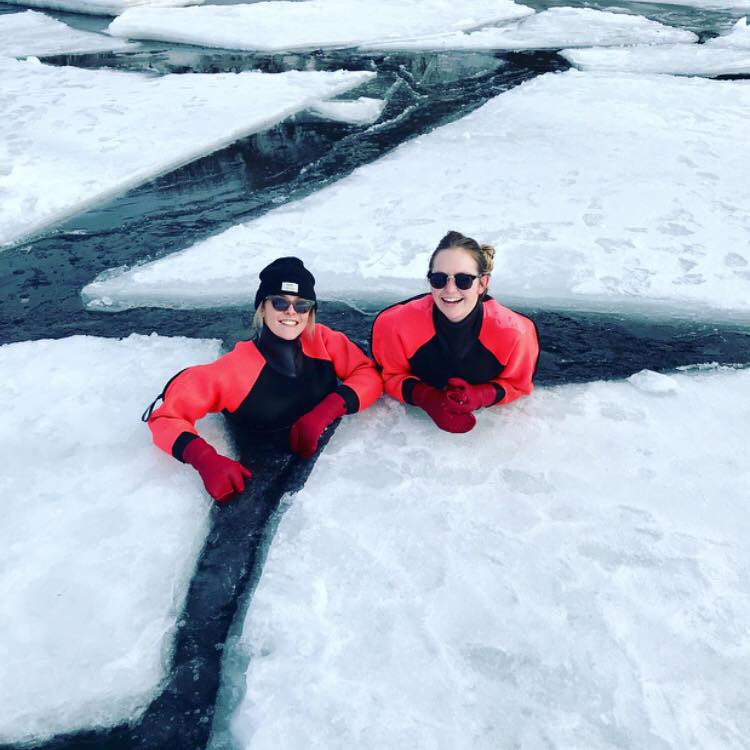 We know, we know – your itinerary is already packed, and you're going to need a few season in Hokkaido to see everything, not just a few weeks.
But just in case you do have that little bit more time, be sure to add Shiretoko to your list. Like Rishiri, it takes about 45 minutes by air from Okadama Airport or New Chitose Airport to Memanbetsu Airport; then you can travel to Shiretoko by car.
It's about a seven hour trip to Sapporo out to what genuinely feels like Antarctica; home to drift ice walks and swims, cruises on an icebreaking ship and experiences that you genuinely won't believe until they are happening.
Ready to visit Sapporo and its surroundings? Click here to find out more and here for more HOKKAIDO LOVE!.