With all the time we've spent at home in recent years, we're all going to be going big for our first trips to our dream international destinations. And if you want to squeeze two holidays into one, we have the ultimate trip for you – Utah.
Utah is where you can not only find the USA's best national parks but also the very best ski resorts. So you can go from the most powdery slopes alongside charming small ski towns, then switch vibes completely to jaw-dropping red canyons that you may just have all to yourself.
Here's exactly how to find the best of both worlds in Utah.
First, getting there
Your best bet is to fly into Salt Lake City, which is your gateway to the promised land – there are over ten ski resorts within an hour's drive of the city.
The easiest way to fly from Australia is to connect via Los Angeles or San Francisco. You can also stopover in Las Vegas, Nevada for some fun before you head onwards to the magic of Utah.
It's recommended to spend one night in Salt Lake City to acclimatise to the altitude before moving onto your first part of your holiday…
Holiday one: The powder slopes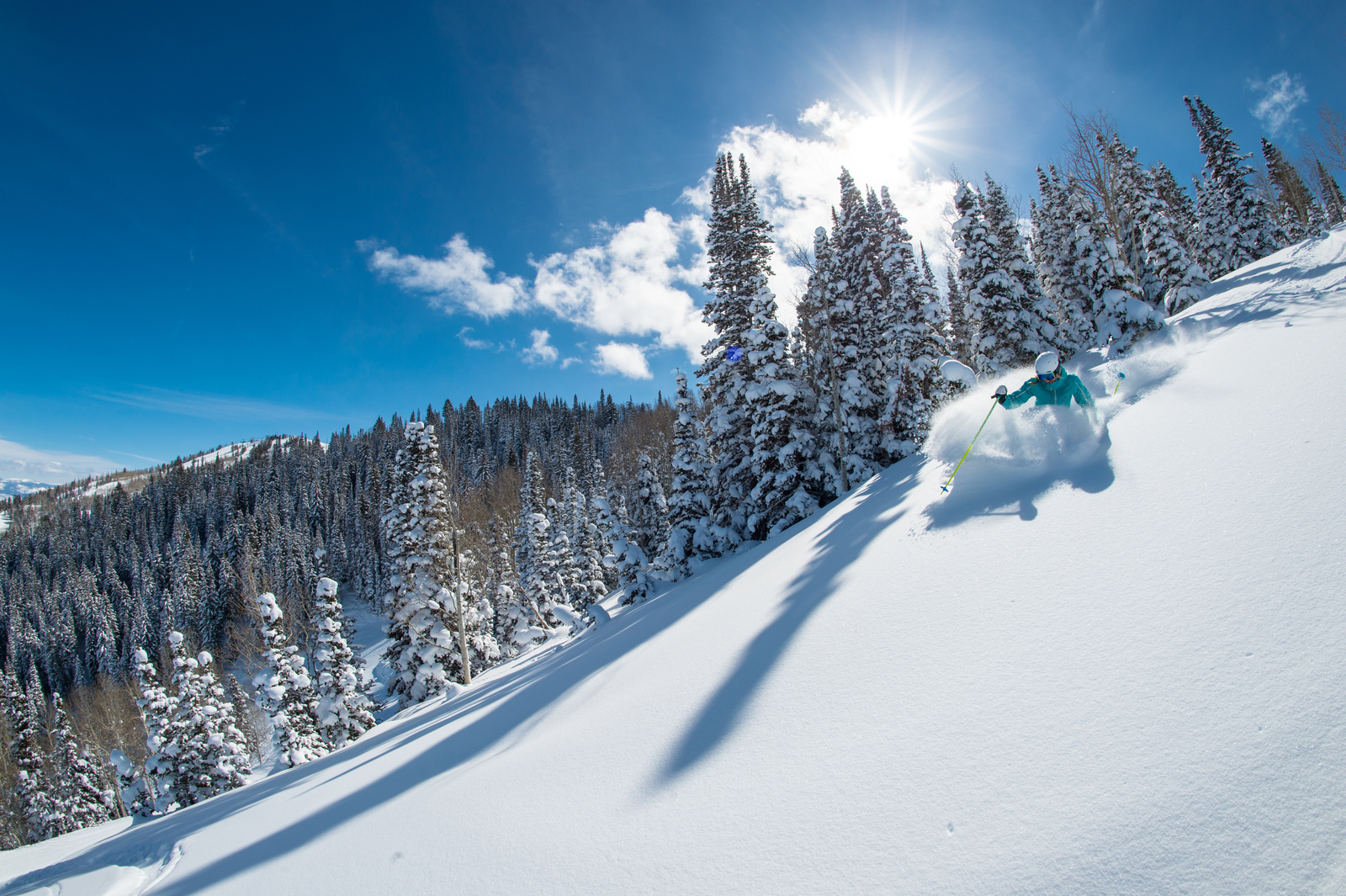 If you want good snow, there's really just no going past a state that is so confident about the quality of their snow, they've trademarked it as 'The Greatest Snow On Earth®'.
And with 15 ski resorts across the state of Utah, and about 13m of snowfall falling on the mountains each season, you've got nothing but options.
Just like a choose-your-own-adventure novel, you flip your way through the pages of the state to build your perfect itinerary. A couple of days at each should do the trick, but choose one or two resorts at the least:
Steep and deep. Snowbird and Alta are your picks, with 800 and 617 metres of vertical respectively. 55% of the terrain at Alta is for experts, and you'll find equally big mountain terrain at Snowbird.
Go big or go home. The largest ski resort in the country, Park City Mountain. Just 30 minutes from Salt Lake City, there are 7300 acres covered by no less than 38 lifts. Plus the lively Main Street, filled with a rich cowboy history and plenty of restaurants, bars and shops to discover.
Deluxe on tap. Don't go past Deer Valley, where the ski valets unload your skis for you as you take off on your day of exploring world-class terrain, then hunt down the complimentary s'mores by the fires every afternoon.
Family-friendly. Powder Mountain is your best option; as the numbers are capped, you'll have the mountain to yourself. All the more room to practice those turns. It's also just 30 mins from the resort of Snowbasin, one of the oldest yet best-run resorts in the world and with equally little ski traffic.
Then jump in your rental car and head onto holiday number two…
Holiday two: The canyons
Head just four to five hours south and wind up in a land that has to be seen to be believed. The contrasts are extreme from one end of the state to the other, in the best possible way, and will leave your Insta friends pretty envious.
There are plenty of national parks across Utah, but two in particular are truly unforgettable bucket-list destinations and some of the most popular in the US. Get on those hiking boots on and discover…
Zion National Park – The kind of hikes you'll be bragging about for years. Take yourself on an unforgettable hike up to Angel's Landing, accessible via narrow clifftops that'll have you hanging onto the chains for dear life; or try your luck through The Narrows, surrounded by 1000ft-high cliffs. Don't worry if you're not up for all the excitement, though. The paved Pa'rus Trail and Canyon Overlook Trails are options too.
Bryce Canyon National Park – With 15 hikes to choose from, every viewpoint will get you right in front of the famous 'hoodoos', formations that have to be seen to be believed. Try the Rim Trail or Peekaboo Loop, then camp or bunker down at the Bryce Canyon Lodge to enjoy some of darkest skies in North America.
Ready to go? Click here to get planning your next Utah holiday.