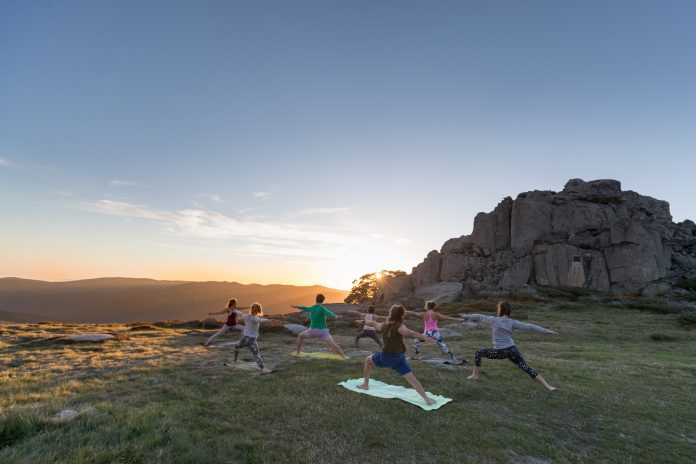 Thredbo Resort's Yoga & Wellness Retreats are back this summer offering guests the perfect relaxing summer escape. Over three days, guests can enjoy a truly unique schedule of activities for all levels of yoga practice in the heart of Australia's highest mountains.
Enjoy mountain top sunrise yoga, guided hikes on the rooftop of Australia, cold water immersion in pristine rock pools, meditation and relaxation sessions, healthy meals and more.
The all-inclusive retreats are run by Jane Corben from Jindabyne Yoga Shala who has 40 years of yoga practice and is highly regarded within the yoga world.
"Everyone is keen to escape the busy city life this summer and come here to breathe in that beautiful fresh mountain air. After every retreat, you can really see the difference it makes to guests with everyone walking away feeling refreshed and re-energised," says Corben.
"On the retreat we will explore Shakti – Shakti is the pulsation of life that makes everything thrive and the mountains are the perfect environment for this. We will hike mountains and then find the balance of stillness, we will nudge our edges, then nourish ourselves, all in a stunning immersion with nature."
Thredbo is offering three Yoga and Wellness Retreats in 2022 with limited spots available. Retreats will be held 18 – 20 February 2022, 4 – 6 March 2022 and 11 – 13 March 2022.
Each retreat includes three nights of accommodation, a scenic lift pass, activities and an all-inclusive meal plan prepared by Thredbo's executive chef to ensure guests are fully nourished from the inside out. The program also includes lunch at Australia's highest restaurant, Eagle's Nest.
A single stay all-inclusive accommodation package costs $1499 per person. Twin-share accommodation packages are available.
All events are run in accordance with Thredbo's Covid-19 Safe Operating Plan that has been developed under the advice of the NSW Government.