Coffee snobs skiing in Japan will be rewarded with the country's new third wave coffee obsession. Andy Solo goes in search of ten of the best in Tokyo. 
If there's one thing I've learnt from all my time in Japan – if you think it doesn't exist (good coffee) you just haven't looked hard enough. And the Japanese don't like to disappoint. And they are hipster gods. Ok, that's three things.
Thanks to my very dedicated, borderline obsessive, coffee-loving labour, you don't have to seek out the best coffee spots because I've done all the work.
My pre-requisite for this list is must be in a decent location, must offer soy milk, must be open at a decent hour (not all Tokyoites have cottoned on to the power of the Great Bean to wake you up).
Fuglen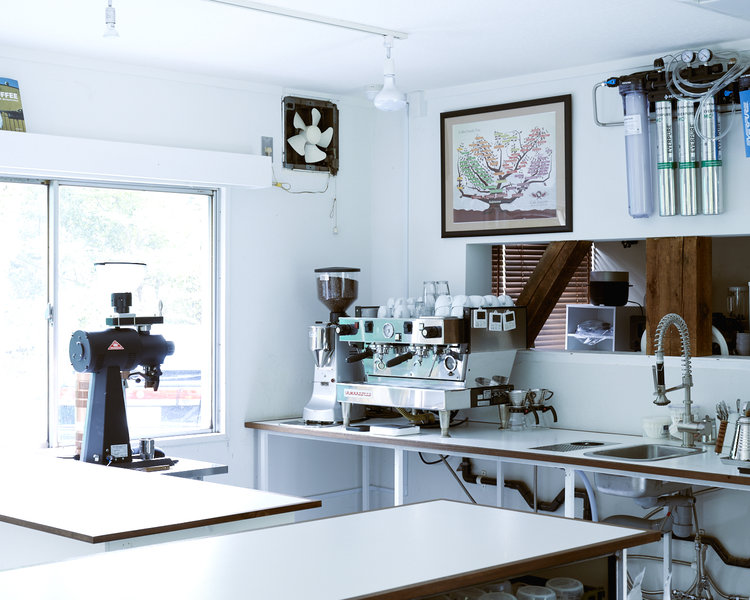 Location: Shibuya-Yoyogi
Open: 8am Mon-Fri, 9am Sat-Sun
Website: www.fuglencoffee.com
Notes: Décor, vibe and service were exquisite. These cool cats have dens in Oslo, New York and Tokyo. Visit if you love yourself some Nordic retro design with a dose of Japanese hipster cool.
Turret Coffee
Location: Tsukuji
Open: 7am Mon-Sat, 12pm Sun
Website: www.facebook.com/TurretCoffee
Notes: This was the winner in terms of coffee quality. It was strong, creamy, tasty deliciousness. And, like a small miracle, it opens at 7am!! And it was small and hip and friendly and near the Tsukuji Markets. Perfection.
The Local Coffee Stand
Location: Shibuya
Open: 8am Mon-Wed, 10am Thur-Sun
Website: www.thelocal2016.com
Notes: A short stroll from Shibuya station, this is a cool little coffee spot with great, full bodied coffee. For those after a good kick make sure you order a double shot. The tunes are cruisy and the barista really keen to practice her English.
Deus ex Machina
Location: Harajuku
Open: 9am every day
Website: www.deuscustoms.com
Notes: It was a hell-hot day so I had a soy iced coffee. It was magical. And I lost my mind over my meal which had Real Fresh Food – avo smash even! Yes, it's born of Aussie origins but there was nothing but Japanese staff and patrons on our visit.
Gorilla Coffee
Ikebukuro: 8,30am every day
Shibuya: 7.30am Mon-Fri, 10am Sat-Sun/Hol
Roppongi: 8.30am Mon-Fri, 10am Sat-Sun/Hol
Website: www.gorillacoffee.jp
Notes: Heralding from Brooklyn NY, we tried the Ikebukuro branch and it wasn't half bad – though it felt a bit franchisey. Yep, they have peanut butter-bacon-banana toasties. They also have "eggslut" on the menu. At least I didn't go there.
Coffee Valley
Location: Ikebukuro
Open: 8am Mon-Fri, 9am Sat-Sun
Website: www.coffeevalley.com
Notes: Near the station, this was a lovely coffee stop boasting their "Three Peaks" triple-cup offering of espresso, latte and drip coffee (from the same beans). Not my top pick for perfect coffee but probably your best bet if you're staying in North Tokyo.
Streamer Coffee
Shibuya: 8am M-F and 10am Sat-Sun
Harajuku: 9am M-F and 11am Sat-Sun
Nihonbashi: 8am every day
See here for all 21 locations and opening hours
Website: www.streamercoffee.com
Notes: This popular coffee co seems to open a new location each week. Could be the solid quality coffee, crazy-delish donuts or taste experimentation – think dirty cinnamon chai, coffee jelly or their Military Latte (espresso with green matcha tea).
Glitch Coffee
Location: Jimbocho-Kanda
Open: 7.30am Mon-Fri, 9am Sat-Sun
Website: www.glitchcoffee.com
Notes: Importing beans directly from Kenya and Tanzania, this place takes coffee seriously – and it tastes that way. The café is located in an 'old school' part of town without all the lights and fuss, so kick back and enjoy the chilled, friendly vibes.
Mojo Coffee
Kagurazaka: 7.30am Mon-Fri, 9am Sat-Sun
Waseda: 7.30am Mon-Fri, 9am Sat-Sun
Harajuku: 8am Mon-Fri, 9am Sat-Sun
Website: www.facebook.com/mojocoffeejapan
Notes: Another great option with a few great locations – clearly curated by Kiwis to service young hip Tokyoites. Waseda offered a light and peaceful – though slightly stark – cafe with tasty espresso and nice range of nibbles.
Sarutahiko Coffee
Location: Ebisu
Open: 8am Mon-Fri, 10am Sat-Sun
Website: www.sarutahiko.co
Notes: If you find yourself in the under-rated southern suburbs of Tokyo, head to Sarutahiko for your morning fix. It's a super cosy café with cute cups, friendly service and great coffee – defo order a double shot though.
A few others I plan to try… (I know, I'm like a total martyr for all humankind)
Onibus Coffee: Naka-meguro, www.onibuscoffee.com
The Roastery by Nozy Coffee: Jingumae Shibuya, www.tysons.jp/roastery
Blue Bottle Coffee, 6 locations in Tokyo: www.bluebottlecoffee.com