Engelberg-Titlis, for those in the know, is the Swiss holy grail of skiing and snowboarding.
As the largest ski area in central Switzerland, with one of the longest seasons, the terrain and snowsports speak for themselves – but what few people realise about this area is how environmentally-aware they are.
It's perfect for travellers that are conscious of their environmental footprint, and want to make conscious decisions to give their hard-earned money towards destinations that are truly making a difference for the future.
Here are six eco reasons you need to visit this bucket-list ski destination as soon as borders open and it's safe to travel again.
1. Their dedication to the environment
Engelberg-Titlis is the kind of place dedicated almost entirely to outdoor and mountaineering enthusiasts. Surrounded by the most spectacular landscapes, and with a rich history – including a fascinating Benedictine monastery, which was founded in 1120 – this mountain is where you can experience a truly remarkable natural landscape.
With 82 kilometres of ski slopes for every skiing level, and the Titlis glacier allowing for skiing and snowboarding from October to May, the people of this village are genuinely invested in the future of snow sports. After all, they get guaranteed snow from December through until April each year; plus skiing and boarding on the glacier from October into May; and want to keep it that way for many years to come.
That's what makes them continuously committed to the efficient use of energy, climate protection, renewable energies and environmentally friendly mobility. The village is committed to covering its own electricity requirements from 2022 with 100% renewable electricity, and from 2030 additionally with 50% green electricity.
The world's got a long way to come in the way of saving our environments, but it's amazing to see what destinations such as Engelberg-Titlis are doing in the meantime to keep the snow on our mountains coming for as long as possible.
2. No need for cars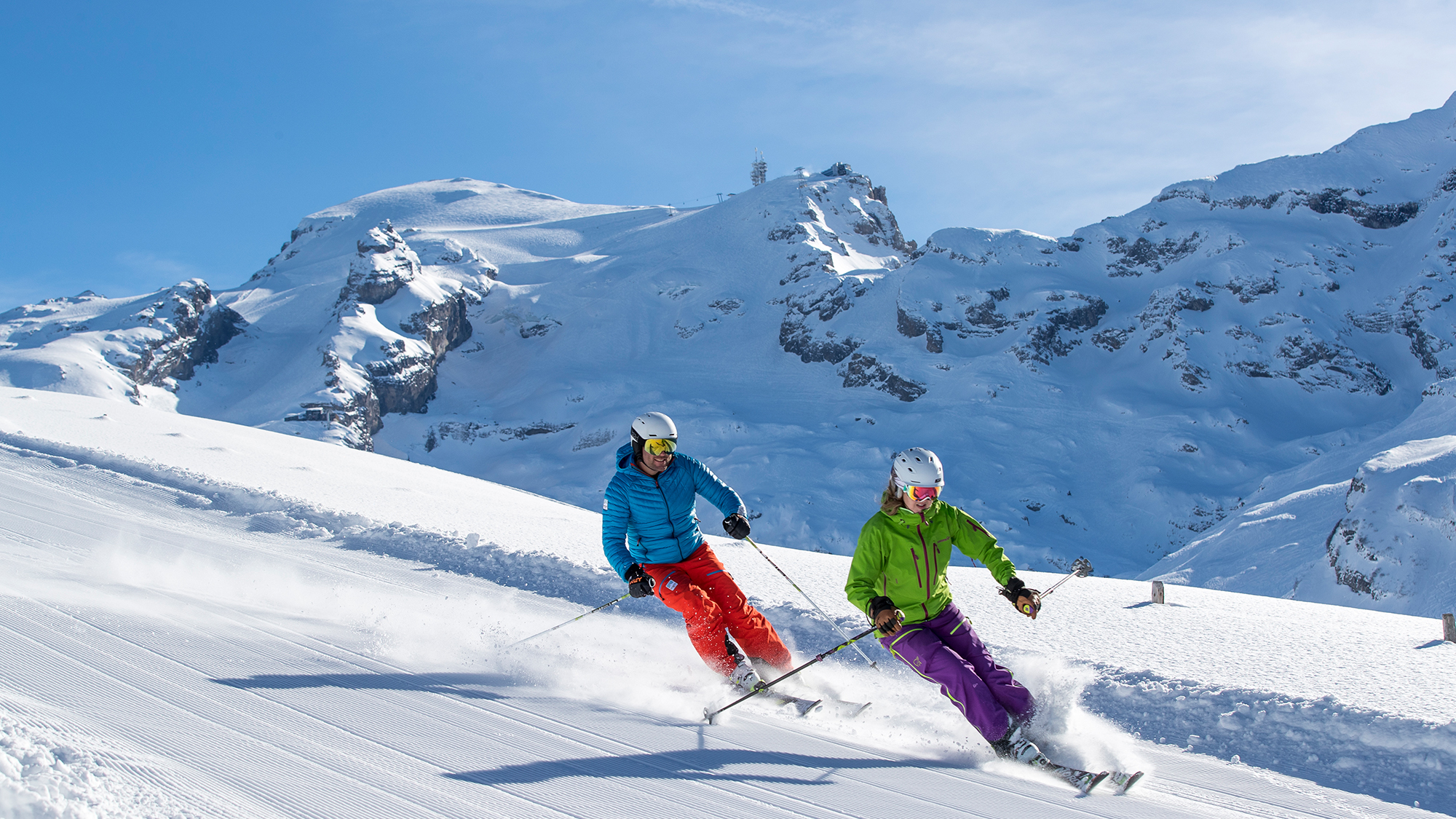 You can get from the city of Lucerne to the slopes in only 45 minutes. There's also no need for a car there; they offer a free bus, which connects the village, various stops and the mountain railroads at very short intervals. This means less traffic within Engelberg, with the air quality in the village improving significantly as a result.
3. Ecological heat for the houses and hotels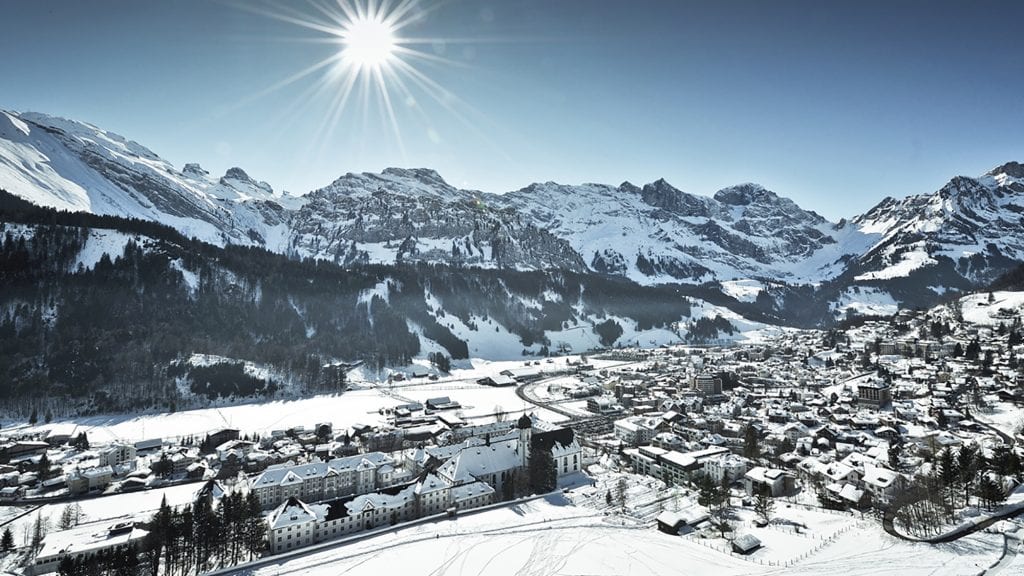 Engelberg has carried the 'Energiestadt' Label since 2011 – a European energy award for municipalities that exemplify and implement a sustainable energy policy. By using renewable energies, the district heating is CO2-neutral.
In recent years, a special Heating Plant Engelberg project has provided ecological heat from domestic wood chips via district heating pipelines – offering ecological electricity to  60% of households in Engelberg, including hotels.
These wood chips are also sourced sustainability via the sophisticated Engelberg forestry system. What can we say? Switzerland's all over it.
Over a period of 10 – 15 years, 90% of Engelberg's electricity consumption is to be covered by renewable and ecological energy. That's essential for such a big winter destination.
4. The climate-neutral mountain railway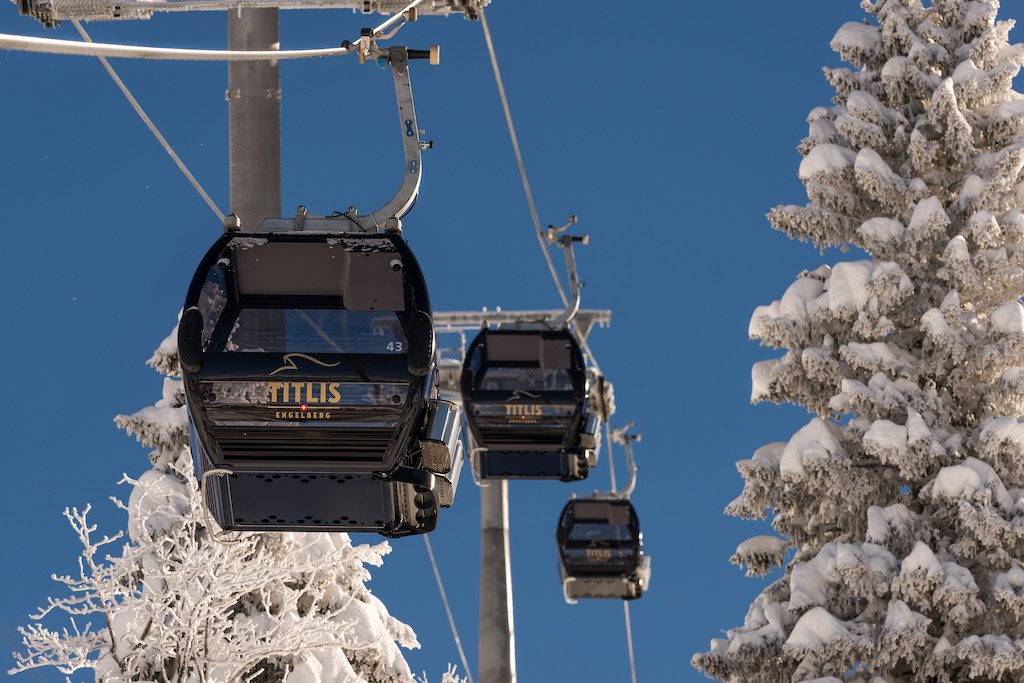 The cable cars are in on this, too. In Engelberg, all cable cars are operated with CO2-neutral electricity. The Brunni cableway corporation has long committed itself to the sustainable and careful use of energy resources, and are now certified as the only climate-neutral mountain railway in Switzerland due to their climate measures.
This includes a hot water production system supported by solar power and waste heat from cooling systems, requiring less combustion energy to cover hot water requirements; plus hydropower facilities supporting transport. Not bad, not bad.
5. Regional local focus
There's nothing better than travelling to a destination that's dedicated to their regional produce. The restaurants and stores in Engelberg all offer local specialties, including the local dish – "Älplermagronen", a cheesy pasta dish layered with potato and caramelized onion.
One favourite local offering is the Igloo Village, a small village made purely from ice on top of the mountain. Choose from a romantic igloo for two or bring the whole family and bed down in a four or six person igloo. The igloos have roaring wood fires and the village has an open air hot Jacuzzi for soaking under the stars. Sustainable and stunning all in one.
6. Environmentally-friendly activities
Beyond the skiing and boarding, there's another way you'll find rapid descents and a whole lot of fun – the old-school, environmentally-friendly way. And in Engelberg particularly, you have to join their long tradition of tobogganing.
With fast sledges available to rent and a variety of routes, some of which are up to 3.5km long, the entire family will be laughing all the way down.
There's also plenty to explore on foot, including the Titlis Cliff Walk. It's a 100-metre long, one metre wide suspension bridge that allows you to take in the views. The suspension bridge is the highest in Europe and sits over 3000 metres above sea level, swinging 500 metres of the ground.
Or there's the glacier cave; an ancient blue ice cave formed by glacial ice from prehistoric times. The Glacier Cave is accessed from the Titlis Rotair gondola and stretched 150 metres long, 20 metres below the surface of the glacier.
Find out more information about Engelberg, and other Swiss favourites, by clicking here.