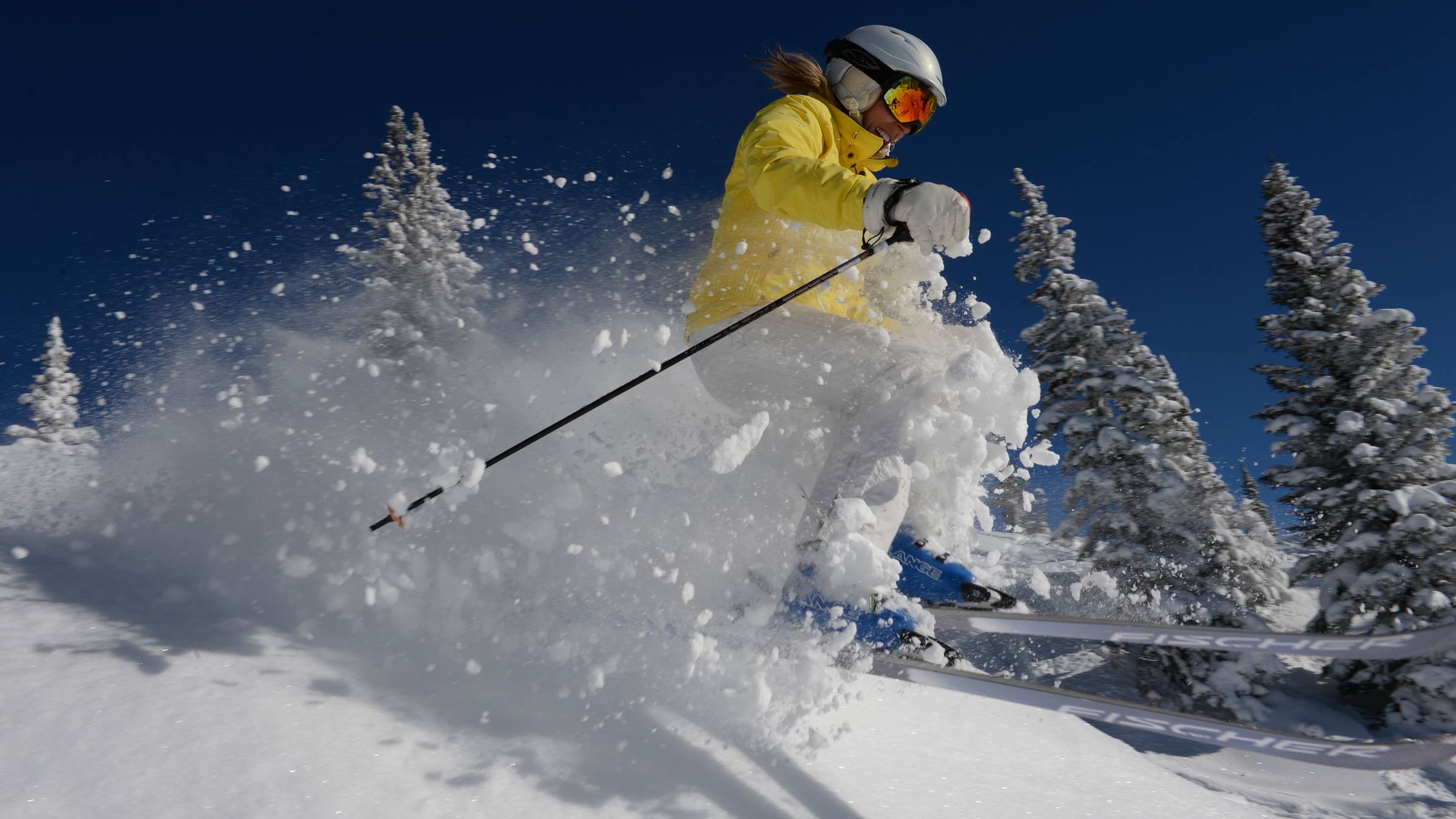 Jenny O'Farrell has been a Steamboat local for twenty two years so she knows a thing or two about this magical cowboy ski town filled with character. This is her guide.
How did you come to be in Steamboat?
I moved from Madrid Spain to Steamboat Springs, CO in July of 1994 – 22 years ago last week. I came here after leading a tour around the USA with Spanish teenagers two years prior and falling in love with the town – in summer. I had a US passport and moved with no home and no job, but I had a mountain bike and a backpack full of city clothing.
I started working for the Steamboat Ski Resort right away as a call centre agent selling ski holidays, and I've done various jobs within the company along the way, ending up in international sales for the last 18 years.
I came here because at first glance I was amazed and enchanted by the natural beauty of Steamboat and the over-the-top friendliness of the natives. I've stayed all of these years because the above still holds true – and I fell in love with snowboarding in the trees in the powder!
Favourite ski run
Twilight. It's a magical forest on Sunshine Peak between Two O'Clock and Three O'Clock. The aspens and pines are spaced perfectly to allow for smooth, rhythmic turns, and the pitch is Goldilocks perfect for a good kilometer descent.
And because you must cross a mogul field to enter the woods, you don't just happen upon it, which means it's always amazing – and especially with fresh Champagne Powder® snow.
Favourite apres ski spot
Sunny après: TBar at the base of the mountain. A local fellow named Tres went away to culinary school and came home to open this bar in a doublewide trailer – they call it a "five-star dive bar."
The vibe is dreadlocks and loud hip hop, but the service is Steamboat sweet. They serve delicious breakfast, lunch and snacks, and they've got local and regional craft beers on tap. Seating is on snow at picnic tables or empty beer kegs.
Snowy après: The Laundry on 11th Street downtown. Belly up for drink specials including cocktail of the day and pleasing happy hour small plates.
The atmosphere is slightly urban, and the bartenders are sassy. And then you're within a 10 minute walk of any other downtown drinking or dining establishment.
Favourite on mountain dining 
Four Points Lodge. This is Steamboat's newest mountain dining, and the daytime menu caters to a modern, healthy sensibility – think big salads, hearty soups, creative sandwiches – and a soul-warming turkey pot pie. All that and a well-stocked bar with a big bold view up Storm Peak. Oh, and award-winning Bloody Mary's.
But if the nighttime is what you want: Then catch the gondola to Thunderhead to then catch an exhilarating Snowcat up the Rainbow trail to Four Points Lodge for a 5-course Northern Italian feast.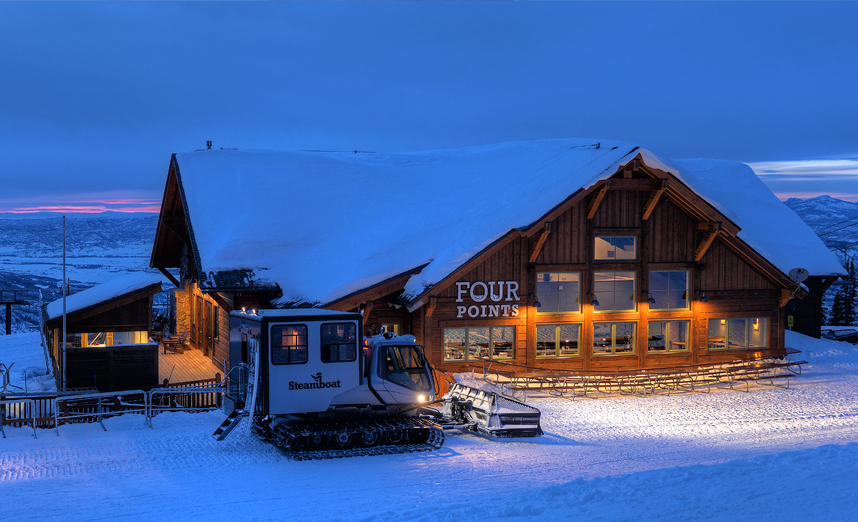 Favourite off mountain dining
Oh, don't make me pick a favorite child…
Café Diva: perennial favorite Steamboat fine dining located slopeside. Chef Kate prepares beautiful meat, fish and game with creativity and finesse, and her attentive servers make diners feel loved.
Excellent wine list with a huge range of price points. Reservations required for this small and cozy dining room – book online before leaving Australia.
Aurum: Also fine dining but more eclectic, and with a very friendly and attentive staff. Small plates and mains showcasing local where possible and tasty and well-presented always. The tempura calamari is differently delicious – and green! – and who could resist pork belly two ways?
They serve unique game meat preparations as well, and the desserts are amazing, too. We could add Aurum to the apres-ski favorites, too, as the bar is spacious and cozy all at once, and cocktails are impressive. Even in wintertime, the riverside location is impressive – step out onto the patio for a peek at the Howelsen Hill ski jumps (or reserve a table by the window for Wednesday night ski-jumping)
Best hot chocolate
Mountain Brew in downtown Steamboat. Everybody will serve you a mug of hot chocolate, but Mountain Brew has dark or white Ghirardelli chocolate and a wonderfully long list of warm beverages – and the best cupcakes in Steamboat and beyond.
Oh, and they serve coffee worthy of an Australian palette.
Best breakfast
Creekside Café. Again, in downtown Steamboat Springs. It's a longtime Steamboat favorite with lines out the door on weekends year-round, because everyone wants their 10 different incarnations of eggs Benedict, and because Chef Jason sources all of his delicious meat products and eggs locally (produce too when available).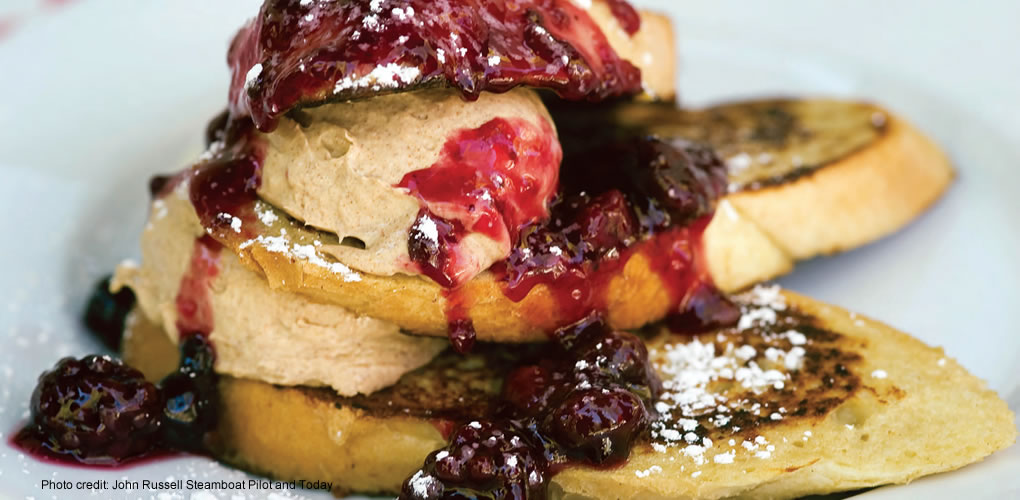 The homemade granola exceeds expectations every time, too. You can also get a proper coffee here. The runner up on the mountain is The Paramount (Chiliquiles!).
Favourite non skiing activity
Steamboat breweries – and snowshoeing before visiting Steamboat breweries. Craft beer is a big deal in Steamboat, and our brewers are getting excellent reviews locally and regionally.
The exciting part of this beer culture is the breweries themselves. Butcherknife, Storm Peak and Mahogany Ridge are family-friendly, informal and very social, and the brand new Mountain Tap Brewery brings a wood-fired pizza oven to the mix.
The BARley does not brew, but they feature 20+ taps of Colorado craft beer – and Colorado spirits for the cocktail crowd.
Oh, and the snowshoeing. Ask a local for a favorite hike – I like the Poacher Trail and the Uranium Mine Trail and the entire network of trails on Emerald Mountain. Earn your beer – and your pizza.
Best event of the ski season 
Steamboat Winter Carnival (Feb 8-12 for 2017). It's genuine Steamboat: a celebration of Western heritage, family, skiing and snowboarding – and there are ski + horse races down main street, fireworks and a parade. What more could one ask for? Locals and visitors most welcome.
Where do you head on a powder day?
Twilight as above, and a little stash I call Munchkinland. I can tell you it's on the Storm Peak side of the mountain, and it incorporates stages of steep ungroomed terrain, tame trees and not so tame trees, finishing up at the Bar UE lift for a slow but gorgeous ride back up to the top with one other person whose company you enjoy.
THE DEAL
Ski Max have a ripper deal to Steamboat with earlybird booking deals.
SKI Steamboat from $1425* pp for 7 nights!
EARLYBIRD SPECIAL: 40% OFF ACCOMMODATION + FREE BREAKFAST!
Includes: 7 nights twin share in a Studio Room at The Steamboat Grand 100 metres from the gondola with a private slope side ski valet, daily breakfast and a 6 day Steamboat lift pass.
*Conditions apply. Valid for travel 7 January – 2 February 2017. Book & pay by 31 August 2016.