With big snow comes big risk. North American ski resorts have felt both joy and pain this last week with snow & death on the slopes. 
Powder fever has been alive and kicking with both feet the last few weeks in North America. Snow has been dumping from the Pacific North West to California's West Coast, Colorado, Wyoming, Montana, Utah and New Mexico skies and teeth frozen from smiling with so many powder face shots.
But with the joy has come pain for many as skiers and snowboarders take bigger risks to get their beloved powder. Tanner Hall posted this instagram video yesterday of a snowboarder in Montana taking an insane risk and not scoping his landing before hitting it big.
Meanwhile in Whistler, Colin D Watt admits he's lucky to be alive after being buried by an avalanche in a tree well while snowboarding out of bounds.
"All of a sudden, snow just enters my airway … I couldn't breathe. I had snow all the way down my throat" he told CBC news in their coverage of the incident.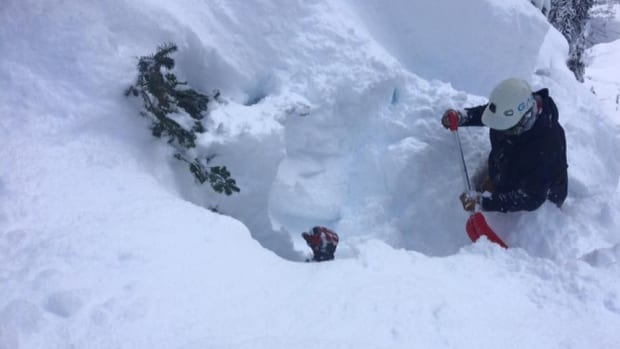 Kelly Lund, in Washington at Snoqualmie Pass, wasn't so lucky. He broke off from his group of skiers to hit a tree run alone, fell into a tree well and died as reported by Yakima Herald. Our hearts go out to his family and friends and his fellow skiers on that day.
But even skiing trees with a powder buddy doesn't guarantee you won't get caught up. More sad news out of Jackson Hole last week when Kelsey Hewitt was found suffocated in a tree well on a run she had tackled with her boyfriend as reported by Jackson News. She was only 25 and had recently moved to Jackson.
The Pacific North West experienced a tragic fatality this past week when a teenage snowboarder was discovered deceased in a hole on Mount Washington, Vancouver Island. The hole was on an ungroomed run and may have been the result of an uprooted tree as reported by CBC News.
In Utah an experienced ski patroller was buried at by an avalanche in the backcountry and thankfully lived to tell the tale. KUTV report he was caught in about 3 feet of snow during work Tuesday, and thrown against a tree and suffered serious injuries to his ribs, lungs, spleen, and liver.
Fox Salt Lake City say he was doing avalanche control at about 7:45 a.m. midway down the John Paul Run of Allen Peak on SnowBasin when one of the patrol members threw a charge and skied away to the backside of the hill on a low-angle slope.
In Colorado a man was buried up to his neck by an avalanche on the backside of Breckenridge in the backcountry behind Peak 10 as reported by the Summit Daily. He lived to tell the tale.
Two snowmobilers were buried for hours at Teton Pass in Wyoming (they were very lucky, they survived) while snowmobiling on Christmas Eve during high avalanche danger. This incident was on the same week a skier triggered an avalanche, also on Teton Pass, and trapped three cars.
The current avalanche conditions are high to extreme depending on where in the continent you are. Check with your local avalanche warning authorities and never venture out alone without appropriate equipment.
As this last week has shown even the most experienced are not immune.
How to survive a tree well
The Clymb published this piece on tree well survival that is definitely worth a read.
The team at Deep Snow Safety have a comprehensive guide to tree wells, what they are and how to prevent falling into one.
Subscribe to SnowsBest for weekly updates of all things in the snow.
Read more: First chair, first rope drop, no friends – are you that person?
Our thoughts are with the family and friends of those who have lost their lives this winter season while pursuing the sport they love. Rest in peace and powder.