It's no secret that the skiing and snowboarding in British Columbia is incredible – but not everyone knows about the adventures to be found off the slopes in this Canadian province.
Being home to a whole lot of Canucks that find entertainment in some seriously adrenaline-fuelled outdoor pursuits, there's no doubt that you'll find some once-in-a-lifetime, only-in-Canada kind of experiences during your trip.
Should you be looking to get your heart beating that little bit faster, here are our favourite crazy British Columbia experiences to tick off the bucket list.
Tandem paragliding in Panorama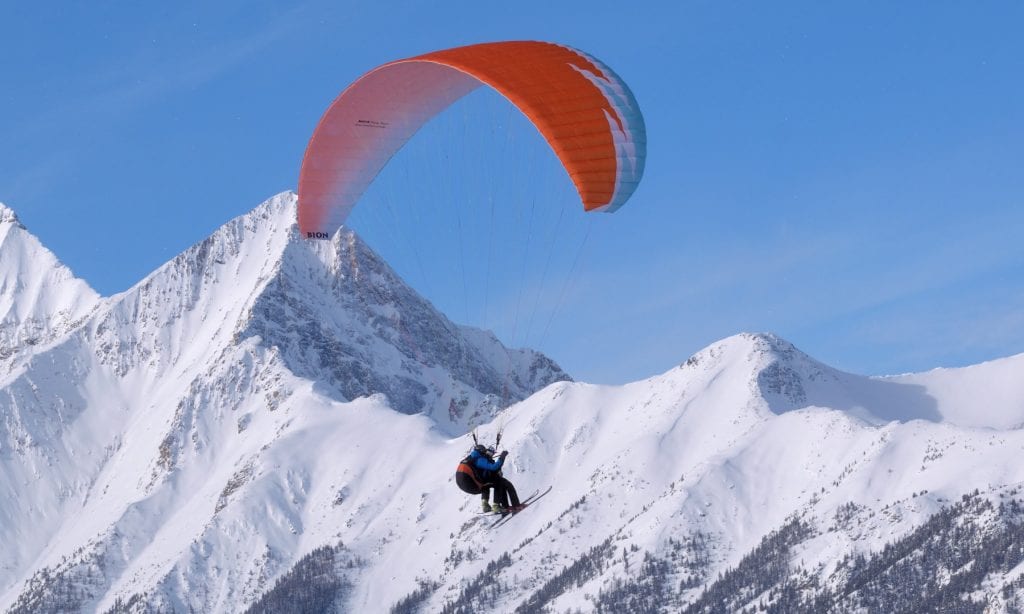 Want to take your skiing to the next level? At Panorama Mountain Resort you can do exactly that with tandem paragliding over the mountains – yes, really, and it's super accessible to the average mountain-goer. Intermediate skiers and above can take part in this truly epic experience and soar above the chairlifts, peaks and glades, all with their skis strapped to their feet. Just ski down the run and take flight. Well, there's a bit more to it than that, but you get the drill.
2. Axe throwing in Revelstoke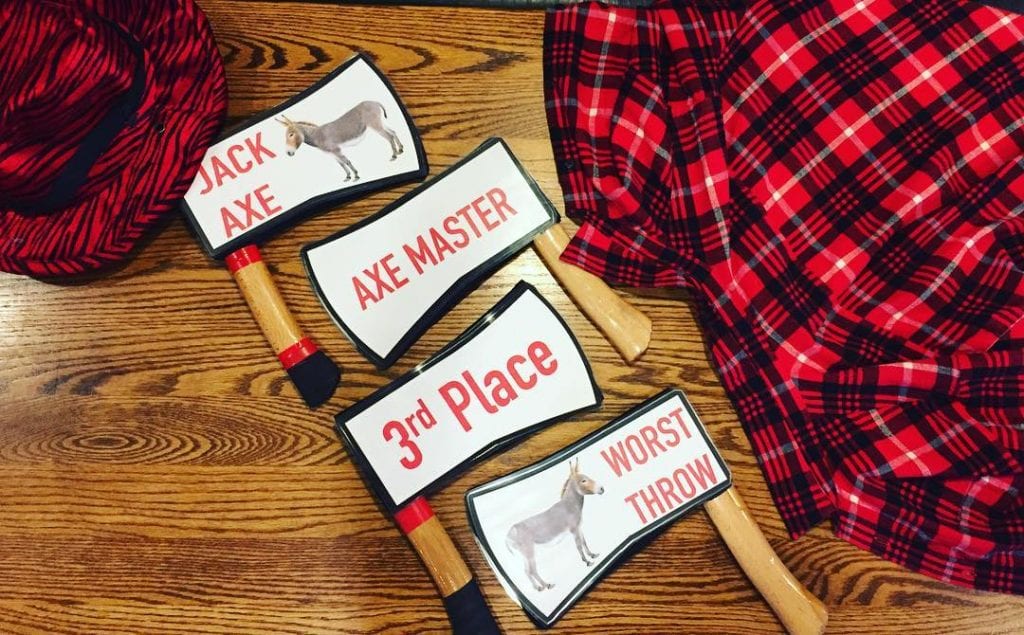 If you've ever watched the axe-throwing scene in snowboarding movie The Art of Flight and thought, "Hey, I could be good at that", then this is your chance to find out. Head to the old school railway town of Revelstoke, in the backyard of Revelstoke Mountain Resort, and take a break from skiing and boarding all the steep and deeps to try your hand at throwing an axe at Peak Axe Throwing.
No previous axe skills are required – these guys will teach you exactly how to spin your axe and hit that bullseye. Bring your friends and get ready to play some games along the way, where the highest score wins. Axe games = what every true Canadian ski holiday should be made of.
3. Dog sledding near Kicking Horse
If you love dogs, there's no way you can go past a dog sledding tour while in Canada. Firstly, you get to hang out with really beautiful pooches (Siberian Huskies and Alaskan Huskies, anyone?). Secondly, you get to see the beautiful dogs doing exactly what they love to do – run through the snow. Thirdly, dogs. Fourthly, DOGS.
Drive through the charming town of Golden and head to Golden Dog Sled Adventures, near Kicking Horse Mountain Resort, to sign up for a tour. You'll help harness the dogs before hanging on the back of your sled with your guide to lead the dog sledding team through the wilderness, under the canopy of mountains. You'll finish up with a warm drink and a hot fire in the cozy trappers cabin while thinking about how to quit your job at home and become a full-time dog musher so that you get to see the huskies every day. Truly.
4. Ice climbing at Big White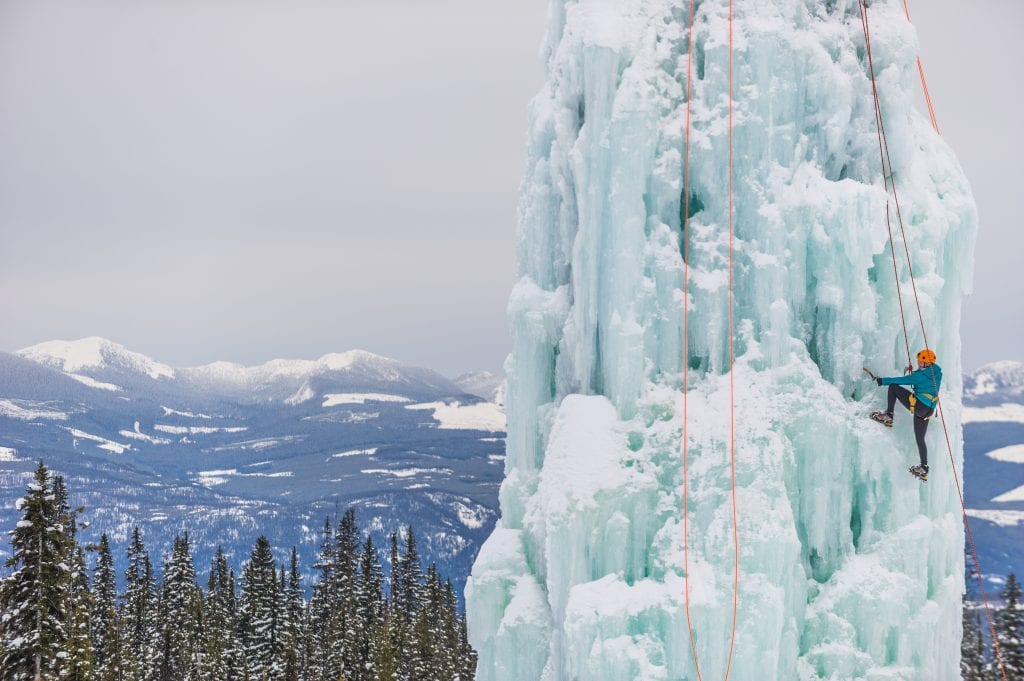 If you look at a photo of Big White Ski Resort's ice-climbing tower and think it's going to be a piece of icy cake, think again. In much the same way that moguls are easy for kids and a special kind of hell for most adults, this 60-foot-high tower is somehow easy for little ones to conquer and considerably more challenging for adults.
All you have to do is strap crampons to your shoes, grab an ice pick and a helmet, choose a side of the tower (each side is a different level of difficulty) and work your way up to the top to ring the bell that awaits you.
Feeling super confident? Remember that a nine-year-old girl holds the record for getting to the top in the shortest period of time. 
5. Guided ice fishing in Sun Peaks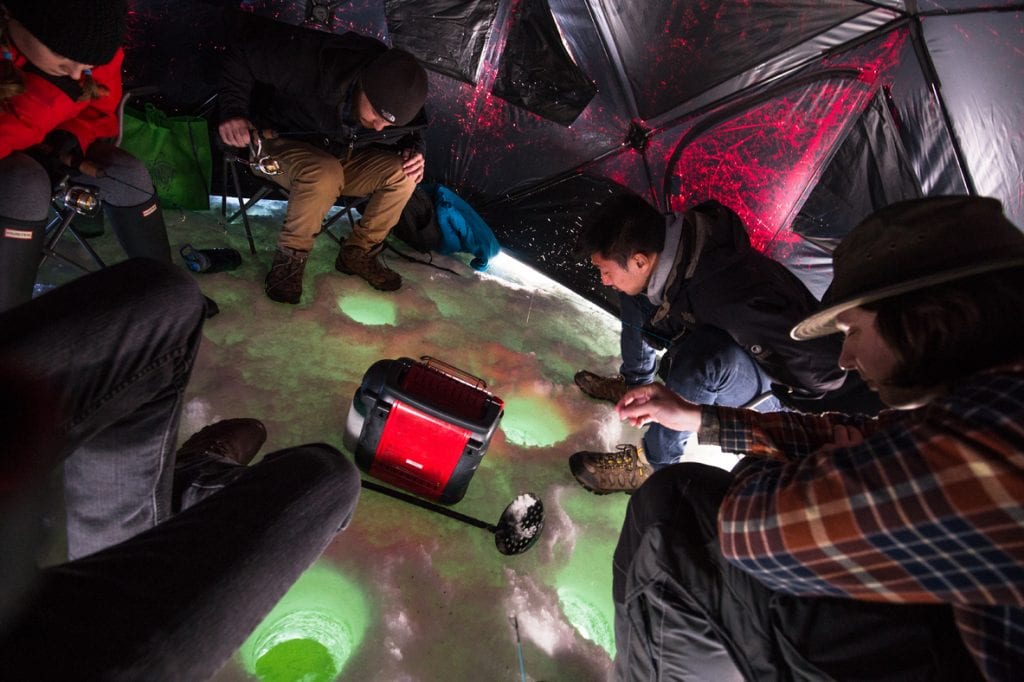 There is nothing more Canadian than catching a wild rainbow trout in a lake that's covered with a thick layer of ice. At Sun Peaks Resort, you can do exactly that. Wear your warmest socks and your best toque (that's Canuck for 'beanie'), bring your Go Pro, then head out onto one of the mountain lakes and huddle up in a heated ice fishing tent as your fishing guide hands you a hot beverage and shows you exactly how it's done. If you catch one then you've officially reached peak Canadian. Your guide will even gut, prepare and vacuum-seal the fish for you to take back to your accommodation, so you can enjoy the fruits of your labour for dinner.
6. Snowmobiling in Fernie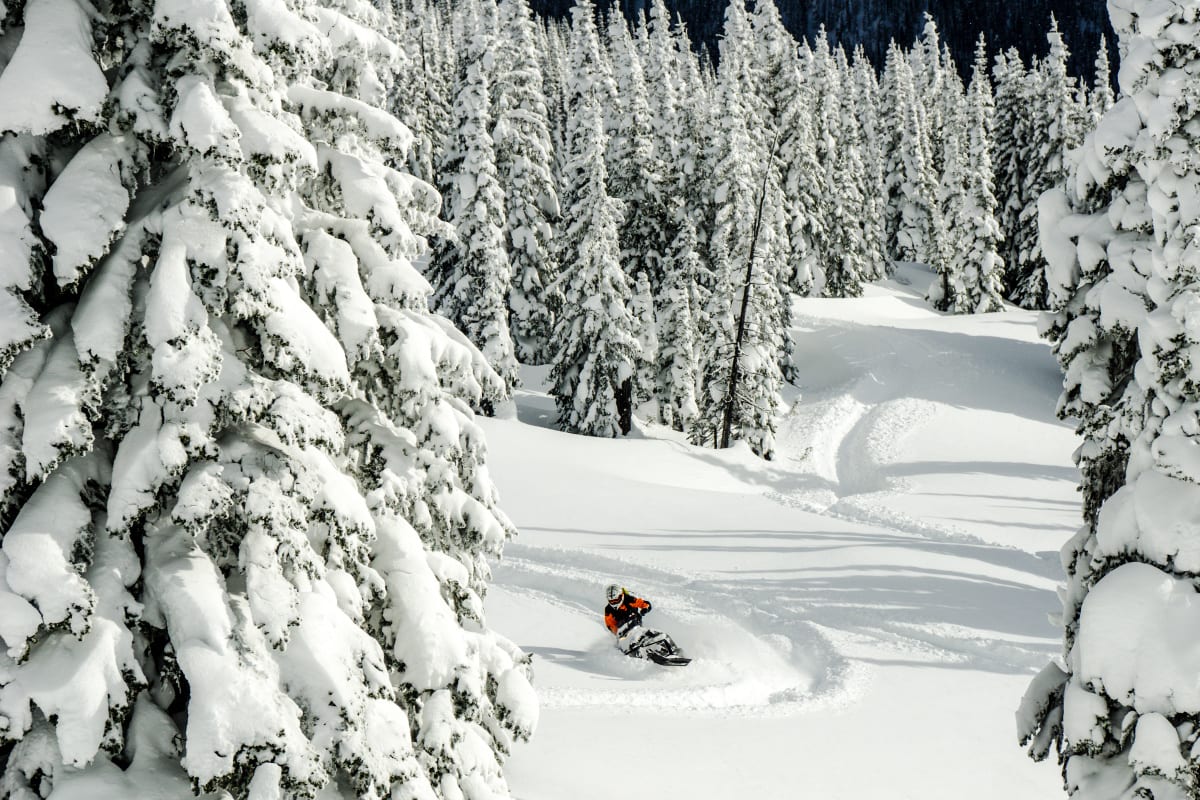 The gnarliest shredders in British Columbia skip skiing and snowboarding altogether and stick to snowmobiling the powder bowls to be found in the wilderness of this incredible province. Do as the gnarly do – but with a guide to stay safe, it is the wilderness after all – and sign up for a snowmobiling tour in the backcountry surrounding Fernie Alpine Resort. It's some of the wildest terrain to be found anywhere, full of powder bowls and incredible hidden stashes that few ever get to see.
Rent a snowmobile in town and head out with the team from Weir Boondocking, who will set you up with all the knowledge to ride safely in the backcountry while also having the most incredible time you can have off skis or a board. With a variety of tours available, they'll even provide lunch over a fire, just how the serious shredders like it. 
7. Ice hockey near SilverStar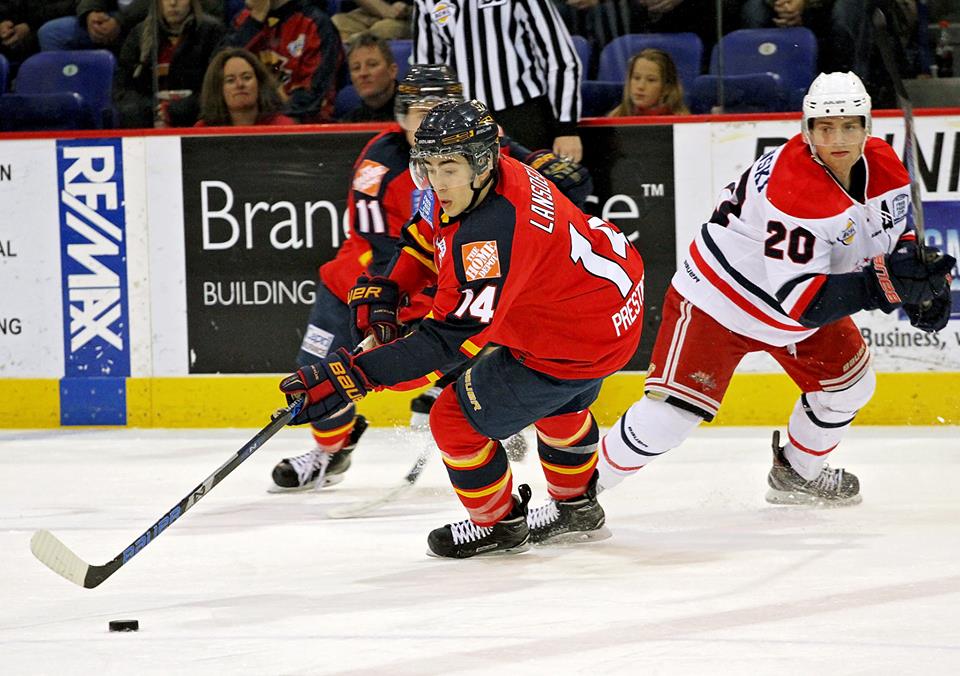 Ice hockey is to Canada what Cheesymite scrolls are to Australia. You simply can't go to British Columbia without stopping by a hockey game – preferably one where the crowd is overexcited, the game is intense and the hot dogs are delicious. Get all of the above ticked off the list with a visit to a Vernon Vipers game, at the city of Vernon's Kal Tire Place, while staying at nearby SilverStar Mountain Resort.
Book ahead, and SilverStar will shuttle you down to the game and pick you up again to return you to the mountain once it's over, allowing you to pin your full attention on what matters – the sport. (And the hot dogs, of course.)
8. Bobsleigh in Whistler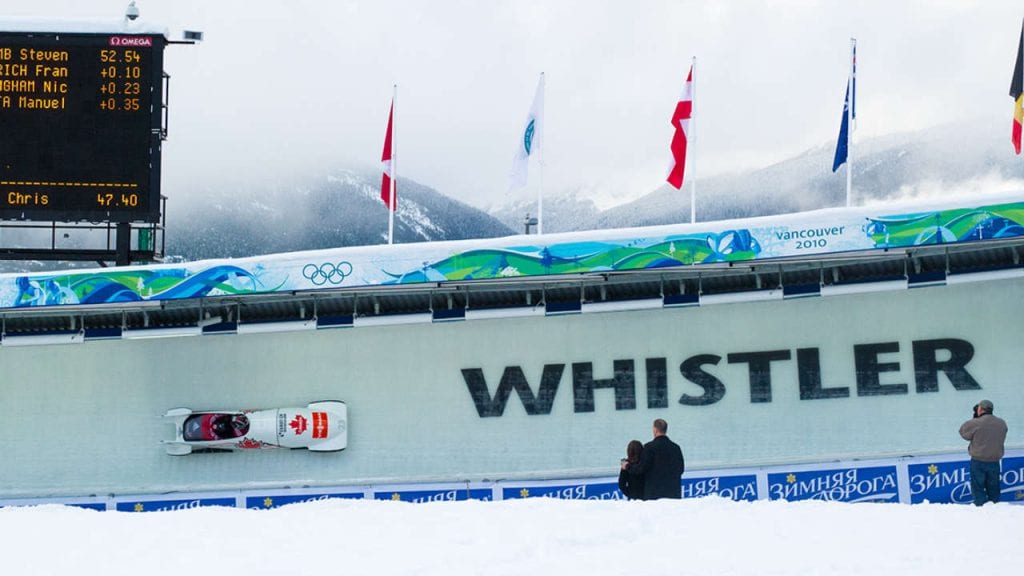 Whistler Blackcomb is all about the big. Big resort, big terrain, big village – and big adrenaline, which you can experience at the Whistler Sliding Centre. Thanks to the 2010 Olympic Winter Games, this venue continues to offer up access to the fastest ice track in the world. Opt for the passenger bobsleigh ride or the solo skeleton ride and hold on tight as you reach speeds of over 100km/h. It's all your Cool Runnings dreams come true and then some.
9. Fat biking in Mount Washington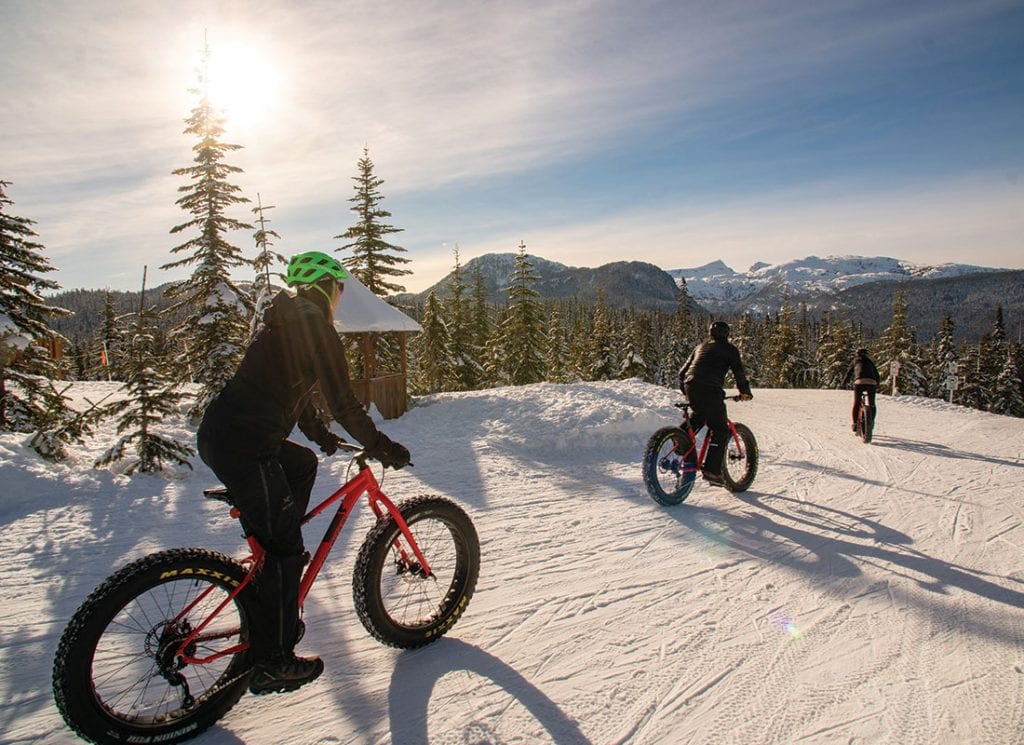 Fat biking is quickly becoming the latest 'in' thing in British Columbia – some say it's the fastest growing sport in North America – and it's a seriously great way to take biking from a summer sport to a winter activity. Nab a rental bike from the team at Mount Washington Alpine Resort and explore 15km of beautifully scenic cross-country trails. Just be sure to bring your camera, as you'll want to catch photos of the sunshine as it filters through the trees along the way.
10. The Adventure Skating Loop at Apex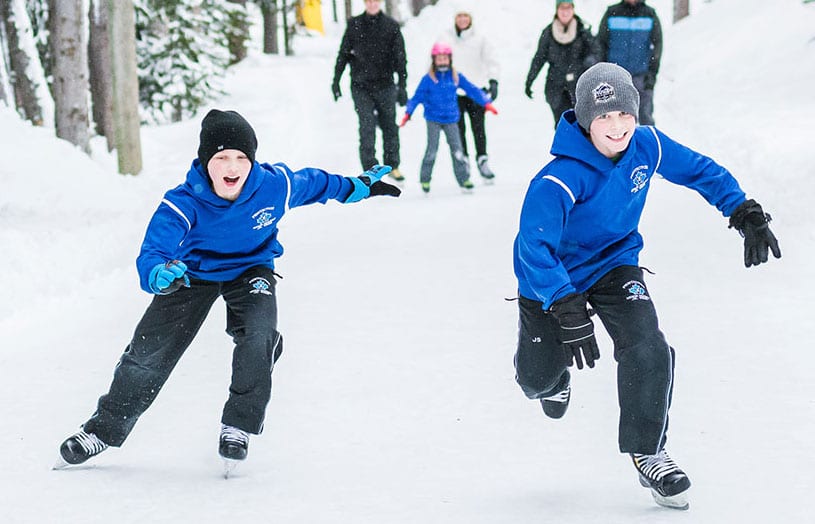 When you need to take ice skating to the next level, head to the skating loop at Apex Mountain Resort. It's one kilometre long and winds its way through the forest, making for a seriously magical experience – especially at night, when the lights go up and the snow starts falling. With skates available to rent on the mountain and the option to arrange a bonfire, kids and kids at heart alike will love taking a spin around the loop over and over again.