Skiing and snowboarding may be about the great outdoors but it's not always the healthiest nor most rejuvenating of holidays. All those après nights, hot chocolates, shot skis and long days of adrenaline can leave you in need of a Panadol and a good lie down by the time you return home. 
If you're skiing and snowboarding in North America, then you're in luck, with a year round destination retreat nestled amongst red canyons in Southern Utah. Spend your first weeks hitting up the powder then check yourself in to Red Mountain Resort knowing you'll return home invigorated.
I arrived at the end of a long and challenging work winter trekking my gear around Canada and then settling into Park City in Utah for two months during one of the best powder seasons going. In short I was exhausted, albeit privileged, from a winter of big powder and deadlines when I drove into the gates of Red Mountain Resort in St George on the Utah Arizona border.
This was my first trip to "the desert" as the locals call the southern parks of Utah. The red hills here are akin to the ochres of outback Australia with that deep purple glow. The kind of hues that reach under the skin, tug at the nerves that connect to your heart and say "hello, are you alive in there?"
If you're not, you soon will be.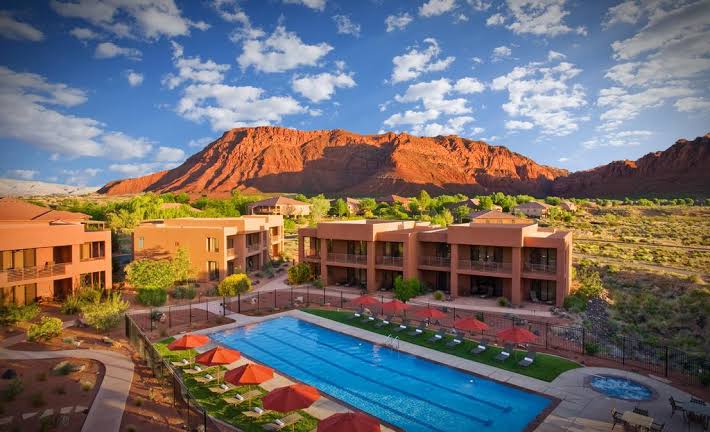 The resort is tucked into the entrance to Snow Canyon State Park, a shrine to ancient landscape design that reflects the deep red environment with luxury villas and deluxe rooms named after desert critters.
The beauty of wellness retreating is once you arrive, all your life stress is taken care of for you.
Hungry? Just walk to the wellness restaurant or cafe, it's all included.
Fancy a hike into the canyon? Join one of the guided groups in the morning and afternoon. Swim? Choose from two pools. Want to explore? Grab a bike, cycle to the artist's colony for lunch. Travelling alone and want some friends to dine with? Join the solo travellers table at dinner.
Days here soon settle into a rhythm. Wake, take in a stretch class or head straight to breakfast, dine on a nutritionally balanced selection of fare (yes there's coffee) before heading out to the hills. 
The best part of Red Mountain Resort is, well, the red mountains. Experienced and fun guides take small groups of similar fitness levels into the canyon for some of the best hikes around. Hike up ancient mounds of white and red sandstone, past underground lava tubes, through winding trails of scrubland beneath those deep red cliffs.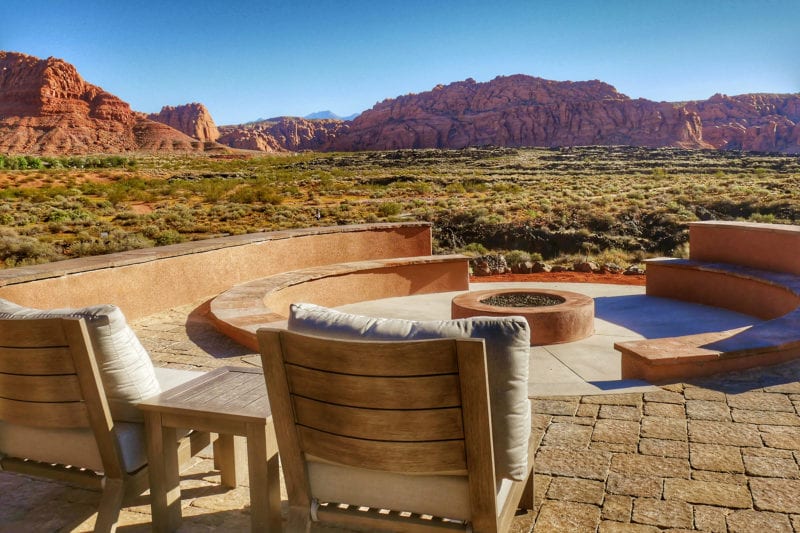 By the time you return to the resort there's time for a spa treatment or a swim or a wander through the meditation rock labyrinth or an exercise class, pilates or yoga, personal training and more. Take a bike for a ride to a nearby artist colony, wander to the famous Tuacahn outdoor amphitheatre, sign up for a kayak or stand up paddle board on a desert oasis or just simply chill.
Rejuvenation doesn't always lie in a spa treatment, a downward dog, a good night's sleep or a green juice at dawn. It can simply lie in a change of regular environment and when that environment is as sensory as the red rock desert and canyons of Utah it's hard not to feel alive.
A two hour yoga class held on a rock platform amongst the petrified red dunes in Snow Canyon at dusk took me from stressed out mess to grateful for just being.
A sunset hike to The Bowl (sometimes known as The Vortex) across a natural staircase of sloping sandstone rocks to a giant "bowl" filled with rain water and the perfect front row seats for a spectacular sunset.
There are day trips to Zion National Park and Bryce Canyon on offer but I wanted to drink in the trails of the surrounding Snow Canyon area. Now I had found it, I didn't want to let it go.
So I threw myself into every hike, took a daily bike ride out to explore the Flintstone adobe style residential villages and dined with strangers that became friends on the singles table every night.
The truth is, if you want alcohol and sugar and coffee, it's all there on the magnificent morning and lunch buffets peppered with bountiful local produce, hearty whole foods and all sorts of culinary delights. So if your a mixed party of travellers with different needs then you are well catered for.
But if you prefer to choose from the wellness dining menu after dark then all the information for each meal is laid out in protein, carbohydrates, protein, fat and fibre measurements. 
I spent five nights at Red Mountain and only just scratched the surface. I drove from there to Springfield in Zion National Park and spent a few days exploring more.
However you choose to do Red Mountain Resort (before or after your ski trip or combined with a trip to Bryce Canyon or Zion National Park) it will beguile you the same way that Utah's dry, light, blower powder sucks you in and forces you to return season after season.
You can fly into St George airport direct from Los Angeles and other USA cities or self drive from Las Vegas or Salt Lake City. It's easy to access and not as well known as the other canyons in the region so still considered a hidden gem. For now.
Rachael Oakes-Ash was supported with flights and car by Utah Tourism