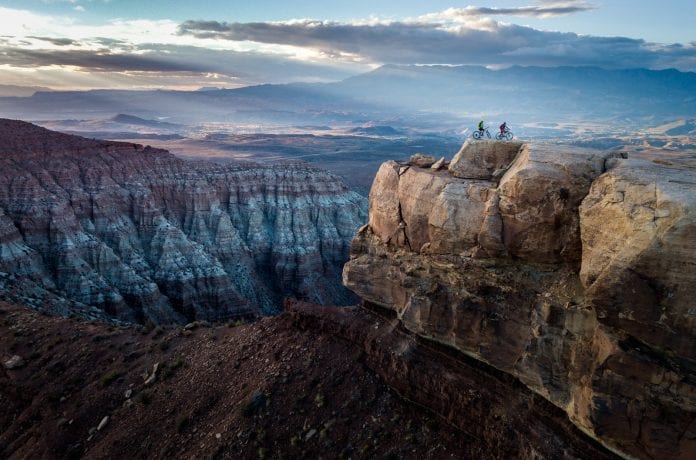 I am the first to admit I can be lazy. I am also the first to admit I am privileged. A combination that usually ends in first world malaise.
It must surely be the reason why I had "lived" in Utah, skiing the powder snow for three winters, and not made the trek south to what the locals call "the desert". I'm heading to "the desert" they'd say, the way Australians refer to "the snow" or "the beach".
Off they'd go, mountain bikes strapped to their Subaru to mythical red dirt lands a few hours south of Park City where you could find me and my malaise horizontal on the burned-out-from-ski-season-couch towards the end of another winter.
In April this year I bit the bullet, packed my bags, caught a plane to St George and headed to the desert. I wish I had done it earlier during the winter, I wish I had done it years before, I wish I had discovered this life affirming territory of Utah that plucks your eyes out of your soul, washes the malaise in pixy dust and pops them back in so you see life with a childlike desire.
This, dear reader, is the magic of Southern Utah. Combine it with your ski trip and you'll get the best of both Utah worlds.
The land of 1000 canyons
There will never be enough days to see all the canyons of goodness so it's best to do it in bites because once you've had one you know you'll come back.
There are 43 State Parks in Utah alone, add 5 national parks and 3 national monuments and it won't be long before you're paralysed by choice. Bears Ears National Monument alone covers over 1.35 million acres in southeast Utah.
If you don't have local friends to show you the way then joining an organised multi day hiking tour is an option to get your first time bearings or be brave, grab yourself a car and drive from Park City or fly to St George and rent a car from there.
You can stay in nearby towns or campsites at all the national parks that we've outlined below. You won't regret a moment of it, though you may, like me, regret not having gone sooner.
The Big Five
There are five main national parks in this region – Arches, Bryce Canyon, Canyonlands, Capitol Reef and Zion. Don't feel you have to focus your efforts just on the parks, though, there are many hidden gems not found within the national park boundaries.
Snow Canyon Park near St George is a personal favourite thanks to adventure wellness retreat Red Mountain Resort where you can hike by day, recline by night.
Of course if you want serious 6 star luxury then take you black Amex to Amangiri near Lake Powell, let your butler do all the adventure bookings for you and don't post photos.
Bryce Canyon
Bryce Canyon in late winter boasts a stark contrast of red desert and white snow atop the "hoodoos" (red rock pillars). This is a spectacular canyon filled with fins, bridges and a landscape akin to another planet best experienced by hiking from the valley floor, though you can just drive up and take a look if you prefer or stay over in the park's campgrounds and take in sunrise and sunset hikes for the best light.
The oldest trees in the world reside amongst these hoodoo lined canyon walls, the bristlecone pen tree (5000 plus years old). Photographers will love the stunning changing light as the red sandstone changes colour from pink to orange and back again.
Stay in Bryce Canyon City for close proximity to the park, Cannonville to access both Bryce National Park and also Kodachrome Basin State Park and the town of Hatch on the Sevier River if you love fishing.
Arches National Park
You'll find Arches National Park north of the famous town of Moab. It's big, 73 234 acres of more red rock, fins, towers, hoodoos, balanced rocks and the largest collection of natural rock arches in the world (over 2000).
Stay in Moab to access this region. If you like glamping (and trust us, you will) try Under Canvas Moab open from early March until late October. The Under Canvas crew can organise white water rafting, hot air balloons, ziplines, horse back riding and a plethora of activities for you.
Canyonlands National Park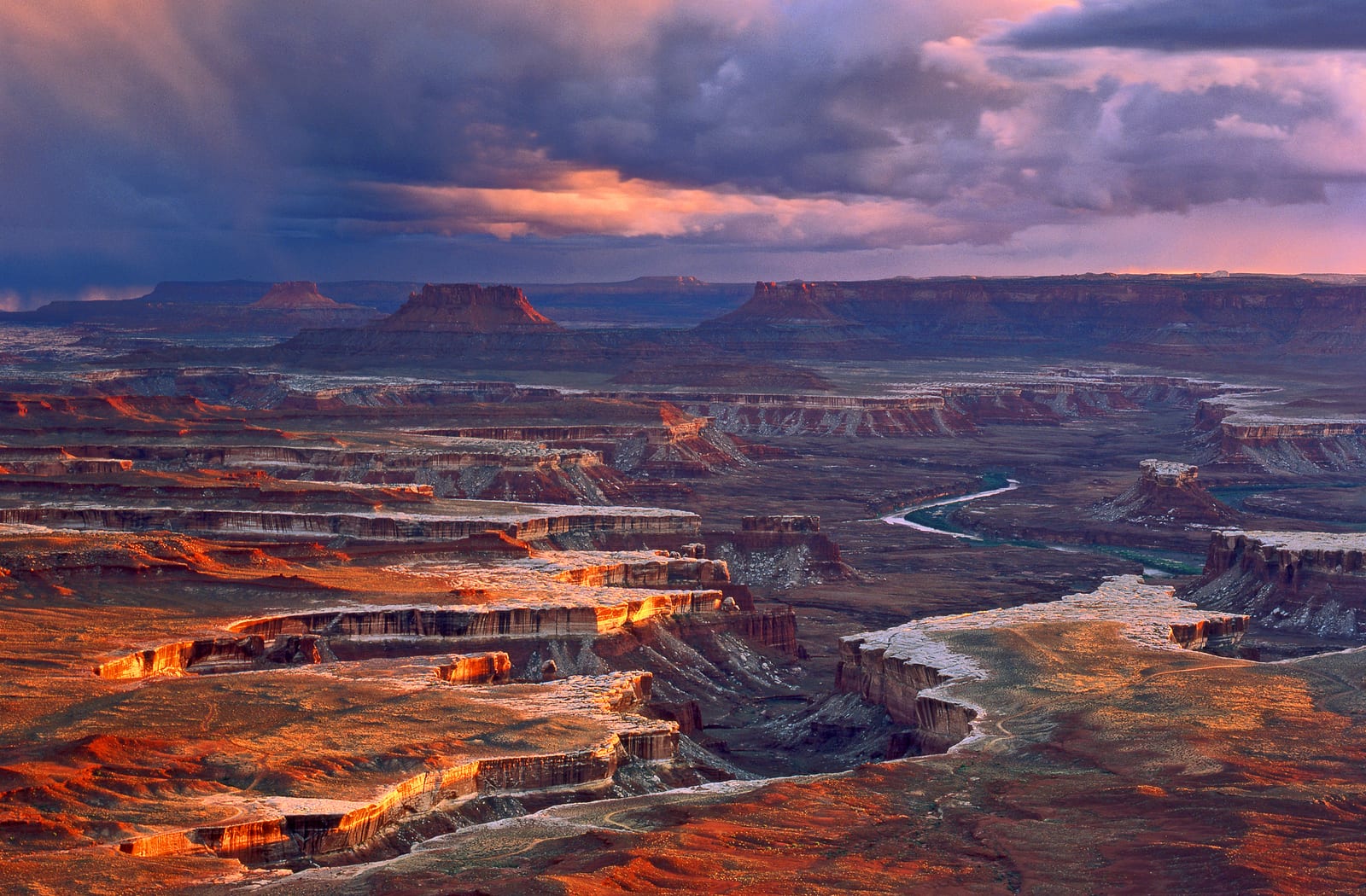 As the name suggests there are canyons, deep canyons, many canyons, cliffs, spires and mesas created by the Green and Colorado Rivers in these parts. Known mainly for the tourist Needles district and the Mesa Arch, this area stretches across 527 square miles (848 kilometres).
Go further in and you'll find the solace you seek amongst desert drops, spires and plateaus. Hike, mountain bike, take a 4WD and camp out under the stars. Again, stay in Moab as your focal point to explore this region and join a jeep tour for a twilight safari like no other.
Capitol Reef National Park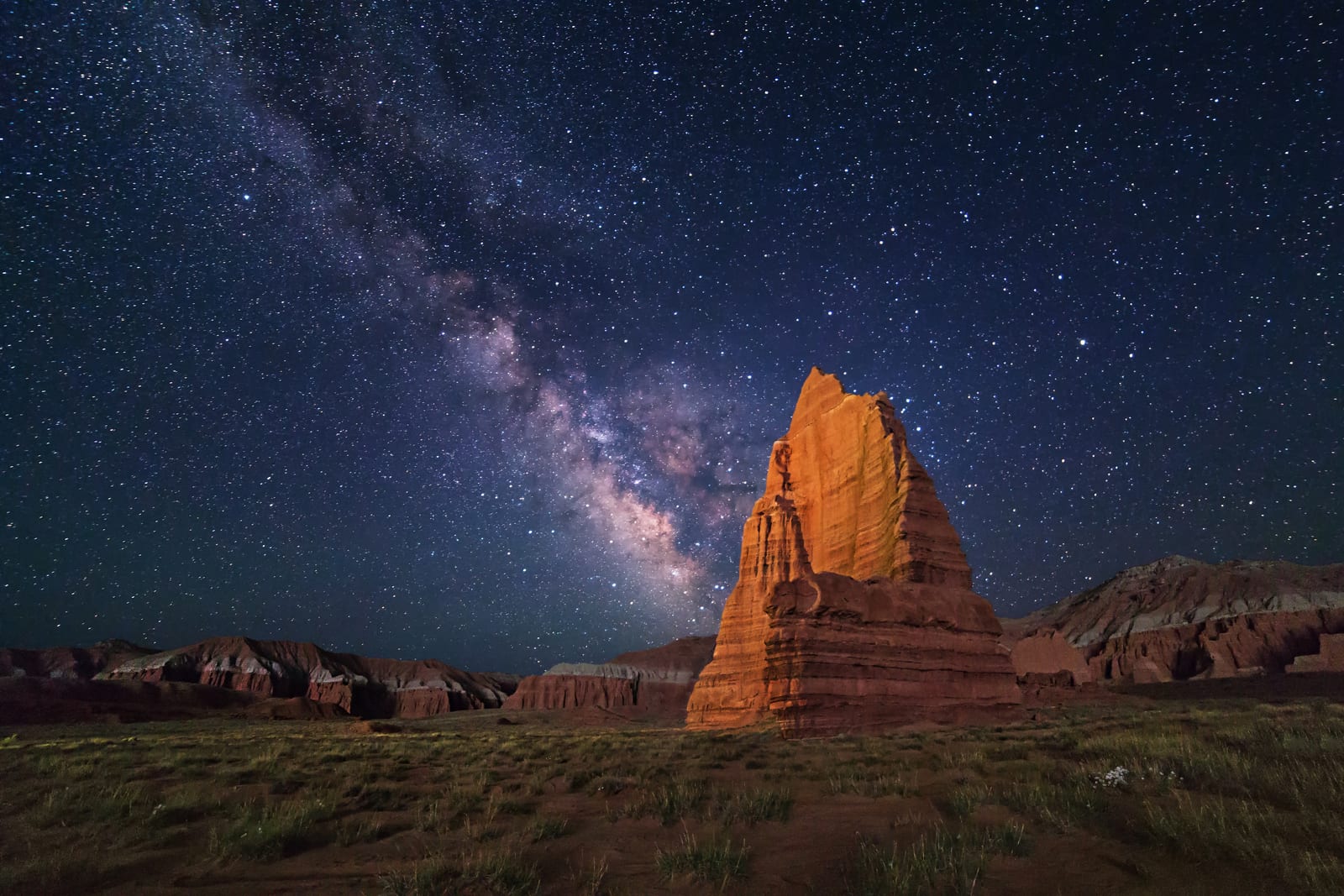 While the masses head to the more popular parks of Bryce and Zion, you, dear reader will head to Capitol Reef National Park and lose yourself in the expanse of sky and rock. This is another world, where ancient time stands still, where a 100 mile Waterpocket Fold buckles the surface and potholes become water holes after rain. The "reef" is the earth surface that's akin to a deep ocean reef vista but devoid of, well, the ocean.
Where to stay? Spoil yourself and stay at Capitol Reef Resort in luxe cabins, Conestoga wagons and teepees and take your camera. The resort is one mile from the park boundary so you can't get much closer.
Zion National Park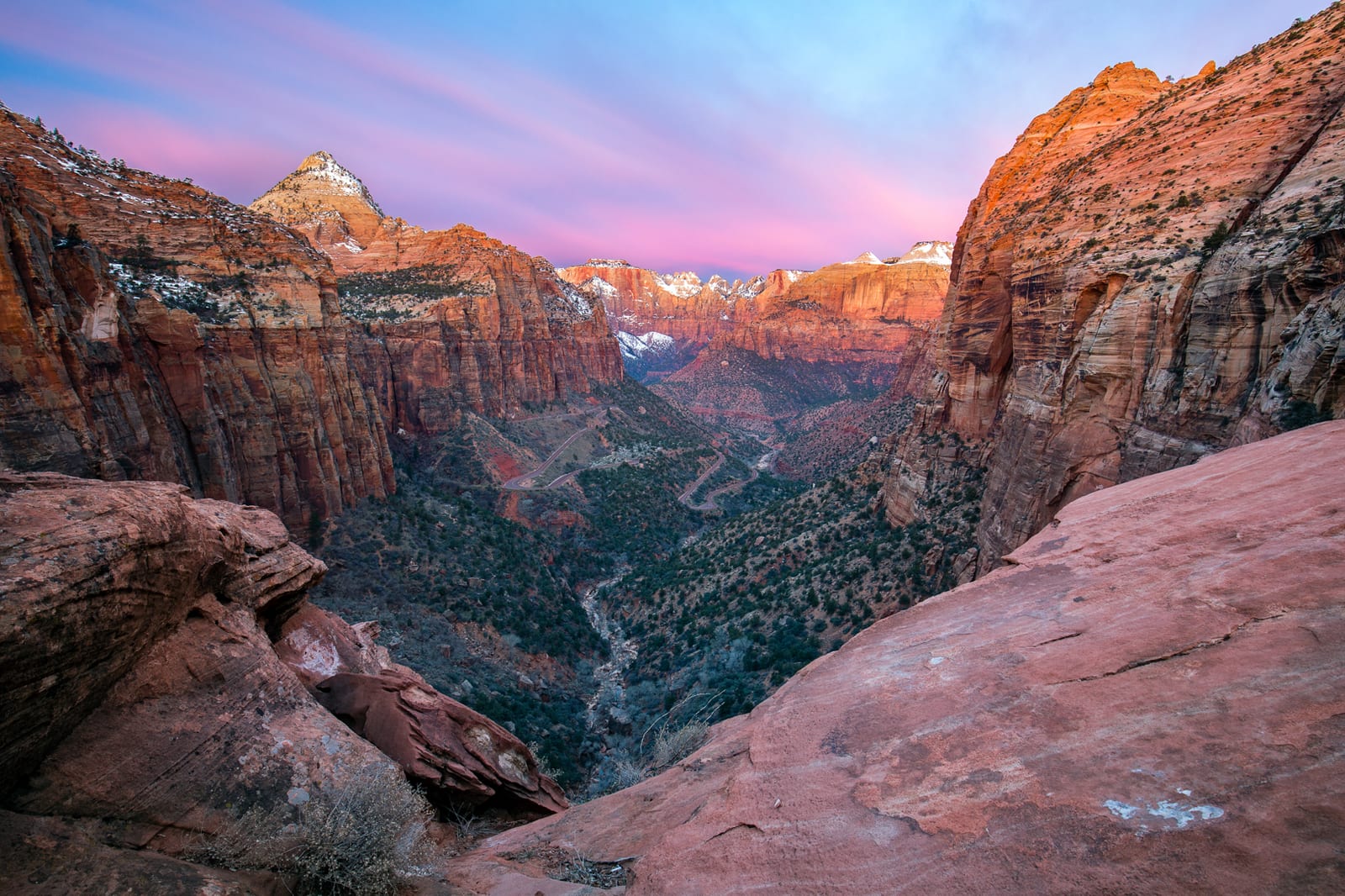 Yes, it's popular but it's popular for good reason. This is a land of dinosaurs in verdant valleys and vermillion cliffs that span 150 million years of evolution.
A free shuttle bus runs day and night to take hikers and bikers deep into the park to hiking trailheads filled with adventure from narrow canyons to soaring cliffs. Get up early and hit the park before everyone else does. If you have rented a bike put it on the shuttle and get off at the last spot deep in the park.
Hike the riverside trail alone and pop back out to find your bike at the trail head and cycle back to town through the park, stopping at trailheads along the way for another hike to waterfalls and views that go on for days. If you're game and have a good head for heights then tackle the hike to Angel's Landing.
You'll stay in the town of Springfield at the entrance to the park. The best location and coolest accommodation is at Cable Mountain Lodge, you are literally spitting distance into the park, the resort is modern and sits in a jaw dropping amphitheatre of red cliffs. There's a supermarket next door and you can cycle from the lobby along the river. Did we mention the basement day spa to lose yourself in?
But wait, there is always more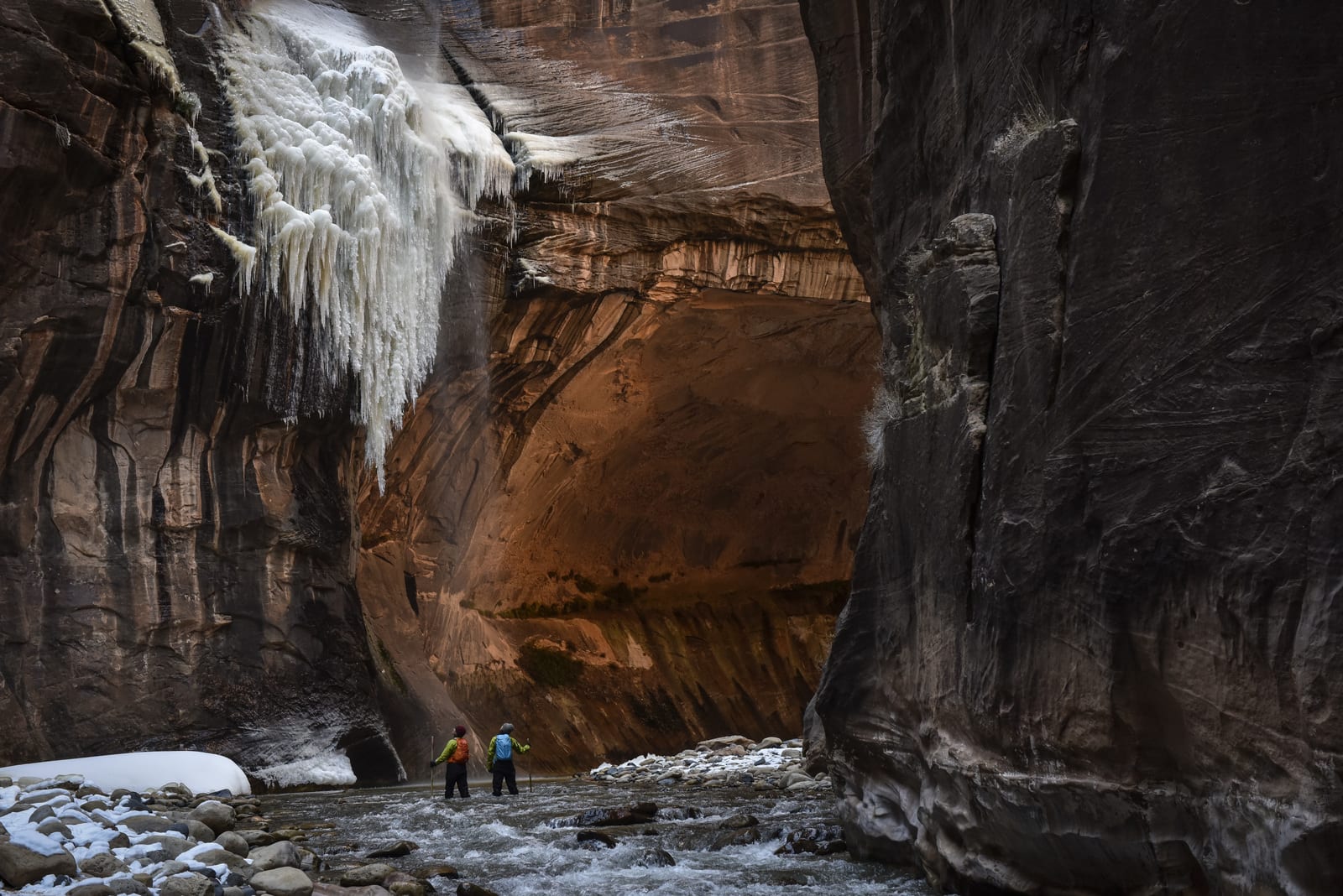 We've only touched the surface on what you can do here. Add Lake Powell and the Grand Staircase Escalante National Monument and Snow Canyon and and and…to the mix and expect to be away for months.
If you do drive then map your route to include the Scenic Byway 12. It connects US 89 near Panguitch with SR 24 near Torrey, takes in the Dixie National Forest and climbs to 2750 metres above sea level.
Make sure that wherever you go you give yourself multiple days at each location chosen. You could send two nights, three days, in Zion easily to take in a handful of hikes, chill out in the cafes in Springfield and soak it all in.
Be spontaneous, you'll meet folk along the way who will share their gems with you, so prepare to drop the more mainstream options for local suggestions.