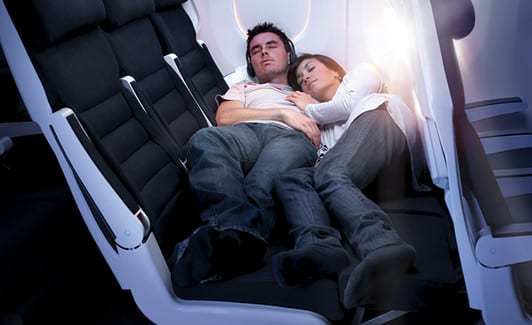 Travel writer & photographer Kelly Lynch test drives the Air New Zealand Sky Couch
If you are heading to the USA to ski this northern season then for a few extra dollars Air New Zealand offers the Economy Skycouch so you can lie flat without the big business or premium economy dollars. You will have to fly via Auckland but what's a stopover when you get a full sleep on the other side?
Why Kelly flew
I took flight from Auckland, NZ to Los Angeles, USA for the purpose of flying to North Dakota and some days later onto Wyoming. I'm a writer/photographer and visited the states to write travel stories, to see what they are about, what they offer, to taste their produce and photograph.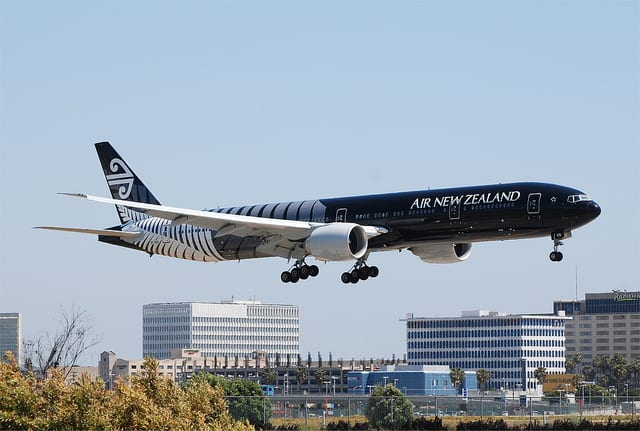 What Kelly flew on
Air New Zealand (NZ6) Boeing 777-300 twin jet plane in Seat 44A from Auckland to Los Angeles.
The plane has lots of space giving generous legroom, wide aisles, and a layout that negates people milling about the toilets. It handled turbulence better than other aircraft and our descent onto the runway was so smooth I failed to notice Air New Zealand's long held tradition of handing out lollies before landing was missing.
Why the Economy Skycouch?
I got upgraded from a basic economy seat to a Skycouch. This meant I had a row of three economy seats to myself. I could elevate all three footrests to seat height making a wide panel.
The best element of my seat was the ability to stretch out sideways, long ways or curl up however and whenever I wanted.
The worst element of my seat was minor – a slight lumpiness when lying across all three seats. It reminded me of some of my friend's couches I've dossed down on that pulled out into a bumpy bed – but I guess that is why it's called a Skycouch and not a Skybed.
The plane was almost full. I had all the right ingredients for sleep, the longest, widest space I've ever occupied in economy, only the couple curled up sleeping on their Skycouch behind me snored sooo loudly, yes even above the engine's white noise.
How did Kelly entertain herself?
There's a ton of movies including new releases. The screen plays a very clear picture that can be tilted to suit. I took my own earphones but needn't have bothered because the headphones provided worked really well.
I love that you can start watching a movie from the minute you take your seat; the days of waiting until the plane is in flight before pressing play are over.
At my end of the aircraft it was a prompt all-men-service team. They were friendly, polite, throwing around a few light funnies to relax everyone for the long haul.
What did Kelly eat?
I'm a vegetarian and in all the hype of going away I completely forgot to pre-order a vegetarian meal. Between the chicken and beef options I choose the beef curry. While I didn't eat the meat I happily ate the tasty rice and vegetables on the other half of the dish. It was served hot along with a bread roll and butter.
I was happy to wash the meal down with a glass of Central Otago pinot noir followed by desert of Kapiti ice cream.
Regular water refills were offered during the night and in the morning there was a breakfast choice between cooked or continental. I was glad I choose the continental, its yoghurt and fresh fruit was a good start to the new day.
Did she depart and arrive on time?
The flight was scheduled to leave at 7:40pm and we left approximately 10 minutes later, arriving in LA slightly earlier than expected.
Kelly's verdict
I had a smooth, no hassle experience from the time I appeared at the Air New Zealand check-in desk at Auckland airport until I arrived well fed and entertained in Los Angeles.
Kelly Lynch flew to Los Angeles courtesy of Air New Zealand