If you think ski towns are class A drug free then you're clearly living in la la land and not in the ski towns I have inhabited. Those towns where you're never too sure if the person you're partying at apres with is high on the awesome blower powder they skied today or the awesome 'blow' powder they snorted that night.
We all know cocaine exists, we all know it's prevalent in ski towns, we've all seen it and been exposed to it whether we know it or not. Some of us may have taken it with stories to tell and some, like Elephant Ford, may have been caught while doing it only to tell police "of course I have cocaine up my nose, it's Aspen."
It could have been worse for Mr Ford he could have ended up dead like British holiday maker, Nina Holmes, who bought cocaine from a club rep in a Bulgarian ski resort.
In January this year five Swiss soldiers were sent home from guarding the World Economic Forum at the high end ski resort after testing positive for cocaine use. Maybe they just drank the waste water which is said in Switzerland to contain high levels of cocaine.
Who is honestly surprised that two Lake Tahoe bartenders got arrested for allegedly selling cocaine in the USA this week? The arrest came a few days after it was announced that Lake Louise and Nakiska ski resorts in Alberta, Canada, would be patrolled for narcotics and weed on the chairlift by police on skis and snowboards. 
I suspect it won't be hard for those snowboarding coppers to find the goods. Finding people willing to sell or buy cocaine at a ski resort never is.
Back in 2008 Austrian police were already predicting cocaine to surpass mulled wine as the drug of choice for British skiers and boarders on snow holiday. A year later in 2009 in the USA 15lbs (almost 7kgs) of cocaine was seized in Telluride (a town with a population of only 2000).
Australian ski fields are not squeaky clean either. In August last year two men were charged with supplying ecstasy, ice and cocaine at Bullock's Flat carpark near the ski tube to Perisher.
The demographic stats for cocaine use practically mimic the demographic stats for any ski town round the world. More males than females, mostly 26 or older and predominantly caucasian.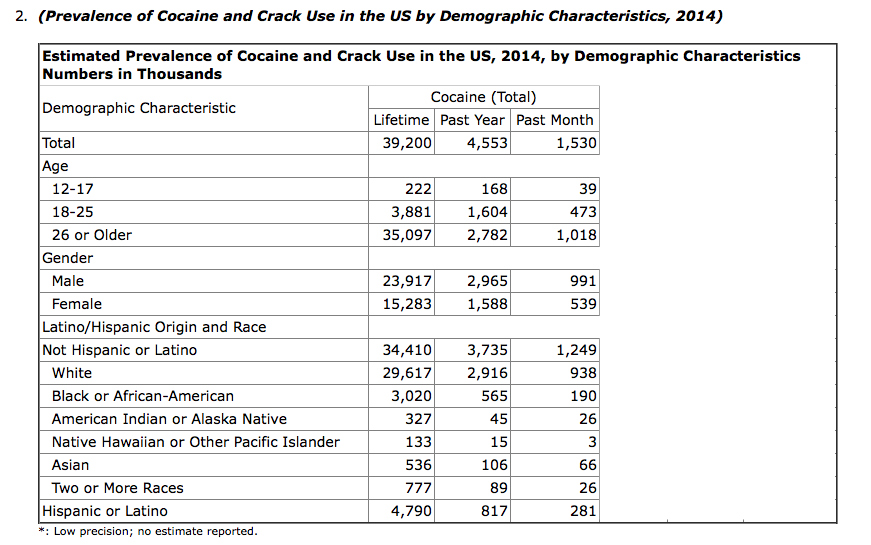 75% of cocaine users are white, 12% hispanic or latino, 8% are black or African American and 1.36% Asian; 89% are 26 years of age or older and 61% are male.
Compare those stats to the snowsports industry stats in the charts below.
---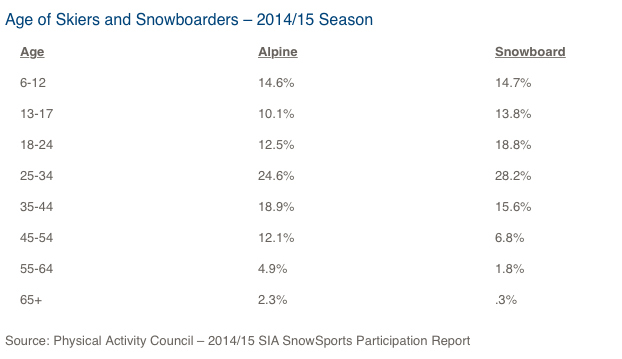 ---

Then add a traditionally higher income bracket, a holiday atmosphere with a religious like celebration of the 'apres' lifestyle and a belief you're invincible because you actually threw yourself down a mountain covered in snow and ice and well, you get the drift.
Some of those folk partaking in the powder off the slopes may simply blow off steam for a night, a weekend or a week then head home. Others may be mad enough to move to spend the season in a ski town on a poor wage in search of nirvana and find themselves in a party cycle that starts with booze and inevitably ends with drugs.
But nirvana has never truly been found in the bottom of a shot glass, end of a reefer or by licking the remnants on a mirror. Trust me, I know. It may be hell fun for a night or two but it's when it becomes habitual that you'll find yourself a gazillion miles away from the nirvana you seek.
Partying on holiday in a ski town is a lot different to living in a ski town. If you try to maintain the holiday lifestyle of the tourists who breeze in for a moment while you live there for a year then you're just going to end up in rehab.
The police may have it wrong in targeting the little people buying drugs. Though its not the drugs that cause addiction it's the lack of connection (see video below).
Skiing and snowboarding are self gratifying leisure sports and the hospitality industry that supports these sports also support self gratifying behaviour and excess. It's the ski town way. But there's no connection in self gratification, it's just a one way slope to narcissism.
The mountains don't bring joy to everyone. Colorado has one of the highest suicide rates in the USA and in 2014 Aspen and the Roaring Fork Valley were rocked by four suicides in two weeks in their community.
Even those who spend their days climbing, hiking, running and skiing professionally are not immune to depression, perhaps brought on by adrenal fatigue by a lifestyle that celebrates never-give-up-don't-stop-extreme adrenaline activities. Not dissimilar to the endorphins brought on by cocaine use.
Mountain towns need more organisations like Aspen Strong, a community dedicated to providing extensive mental health support opportunities and regular meetups for locals looking for real connection, not faux connection created by drugs, with other locals.
There's a lot of 'talk' about community in some towns and little action and without community there's no connection and without connection, well, you may end up with addiction.