Whether he likes it or not, the snow was always destined to be a part of my son Oliver's life.
He was born in early March – the same month bookings for the lodge I am a member of at Perisher open. Knowing how crazy things would be with a newborn, I emailed the application for our stay in September the morning I was being induced, before we were 100 per cent sure what his name would be.
The birth didn't exactly go to plan, and I had to go straight into surgery afterwards. Lying on the operating table – no doubt a little high from all the drugs – I overheard the anaesthetist chatting to a nurse about his recent six-week holiday at Whistler in Canada.
"Whistler?" I butted in. "I did a season in Whistler".
We then spent the next half an hour chatting about our time there, new additions to Vail Resort's Epic Pass and the respective lodges where we stay in Perisher. 
I inherited my Yalara membership from my Dad, while my half-sisters were both given a membership for their 18th birthdays. I would like to do the same for Oliver when he comes of age if I am in a financial position to do so.
I was 11 months old when I went to the snow for the first time; Oliver was just six. In the lead-up to the trip I was nervous about the logistics, but I couldn't wait to see his face when he looked around and saw he was surrounded by white. For a baby, it must be like going to another planet.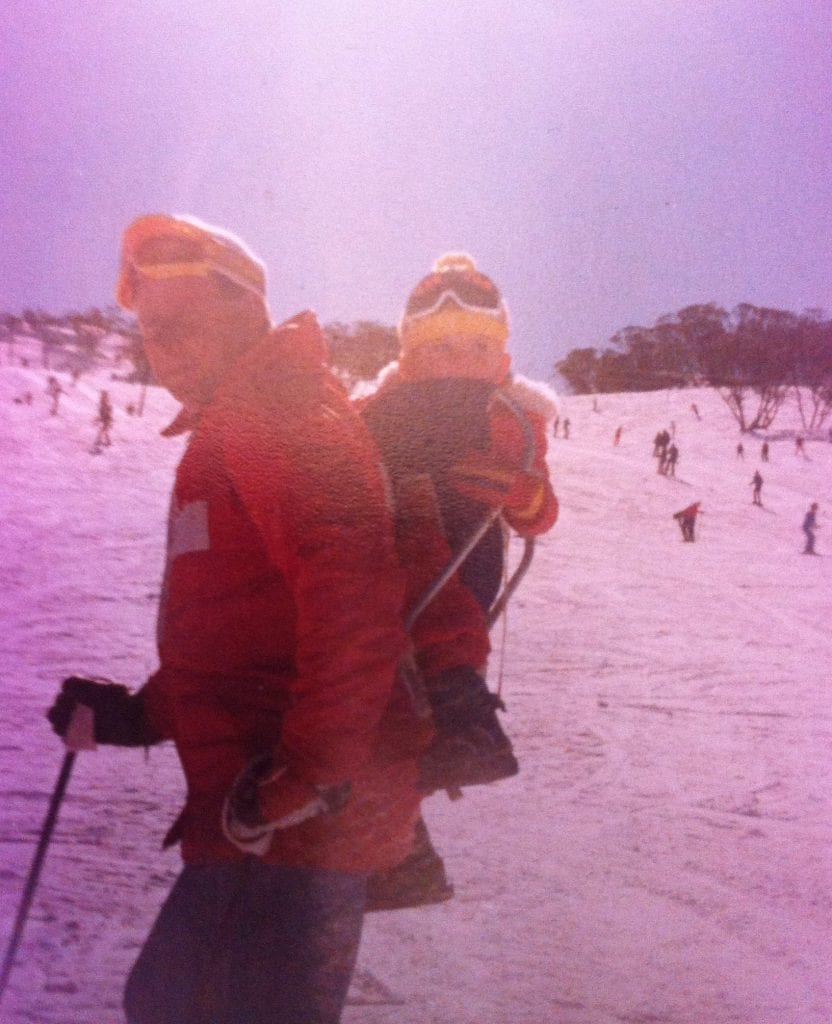 I admit I was a bit worried about what other people would think about me taking a baby to the snow, but time and again I was blown away by their enthusiasm. People at the snow are usually friendly, but having a baby in tow is a great ice breaker and adds a whole other dimension.
"That's a great age to be going to the snow!" cried a grey-haired lady who befriended us on the SkiTube, while Oliver looked around in amazement. Climbing up into the snow cat with a baby carrier on was a challenge, but a group of older men who had had a few schnapps at apres were happy to help by giving my bottom a little push.  "I promise that wasn't me!" one joked, pointing to his mate.
I also feared other guests at the lodge would turn their nose up, thinking he may disturb their holiday and cry and wake them in the middle of the night. But, once again, my concerns were unfounded.
"You have a little person!" one man cried when he saw me holding him in the kitchen the first night. "Can I play with him tomorrow?"
Another night, just as I was about to take my first bite of dinner, I noticed on the video monitor that Ollie had woken up. "Do you want me to get him for you?" another guest, who was still waiting for her meal to be cooked, asked. "Would you?" I replied.
I received an encouraging compliment from another. "You're doing well with a baby," she said. "I stayed at home in my pyjamas for the first year".
Oliver lapped up the cuddles from the other guests. I can see him running into these members at the lodge in a decade or so's time and them telling him they remember when he was playing on the rug in the lounge room as a baby, just as some have said to me over the years.
As you would expect, the sort of people the lodge attracts are wilderness types who share stories of their adventures around the world over dinner and drinks, and I like to think these tales will inspire Oliver in the future, as they have me.  
Being in the bright environment of the snow was a tad overwhelming and resulted in a few grizzles at first, Oliver mostly took it in his stride. He loved watching the iridescent drips falling from the icicles that hang from the roof of the verandah as they melted in the spring sunshine. He was transfixed by the glistening snow and the crunching sound our boots made as we carried him facing outwards in the baby carrier on the way to the valley. It's a path through the snow gums I trod countless times with my own parents.   
While he was looked after by his Dad or in the child care centre at Perisher during the day, I hit the slopes. Fortunately, the jacket that I had bought in the Boxing Day sales when I was six months pregnant fit, and I found myself appreciating the joy and freedom of skiing more than ever before.
I couldn't help thinking about Oliver when it was time for his nap and wondering how he was going, but I considered this time doing what I love my reward after the challenges of the newborn days. Seeing other kids on skis made me feel excited to think that will be Oliver in a few years.
Of course, Oliver won't remember the trip. But I believe it's all a learning experience, and every adventure helps shape who a child becomes. And he will be able to look at photos one day and see where his snow journey began.