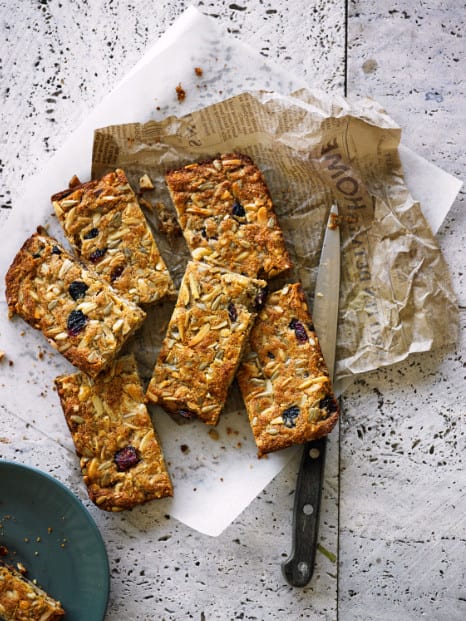 Staying healthy and eating well at the snow isn't easy but with a little preparation it can be done.
Whole food chef Lee Holmes of Superchargedfood.com gives SnowsBest two energy packed food recipes to keep you going all day. A Cranberry and Walnut Granola you can make at home and take to the snow for breakfasts and Supercharged Power Bars for your pockets on the slopes when you need an energy blast.
Cranberry and Walnut Granola
Whipping up a batch of this wholesome granola will bring out your real inner earth mother (or father!), plus it moonlights as a cheeky nibble during the day to give you extra energy and boost your performance on as you zig-zag across the slopes!
It's beautifying too, a quarter of a cup of walnuts can give you nearly 95% of your daily omega-3 requirements, and the huge amount of B vitamins they contain can not only help reduce stress, but keep your skin looking young, delaying the occurrence of fine lines and wrinkles.
It's so easy to make ahead of time and swap out ingredients depending upon what you have in the pantry– as long as you stick to the basic mix you can make this granola an amalgam of whatever toasted level of crunchiness you like.
If you like a lighter granola, add puffed buckwheat or brown rice puffs and top with chia or flax.  Store in a sealed glass jar in a cool dry place until you are ready to use it then place in zip lock bags to carry with you for when you are in need of a pick me up.
This recipe is sugar free, dairy free, gluten free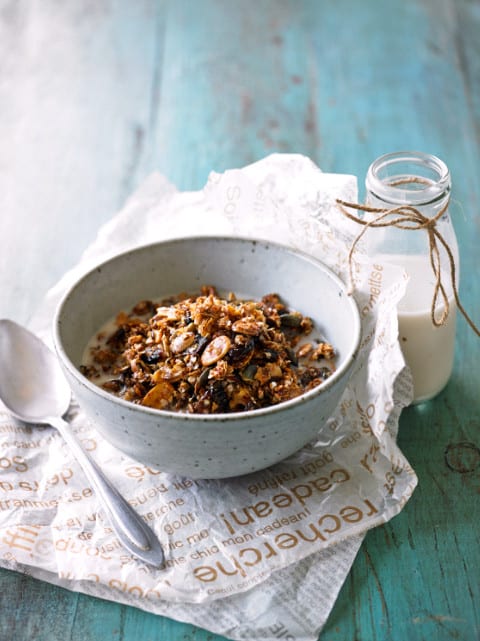 Ingredients
300 g (101/2 oz/11/2 cups) quinoa or brown rice flakes
90 g (31/4 oz/3/4 cup) chopped walnuts
75 g (21/2 oz/1/2 cup) dried cranberries
3 tablespoons sunflower seeds
2 tablespoons pepitas (pumpkin seeds)
2 tablespoons almond flakes
1 tablespoon flaxseeds
1/2 teaspoon ground cinnamon
1/2 teaspoon freshly grated nutmeg
60 ml (2 fl oz/1/4 cup) coconut oil
60 ml (2 fl oz/1/4 cup) rice malt syrup, or sweetener of your choice
1/2 teaspoon alcohol-free vanilla extract
15 g (1/2 oz/1/4 cup) coconut flakes
almond milk, to serve
Method
Preheat the oven to 180°C (350°F/Gas 4) and line a baking tray with baking paper.
Combine the quinoa, walnuts, cranberries, sunflower seeds, pepitas, almond flakes, flaxseeds, cinnamon and nutmeg in a bowl and mix well to combine.
Place the coconut oil in a saucepan over medium heat and heat until it has melted.Add the rice malt syrup and vanilla and stir for 30 seconds. Remove from the heat.
Pour the liquid mixture over the dry ingredients and stir well, ensuring the dry ingredients are coated thoroughly. Transfer the granola to the baking tray in a single layer, then cook in the oven for 20 minutes, stirring frequently and breaking up any clumps that form.
Remove from the oven, add the coconut flakes, and bake for a further 5 minutes. Remove from the oven and cool.
To serve, place in a bowl and top with almond milk. It also tastes great on its own. This granola keeps for 4 weeks in an airtight container in a cool dry place.
Supercharged Power Bars
Power through your day on the snow with  my Supercharged Power Bars.
They will provide energy and sustenance and are a wonderfully safe port of call amid the storm of clichéd healthy breakfast bar options on the market that are full of sugar and unnatural ingredients.
Sugar, dairy and gluten free.
Ingredients
unsalted butter, for greasing
125 g (41/2 oz/11/4 cups) almond meal
pinch of Celtic sea salt
1/4 teaspoon bicarbonate of soda (baking soda)
60 ml (2 fl oz/1/4 cup) coconut oil
60 ml (2 fl oz/1/4 cup) rice malt syrup, or sweetener of your choice
1 teaspoon alcohol-free vanilla extract
40 g (11/2 oz/1/4 cup) cashews, crushed
160 g (51/2 oz/11/4 cups) combined flaxseeds, sunflower seeds and slivered almonds (FSA)
40 g (11/2 oz/1/4 cup) dried cranberries (optional)
METHOD
Preheat the oven to 175°C (345°F/Gas 3–4). Grease a 20 x 20 x 5 cm (8 x 8 x 2 inch) square ovenproof tin.
Mix the almond meal, salt and bicarbonate of soda together in a bowl.
In a separate bowl, combine the coconut oil, rice malt syrup and vanilla. Add the almond meal mixture, and mix in the nuts, seeds and cranberries, if using.
Wet your hands and then transfer the mixture to the tin, using your hands to press down firmly on the mixture.
Transfer to the oven and bake for 15–20 minutes.
Remove from the oven, transfer to a wire rack and cool before dividing into 8 bars and serving.
These will keep in an airtight container for 7–10 days.
Lee Holmes is an Australian advocate for wholesome, nourishing food and passionate about creating health change at government and policy level. She created a petition to improve food in hospitals in Australia that resulted in a healthier menu introduced by the Minister for Health. Lee also won Health Influence Blog of the Year in 2013. Follow Lee on twitter @leesupercharged and facebook.com/superchargedfood
Read more: The Best Hot Chocolate in the History of Hot Chocolates
Lee Holmes is a Certified Holistic Health Coach (Institute of Integrative Nutrition), Hatha Yoga Teacher and Whole Foods Chef. She is also the author of three best-selling books Supercharged Food, Eat Yourself Beautiful, and Supercharged Food for Kids Lee's website www.superchargedfood.com encourages S.O.L.E food;  sustainable, organic, local and ethical.