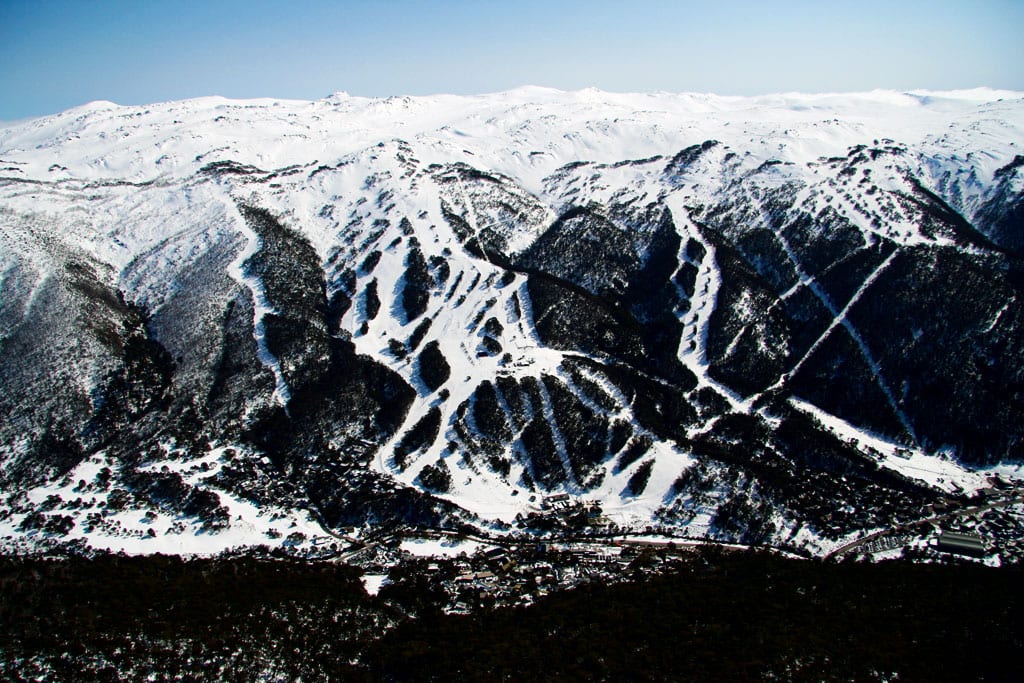 The fastest of the fastest alpine skiers from around the world will hit the long and steep World Cup race course located high on the hill in Thredbo this week (Monday, August 21) to carve their way from top to bottom in a show of strength, agility and speed for the next four days from 8.30am.
More than 120 international and national racers will be buckling into the tightest race boots and clicking into the sharpest collection of race skis while at the ready to take notes from a weathered crew of strategists with "Coach" emblazoned on their jackets.
"This is the most impressive collection of alpine racers that any Australian ski resort has seen since Thredbo hosted the World Cup in 1989," said BJ Kaufmehl, race director for Thredbo Ski Racing Club (TSRC) which is hosting and managing the international FIS event.
"These athletes are vying for hotly contested spots on Olympic teams. They all want to represent their countries at the 2018 Winter Olympic Games to be held in Pyeongchang, South Korea in February."
Eighteen nations will be represented at the ANCs including: Austria, Canada, USA, Germany, Japan, New Zealand, Poland, Slovakia, Switzerland and Sweden.
Australian and New Zealand alpine racers will also be pushing out of start huts to compete for highly contested spots on Olympic teams.
"We invite snowsport enthusiasts to head up to the World Cup course each day to see these remarkable skiers craft their way around gates at tremendous speed," said Dr Felicity Bidencope, president of Thredbo Ski Racing Club (TSRC).
"This level of ski racing is so inspirational for young racers and we are excited to be able to expose this level of racing to our up and coming racers. The male field has more than 740 World Cup starts under their race skis and more than 20 Olympic starts.
"The road to success in ski racing is a long and tough one. An international race of this calibre gives young racers such tremendous encouragement. We have a team of 100 young adults and children that train with TSRC and they will be out on the hill to cheer and enjoy the atmosphere," said Dr Bidencope.
More than 100 people from TSRC will be working behind the scenes to make the races happen each day. The 5am on-snow starts to check b-netting, position gates, set starting wands, test timing, smooth out courses and nerves are all part of elite ski racing.
Thredbo staff from all departments, grooming, lifting, ski patrol and ski school are instrumental to the overall series' success.
The races are sanctioned by Ski and Snowboard Australia (SSA), the governing body of snowsports in Australia, and by the International Federation of Skiing (FIS).
Newly appointed Australian National Alpine Head Coach, Michael Branch, will be on snow to support the Australian racers.
If you can't be course-side during the week, live-timing and start lists are available on the SSA website: ssa.live-timing.net/
The Thredbo ANC is the first leg of the series, the second series will be held in New Zealand the following week. There are five Continental Cup series internationally: Europa Cup, Far East Cup, North American Cup, South American Cup and ANC Cup. These events sit just underneath the pinnacle of alpine racing – The World Cup.
Australian national team members and members of TSRC including Liam Michael, Jack Adams, Madison Hoffman and Lily Tomkinson will be competing on their home hill alongside other National Team athletes and athletes from all Australian Race Clubs.
2016 ANC champions Julia Mutschlechner (Germany) and Piera Hudson (NZ), Adam Zampa (Slovakia) and Robby Kelley (USA) will be in fine form defending their titles.
"We are very excited to host an event of such calibre in Thredbo," said Dr Bidencope.
Some Racing Stats:
The race field of men and women has a combined total of 778 World Cup starts:
The Austrian team has 63 World Cup starts beneath their skis, with two of their racers, Marcel Mathis and Stefan Brennsteiner, having two World Cup podiums each.
The Zampa brothers from Slovakia have 163 World Cup starts and seven Olympic starts between them.
USA athletes, Michael Ankeny, Robby Kelley and Hig Roberts, have an impressive 70 World Cup starts.
The Swedish women's team will be led by veteran Maria Pietilae-Holmner who at age of 30 has six Olympic starts, 207 World Cup starts and two World Cup podiums. Her team of six athletes has 350 World Cup starts between them.
Canadian racers, Phil Brown and Trevor Philp, have 125 World Cup starts, four Olympic starts.
Czech racer, Krystof Kryzl, has 11 Olympic starts and 175 World Cup starts.
Germans, Stefan Luitz and Linus Strasser, have 111 World Cup starts, two Olympic starts.
Attending athletes from Switzerland have 20 World Cup starts; Poland 19 World Cup starts; Liechenstein two Olympic and three World Cup starts; Japan six World Cup starts; Netherlands two World Cup starts; New Zealand 21 World Cup starts and two Olympic starts.