Ten years ago, I'd never set foot in ski boots. Nine years ago, I spent Christmas in the French Alps and was baffled by the fact that anyone would use the word "fun" to describe the torturous sport of skiing. Six years ago, I moved to a Canadian ski town and fell in love with skiing.
But there's more to my ski addiction than loving going round and round on chairlifts and ski slopes swishing from side to side. It's not just a fun physical activity for me; it works wonders for my head too.
Anxiety is something I only learned about fairly recently. While it's lingered in the background throughout my life at varying levels, I had no idea what it was, until a doctor finally identified it a few years back.
Visits to a counsellor followed and I realised anxiety could explain the ongoing struggles with stress when it came to certain situations, low confidence, emotional meltdowns, hyperventilating, and the need to run here there and everywhere and never stop for too long.
I continue to learn how to live with and manage anxiety in a number of ways – regular exercise, medication and counselling when needed, mindfulness, not burning myself out etc. And there's absolutely no doubt about it; skiing helps by teaching me the following lessons.
Failure is okay
When I was a kid, my mum sometimes joked that I didn't like doing things I wasn't good at. She was onto something, but it wasn't as she believed, that I was a perfectionist, but rather, because I was ever so scared to fail and be embarrassed about failing. This held me back a lot into my adult years.
But when I moved to Whistler, Canada, I had little choice: if I was going to live in a ski town I needed to learn to ski because let's face it, it would be more embarrassing to have to tell people I couldn't ski. So I committed by dropping a chunk of my travel savings on a pair of ski boots and skis.
My first experience skiing in Canada was falling off the chair lift at the top. I was mortified. That day I only got down one ski slope. It wasn't pretty and took forever. I then had my first ski lesson during which one instructor said he was impressed at my ability to fall over so much and just keep on struggling back up. By the end of the day I was absolutely knackered, however my skiing had significantly improved. Failing over and over again was paying off.
Today, I'm well aware that skiing is something I'll never perfect. It's taught me that failure is not just okay, but vital to learning and improving.
I am strong
I've always been sensitive and questioned my mental strength. My counsellor once asked whether I took on challenging physical pursuits like backcountry skiing because I needed to prove to myself I was physically strong in the face of not feeling mentally strong. I immediately knew he was right and got emotional!
He was quick to point out that he thought it was a good thing. It's taken me a little while to come round to it, but I've realised that by pushing myself physically with skiing, I simultaneously push my mental strength.
When backcountry skiing, I love pushing myself physically beyond what I think my limits are to climb up mountains one tiny ski slide at a time, sometimes for hours and at altitude, for a short untracked ski run back down. Mentally, backcountry skiing has pushed me frighteningly far outside of many comfort zones; having to overcome fears of being caught in an avalanche, being confident that I could perform a rescue of someone else and not being put off by skiing with people way more experienced than me. None of this makes me a hero, but it does demonstrate huge personal growth, as it's a strength I couldn't have fathomed ten years ago.
Live in the moment
Mindfulness is something my counsellor and I spoke about many times as a way of overcoming my tendency to become anxious because of fears stemming from the past and future.
While skiing I find living in and enjoying the moment completely effortless. A friend I recently skied with in Colorado laughed at me one morning when I bounced on the bed and said excitedly, "Wake up! It's ski time". He said that my childlike love of skiing was infectious. Skiing takes all my attention and throws me headfirst into the fun of the moment.
And when the stakes are higher while backcountry skiing, I'm no longer as childlike and carefree, but my ability to be present is a given. I know that in the backcountry I have to be alert at all times, as a lapse in attention and I might find myself on dangerous terrain, not see or hear signs of danger, lose track of time, get lost or endanger others.
Steady she goes
When backcountry skiing, "steady she goes" is my mantra. I don't push to keep up with the pace of others. Skinning up slopes has become a mindful meditation in which I say over and over again "just one foot in front of the other", focusing on a steady breath, even alternating slides of my skis and looking around to soak up the surrounding mountain views.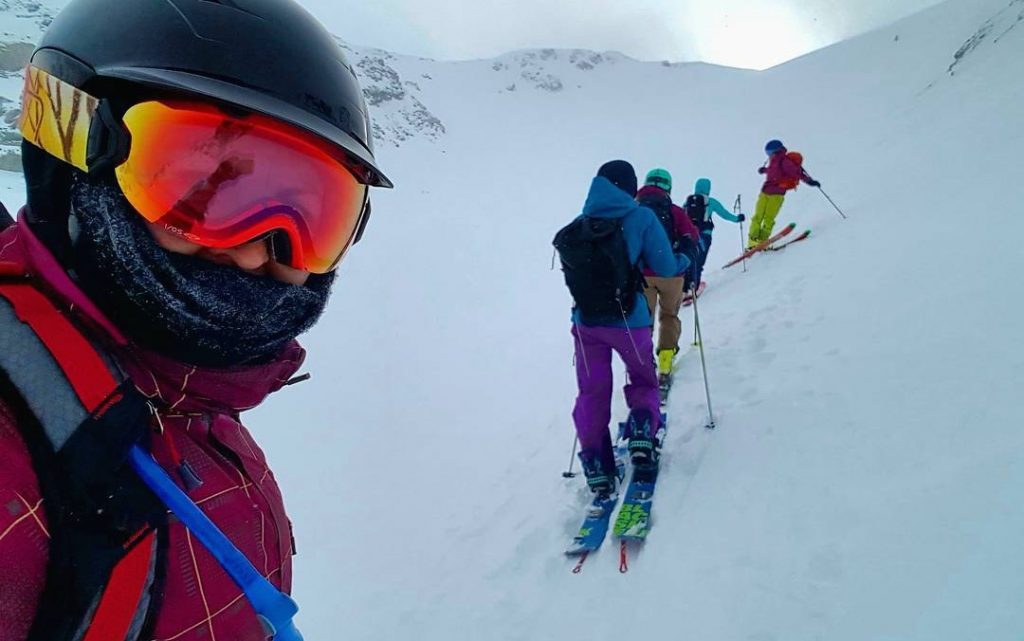 Having said that, skiing is full of adrenaline rushes I'm addicted to – going top speed down a groomer with nice wide turns, jumping off things and steep ski turns in deep powder in the backcountry. The positivity that overtakes me while my heart rate is raised during skiing shows me that it doesn't only race when I'm anxious and having a panic attack.
Roller coaster rides are okay
Skiing can sometimes feel like a roller coaster ride: some days are pretty good, some are off the charts amazing, some seem hard, and others I hit a wall and give up. Having laughs skiing with beginner friends and family are good days. Standing at the top of a Himalayan mountain after skinning up for five hours was off the charts.
Standing in the rain waiting for the gondola seems a bit hard. And a few concussions while learning to snowboard (yes, while wearing a helmet) were definitely I give up days. But they're all part and parcel of my ski journey. Being okay with the ski roller coaster ride has provided the perfect model of how to be more accepting and patient with the roller coaster of life.
---
Please help SnowsBest remain your independent source of snow news this winter with a "Covid contribution", from as little as $1, so we can continue to deliver the news and content you value in a season when we need each other most. Contribute here.
---