Switzerland. The ultimate bucket-list dream for skiers and snowboarders who are drawn to the mountains. With an alpine history as rich as the cheesiness of a fondue, a visit to this beautiful country is a no-brainer.
But how to choose the right spot? One that happens to be endlessly stunning while also not too crowded and not too expensive?
Our pick is the Jungfrau region, home to several villages, our favourite of which is Grindelwald. This village shares a name with a character from Harry Potter, and it's easy to see why; being there feels like you've stepped into the pages of a storybook.
If you visit, you'll be one of the only Australians to have discovered this glorious area, which makes the entire place feel like Switzerland's best-kept secret.
The history
Every Swiss village has its own story, and the magic of the mountains here have been drawing adventurers for centuries. In the 1800s, hotels starting popping up in Grindelwald; in the summer, they would make their money by chipping tonnes of ice off surrounding glaciers and sending the blocks to Paris, where the French would use it to preserve their perishables.
These days, Grindelwald still has that ancient Swiss village charm, although with all the ski town luxuries to be found. It also happens to serve as a gateway to three different ski areas (First, Kleine Scheidegg and Muerren-Schilthorn) offering up 160km worth of runs and 30 lifts that reach an altitude of 2500m. So just a bit of fun to be had here, then.
How to get there
Fly into Zurich, where you can hang out and explore the cobblestone streets of the beautiful city for a day or two; then jump on one of Switzerland's famous trains, straight out of the city and into the mountains of the Jungfrau region.
Even if you're normally a budget traveller, it's truly worth springing for a first class train ticket to get a true understanding of just how luxe public transport can be. Within three hours of plush velvet seating, completely silent carriages and lush scenery of beautiful lakes, chocolate-box towns and mountains, you'll find yourself in Grindelwald.
Where to stay
You've been in luxury on the train, so why not carry on with the good times at your accommodation?
As the village's only five-star acccommodation, Romantik Hotel Schweizerhof is the most popular spot in town. Having originally opened in 1893, it continues to be the most charming place to bed down behind the cute little wooden shutters. You can truly feel the Swiss heritage, all while you're enjoying the spa and luxe meals served up in the Michelin-starred restaurant.
Mid January also happens to be their value season, so visit right after the Christmas and New Year break if you're hoping to have the place to yourself – very handy for Aussies and our summer holidays.
Where to ski
One ski pass helpfully gives you access to all three ski areas surrounding Grindelwald. Find all the ski maps here if you'd like to have a stickybeak.
Grindelwald-First is a favourite with those looking for long, cruisy and fun runs, with fun other activities available on the slopes; such as the First Glider, where you're lowered into a harness to glide forwards and backwards at over 70km/h. Or where you can go zip lining 800m over the ski slopes.
A ride on the brand new V-cableway is also well worth a spin. With the route to ski area Männlichen now open, and the route to Eigergletscher set to open later in 2020, this cableway significantly cuts down travel time to the glorious slopes and keeps you toasty warm and dry.
In the summertime, the ski slopes still turn into farmland so that the Swiss can continue with their ancient love of all things cheese. When you're skiing, keep an eye out for the charming wooden buildings, which are all stables – home to the many cows of Switzerland in the summer.
Where to eat
On-mountain food isn't generally known for being incredible – but First Mountain Restaurant is a different story entirely. I still dream about the cheesy pasta I had here (Älplermagronen), the kind of dish with so many calories, it can only be eaten while sitting on an outdoor deck in sunny Swiss weather in between ski runs, while gazing at the Wetterhorn, Schreckhorn and Eiger mountains.
Grindelwald village itself is full of everything from hole-in-the-wall bakeries to glorious restaurants that will serve up five courses and then still try to give you dessert and a cheese platter.
Those on a budget, don't be frightened. Grindelwald is helpfully home to a large supermarket packed with options that'll lessen the load on your wallet – with everything from pre-made sandwiches to cheap cheese and meats, five-Swiss-franc wine, instant noodles and a giant wall of pick and mix Lindt balls in flavours you didn't know existed.
Where to aprés
Funnily enough, the most popular spot in Grindelwald is called Avocado Bar, which makes it sound like an expensive Australian breakfast – but is really just a really fun place to grab a beer that's "colder than your ex" while also enjoying those Swiss mountain views.
What to do
There are the usual suspects for adventure mountain activities up for grabs in the Jungfrau region. Just in Grindelwald, you can go winter sledding on 15km worth of runs, winter hiking, take helicopter rides, or wander incredible feats of engineering such as the First Cliff Walk.
You can take an easy trip up to Jungfraujoch, known as the 'Top of Europe', or check out famous ski races such as the Lauberhorn at Kleine Scheidegg – read more about those here.
For a seriously unique adventure, try the local winter bicycle, the velogemel. This terrifying yet exhilarating wooden bicycle-cross-sledge was born in town, and the locals have perfected the technique of sending it down winding, scenic downhill courses. There are a few beginner options for those willing to give it a whirl – the trick in stopping is all in the feet.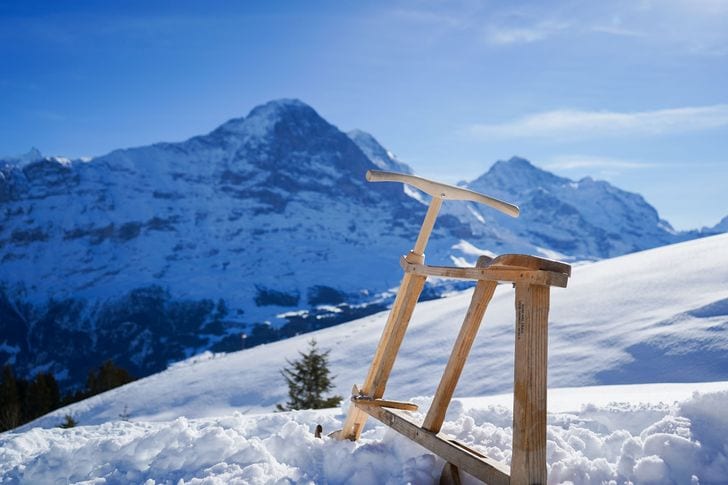 What to take home
Home to more Swiss army knives than a very well-equipped group of Girl Guides, Grindelwald is also the perfect place to pick up your own fondue set, stuffed St Bernard puppy or very fancy ski outerwear. At the very least, the people left at home would appreciate some Swiss chocolate, but too bad, you won't find any of that here. (I ate it all.)
Find out more about Grindelwald – and all the villages and ski areas of the Jungfrau region – by clicking here.