The Japan skiing of yesteryear – you know, no crowds, cheap lift passes – is not as easy to find now as even five years ago. The ski and snowboard world at large continues to discover the delights of unlimited dry powder over your head, for good reason. There are, however, still places you can find the old world ski days and Gunma is one of them.
Bordering the better know Niigata and Nagano prefectures, Gunma has over 20 resorts mainly focused around the towns of Minakami and Katashina with literally something for all types of skier and boarder from the intrepid to the onsen pampered. 
If you're new to Japan and want to experience the purity of skiing and boarding in Japan, or you're an old time skier and want to get away from the western crowds and Australian accents then Gunma Prefecture has your name on it. It has higher elevation offerings than many areas in Japan so even drier snow and up to fifteen metres falls each season.
Plus the lift prices are akin to 'ye olde Japan' too, most around AU$40 to AU$55 per day and the region has a ton of onsens for après bathing and ancient shrines, temples and ruins.
It's worth hiring a car if you're confident driving in snow conditions in Japan and doing a full road trip or signing up for a multi resort guided tour with a Japan snow specialist. Our other tip is go mid week as weekends can be crowded due to the easy access for many resorts from Tokyo.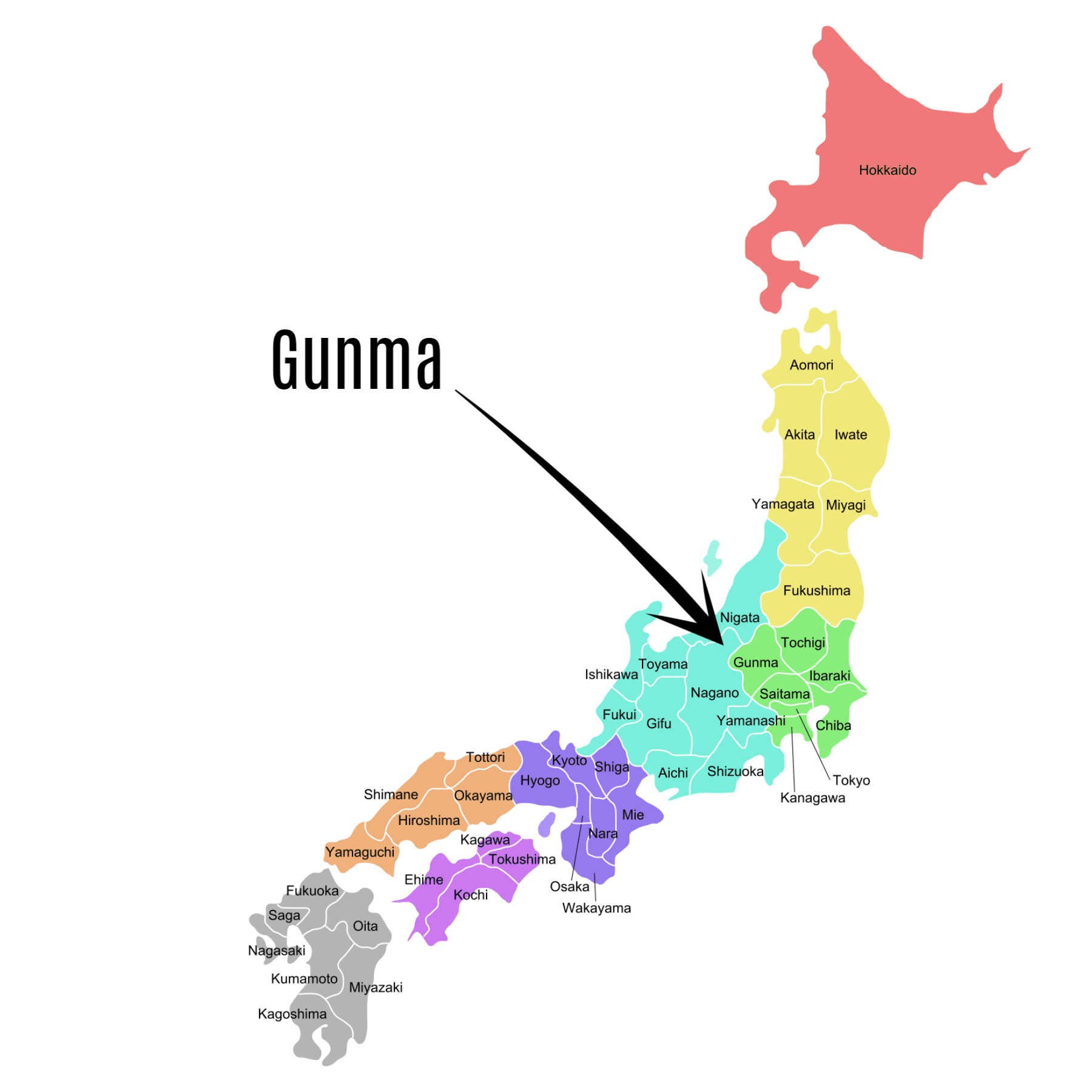 Minakami resorts 
Got a group of mixed ability? You'll love Hodaigi half an hour from the main town of Minakami Onsen. There are ungroomed steep tree runs (up to 40 degrees) on offer plus intermediate style groomers, some beginner areas and terrain park served up with 16 runs and 570 metres of vertical. Lift tickets are Y4300 (around AUD$55).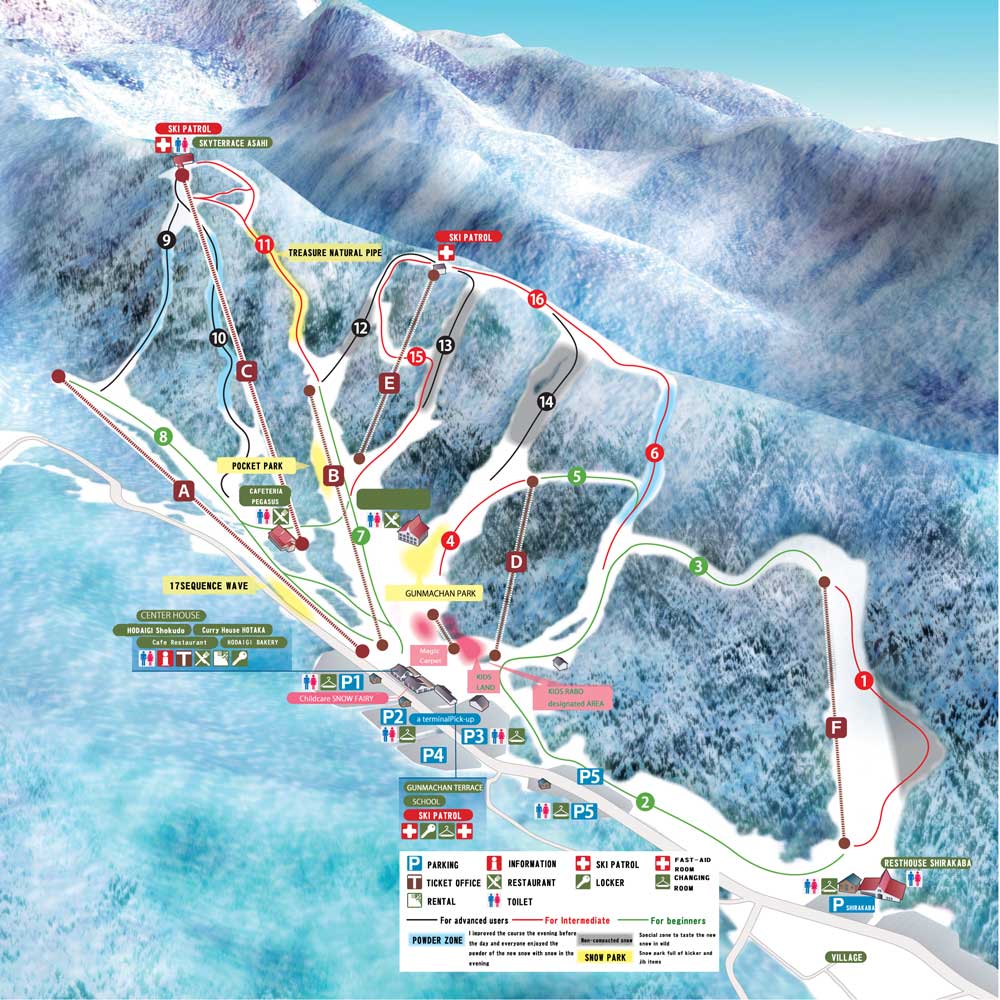 Minakami Kogen Ski Resort is directly linked with the Minakami Kogen Resort 200 hotel complex complete with hot springs. It's a good family option with 11 ski runs (75% groomed) and the steepest pitch is around 32 degrees.
Terrain is a 30/40/30 split between beginner, intermediate and advanced with only 378 metres of vertical but the allure is all the added activities the hotel offers from snow mobiles, dog sleds, snow shoes and more.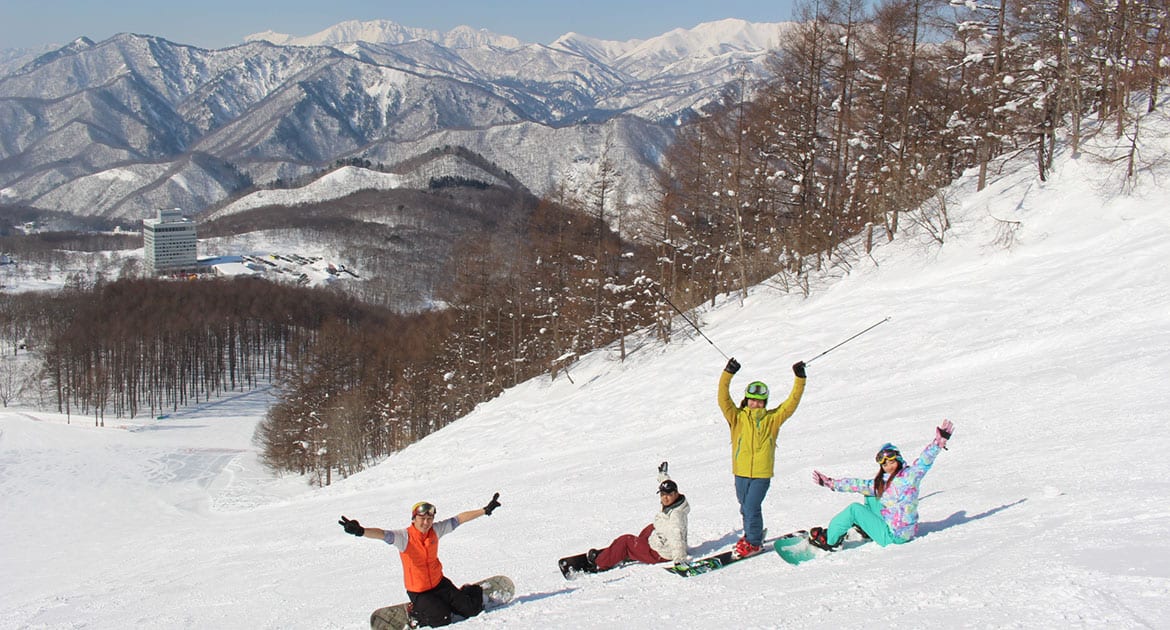 You could also try the cutest little two chairlift White Valley ski area to test your powder legs on their often ungroomed slopes. Again, you won't get a thigh burn as vertical is only just short of 400 metres but you won't get crowds either.
Steep and Deep
The famed backcountry of Tanigawadake Tenjindaira is also found in these Gunma hills. Expect 750 metres of vertical and some serious skiing. The area is known for big storms and bad weather so keep an eye on the forecast, and book in for a few days for weather contingency. You'll be happy when the snow falls as this resort is also known for big, big, big snowfalls.
If you want to ski/ride the resort then expect 9 runs and a handful of lifts plus a gondola that takes you from the valley floor to the resort itself. The resort terrain is again, an even split beginner/intermediate/advanced but Australians in search of backcountry steeps will love this place.
Our contributor, Owain Lansbury referred to Tenjin (as it's known) as the 'Jackson Hole of Japan' for terrain. If you hit the backcountry then take a guide, this is avalanche terrain and needs to be treated with respect, it will also be some of the most fun powder skiing you will experience in your life. 
You'll need to stay in Minakami town or the 'nearby' Tenjin Lodge (Aussie Kieren owns the lodge and is also a backcountry guide). 
Katashina Village ski resorts
Arrive in Katashina and exhale. The town is home to Mt Hotaka, Mt Nikko Shirane and Mt Shibutsu three of the country's top 100 peaks with stunning vistas and the region offers some fun skiing and snowboarding.
Like most of Gunma, Marunuma Kogen ski area is a good day trip from Tokyo option. You'll get 600 metres of vertical, some park riding and a lot of intermediate groomed skiing. The peak sits at 2000 metres and the longest run is 4kms. 
Oguna Hotaka in Katashina Village was formerly known as Snowpal Oguna Hotaka. The resort has 628 metres of vertical, 6 chairlifts, 9 runs and a 30/40/30 split for beginner, intermediate, advanced terrain (steepest pitch is 32 degrees). Like many Japan resorts, it's not huge but you can grab first tracks as the resort offers early openings for freshies and your resort ticket gets you a discount at the hanasaku-no-yu onsen. 
White World Oze Itakura offers 10 lifts, 18 runs and enough ungroomed advanced slopes (up to 40 degree pitch) to keep the advanced in your group happy. There's a base hotel for a ski in ski out experience and hot springs for après. The resort is around 3 hours from Tokyo so not the best option for a day trip. Stay a while and experience the nearby World Heritage Tomioka Silk Mill, Mizusawa Temple and more. 
Kusatsu Onsen
The Yubotake Hot Spring in the centre of Kusatsu Onsen town is phenomenal with 32 300 litters of thermal water power per minute. It's also the access town for Kusatsu Kokusai Resort on Mount Shirane (yes the same volcano that erupted onto the ski hill without warning in January 2018, killing one, injuring others). It's a small ski resort with views of the town below from the main runs and a free shuttle from town to the base lodge.
Want more Japan snowledge? Check out our Japan content here.