Niseko is the powder Mecca of an already powder loaded Japan. It is, for many, the first ski resort in the land of the rising sun that they visit and where they get the addictive taste for Japow.
With big snowfalls, international visitors and a plethora of bars, restaurants, onsens and adventure tours, it may the resort that steals your soul, drawing you back year after year. It did for this seasonaire local.
Alister Buckingham hit up Niseko 10 years ago, as a photographer with Randy Wieman's HotShots. He went on to have powder images published in numerous publications before settling into a full time marketing role with one of the original Japan ski wholesalers, SkiJapan.com.
There's not much he doesn't know about Niseko from where to take the best powder pics to where to sleep, eat and apres.
This is his Insider Guide.
Favorite run
Definitely Annupuri backbowl #1, dropping in from ridge just behind the peak. It's the steepest pitch on the mountain, there's interesting terrain, and it's an absolute blast. It's kind of short, but it's so worth it. If it's the time of morning where first tracks are out of the question, there's usually a few lines left on the faces back there (but shh! Don't tell anyone I told you!).
Powder day
It's gotta be peak to Hanazono following the north ridge (also called Higashi-one). It's a really nice long run with a sustained pitch; wide open at the top and trees lower down to make it interesting. Easily one of the best runs in Niseko.
Gear for Japan
The night skiing in Niseko is amazing, so make sure to bring a clear lens for your goggles. I like the Smith I/O Mag goggle, because it's fast and easy to swap out the lens, and it has a lock so if you tomahawk the lens doesn't fly off. If you snowboard and you value your knees, I'd highly recommend getting yourself a powder board.
My personal favourite is the "Japow" from Weston Snowboards, which you can demo at Hokkaido Backcountry Club in Niseko Village. You can also head to NBS in Hirafu and try the Never Summer Instagator. 
Best apres
Yoko Oh-No's, just down from Lawson and next to NAC. The bar is well stocked, serving cocktails and a mix of Cajun/Mexican food with lots of vegetarian & vegan options, alongside good music and good vibes. (Note: Yoko Oh-No's is in the same spot as Amaru, which closed last season).
Best on mountain dining
I'd have to say the lunch buffet at Niseko Northern Resort Annupuri. It's only ¥2,100 and you can refill your plate as often as you want. Be careful and try to not fall into a food coma when you're supposed to shredding afterwards. I'd say it's worth it though. Honorable mention to Boyoso in Grand Hirafu – delicious meals, affordable, and a real window into the not-so-distant past of Hirafu's humble beginnings.
Best village dining
My absolute favourite in the Niseko area is Prativo; especially their lunch time buffet. The Niseko area is known for its great produce, and Prativo serves a wide range of carefully prepared, locally grown vegetables alongside great mains.
If you're heading into Kutchan, you have to check out Markie Curry for amazing soup curry (a Hokkaido speciality).
Must do activity
Hit up as many onsens as you can! They are all a bit different and charming in their own way. My personal favourite is Yugokorotei near Moiwa. For couples, there's a mixed onsen just down from there at the Niseko Grand Hotel.
Drive ten minutes further and you can find Yukichichibu, an onsen famous for natural minerals in the water. Buyer beware; this one will make your skin will stink for about 3 days.
Best coffee
Fresh Café right by Alpen Ridge and the base of the family run. The hot chocolates come with huge marshmallows.
Best breakfast
I'd say Green Farm Café, but it's being renovated this year. The Slalom restaurant up at Hotel Niseko Alpen often goes unnoticed, but it offers a pretty spectacular buffet spread – great if you're a fan of Japanese style breakfasts.
Best day side trip
Too many to list. Noboribetsu (aka Hell Valley) has a huge volcanic crater, hot springs and geysers. It's about 2 hours' drive away, so you'll probably have to rent a car but it's definitely worth a visit.
Hakodate is a small but lively city about 3 hours south of Niseko. Make sure to visit the Goryokaku fort, the mountain ropeway, downtown shopping district, and numerous historical buildings. Even though the city is relatively new, it has a rich history that was hugely influential in shaping modern Japan. Plus they have great burgers (check out Lucky Pierrot).
Best shopping
For backcountry accessories, I'd say iGate Ikeuchi on the 2ndfloor of Hirafu 188, Toyru near the gondola and NAC past Lawson. For souvenirs, definitely check out Katachi Gallery next to Bang 2, opposite Hirafu 188. There is pottery, paintings, and sculptures and each stunning piece is hand crafted by local artists.
Where do you take visitors to impress them?
I usually take my friends for a drive around the area, stopping in at a few of my favourite spots. There's too many to mention, but here are my top 4.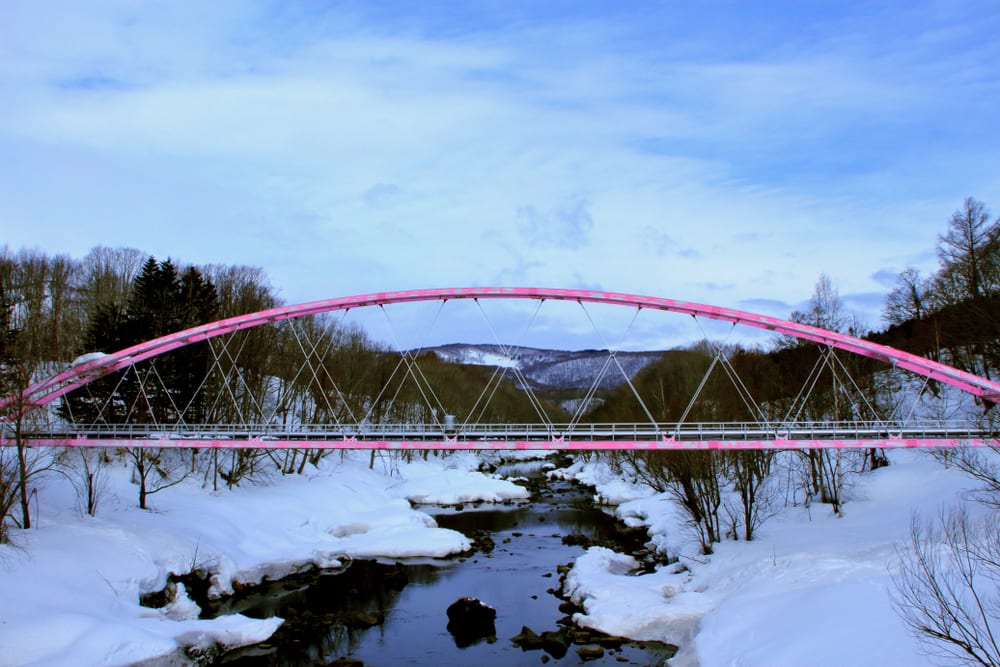 Pink Bridge near Hirafu station – great photo spot with snow-capped rocks along the river.
The Buddhist temple in Kutchan town. It's usually closed during winter, but if you can arrange a visit it's worth it. There are beautiful paintings on the ceiling all painted by the founding priests.
The Shinto Shrine (Jinja) also in Kutchan looks pretty stunning. Seeing tori gates and traditional buildings with huge snow mushrooms never gets old
The spring-water fountain at the base of Mt. Yotei in Makkari. The spring water is melted snow that filters down through the mountains and comes up out of the ground after many years.
Date night
Hanayoshi sushi in Niseko Town. Great restaurant with arguably the best (affordable) sushi in the area.
If you really want to step it up a notch, go to Sushi Shin at Kamui Niseko in Annupuri. This is a real fine dining experience – great for anniversaries (or if you're going to pop the question).
Best family activity
The snow rafting in Niseko Village is super fun. It's a little raft towed through open fields and forests by a snowmobile – good fun and great for the whole family. Hirafu also has a high ropes course, which is the biggest in Hokkaido. It might be cold, but you quickly warm up, and is a great way to spend a few hours. Honorable mention to NAC center which has an indoor rock climbing and a kid's playground.
What should visitors not leave Niseko without doing?
Honestly, the #1 thing I would recommend is Hokkaido Backcountry Club's cat skiing tour in Shimamaki. It's a real adventure, taking you to a nearby seaside town, staying in a traditional Ryokan and getting amazing powder all day.
The terrain isn't overly gnarly, but it's really varied with a mix of steep pitches and sustained slopes. I've done it twice now, and this year they have been granted permission to extend the area they can access for even more terrain. Highly recommend!
What item should visitors take back with them?
Memories and photos. Do as much as you can and take as many photos as you can. This place is something really special and you might not experience anything even close to this ever again.
Join our Miss Snow It All Japan Deals and Chatter Facebook Group