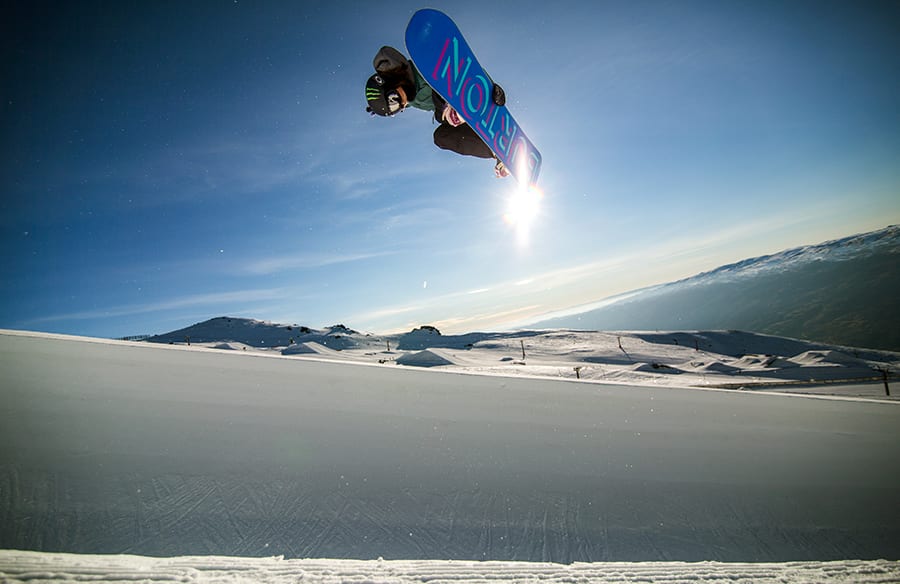 Chloe Kim won gold at the X Games in women's snowboarding half pipe and scored podiums on the Dew Tour and the US Open at the tender age of 14.
She's now fifteen and for five years has called Mammoth her training home. This is her guide to California's Mammoth Mountain.
Why Mammoth
I love the powder in general, the town is great and everyone is stoked on life. It's such a positive environment to be in, and good vibes surround the town.
Best coffee
My favorite coffee place in Mammoth is definitely Black Velvet coffee. It's a craft specialty coffee roaster and espresso bar. I love chocolate so my go-to order is the Cafe Mocha. They also have amazing waffles!
Best après
When I'm not on the mountain, I love hanging out at the lakes. You can hike and drive up to them, a chill spot that my friends and I go to watch the sunset.
Best breakfast
I love the Mammoth Lodge, the place I go to chill after snowboarding on rush mornings. My favorite dish is called "The Florentine", it has everything from hash browns, fried eggs, onions, and spinach.
Special occasion dinner spot
There's a great sushi bistro restaurant called Sushi Rei. For a quick bite, head to this pizza shop called Giovanni's and get the Hawaiian pizza!
Secret scenic spot
We take a few out of town visitors to the lakes quite a bit. One of the lakes in particular, you can walk off the paved road and climb onto the rocks and watch the waterfall. It's really fun and peaceful. Great secret scenic spot.
Secret powder stash
Chair 12 on Mammoth is always really fun and heading into the trees there you can find a really good powder stash. That run is perfect, there are so many different places you can go. I've had to bail out a few friends who've gotten stuck near Chair 12….definitely a memorable experience.
Favorite local character
The famous Mammoth character named Woolly is my favorite local character. You can find him somewhere on the mountain and its hilarious. Sometimes Wooly will cruise around down the hill, and take pictures with everyone who is around him.
If you had to buy one thing to take back with you as a visitor what would it be
They have a really good bakery called Shea Schat's Bakery, where the exterior looks like a castle. Schat's has great sandwiches and orange juice. If I could take 500 sandwiches back with me in a suitcase, I would.
Best Mammoth memory
My first powder in Mammoth was my best Mammoth memory. Growing up in Los Angeles, we don't see that weather and it was so fascinating to see all this snow piled up and coming down naturally. It was crazy and kind of surreal moment for me.