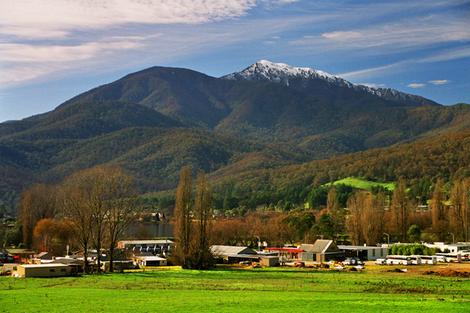 Ski photographer Chris Hocking has lived in Mt Beauty near Falls Creek for over twelve years. He gives Snows Best the local's guide to the village on the valley floor.
Why Mt Beauty?
My wife & I bought a house in town after stringing back to back winters (Falls Creek to Park City Utah). We were planning on starting a family and the equation was right. Good child care centres, hospital, medical centre 5 doctors in town good schools & a ski resort half an hours drive up the road.
Melbourne was never too far away 3.5 hr drive away. I can go for months without sighting a traffic light.
What do you love about MB?
I think its charm is its close connection with nature. The seasons are very distinct. Warm to hot summers, idyllic autumn with colours that would rival New England in the US, Cold wet winters, snowcapped views from your house & knowing that snow is only a thirty minute drive away. Spring warms up once again alive with colour.
Best place for coffee?
Skafferi @ Svarmisk. A slice of Scandinavia in the heart of North East Victoria, Skafferi serves the best coffee in town (Illy). Choose from home made cakes, cookies & light meals to wash down your latte in the casual 'Nordic' setting. You won't want to leave. 93% urban spoon rating!
Best place for après?
If it's wild après you're after you probably won't find it easily in Mount Beauty. They're a thirty minute drive up the road at The Man or The Frying Pan at Falls Creek. Otherwise for a quite beer or wine, most hit the Settlers Tavern in Tawonga South or head to the Sweet Water Brewery in Mt Beauty for local craft beer and live music.
Best place for breakfast and favourite dish?
Skafferi @ Svarmisk wins again. Swedish inspired breakfast roll. For quick stops Treats in South Tawonga & the Mt Beauty Bakery are worth the trip too.
Special occasion dinner spot?
Stockpot (Tawonga South). Run by Mitch Smith & his wife Sum. Mitch in his own right is one of the best freestyle skiers in the Valley, by evening chef of his Modern Australian Restaurant. From free range chicken, Asian fusion to pasta & pizza options this place ticks the boxes.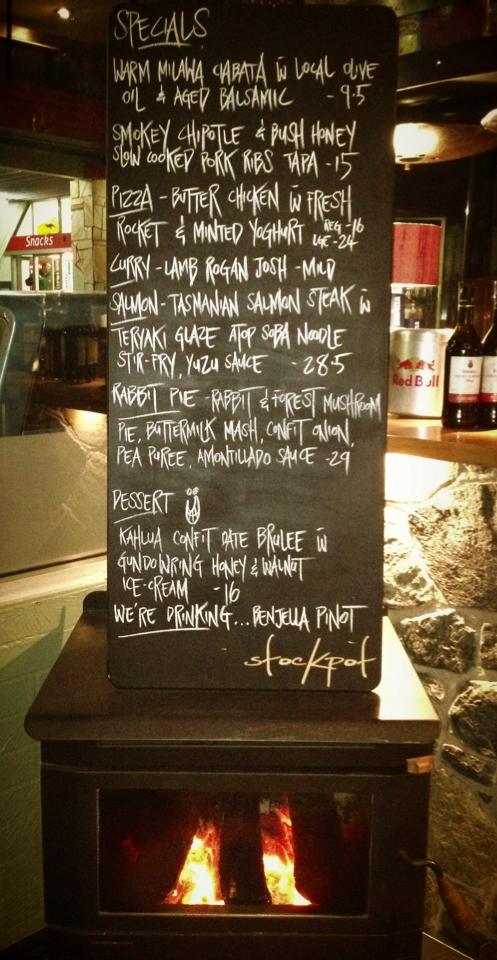 For the kids & family outings 'Flour + Water' for wood fire pizza & weekly Asian dish specials. The kids can draw on the paper tablecloths & road marshmallows to occupy themselves.
What is your favourite event on or off the mountain during the season?
Favourite event is Stylewars at Falls Creek. The big names of the Snowboarding world descend on Falls Creek for world class terrain park action. Ride the Ruined Castle chair for the best seat in the house.
Where do you take out of town visitors to WOW them?
Two spots. Close to town on the Tawonga Gap (the road to Bright) is Sullivan's lookout – an awe inspiring vista of the Kiewa Valley, Mount Beauty township & Victoria's Highest Peak Mt Bogong. Four to five months of the year it's snowcapped.
Second is the top of Mt McKay. In summer months you can drive it. In the winter months join a Steve Lee Backcountry tour for the 360 degree panorama that it brings. On a clear day Kosciuszko is visible along with jaw dropping views of the Bogong High Plains.
Secret powder stash or favourite run in the region?
Cabbage Patch or the Y's in the Summit Bowl. Quick access via the Eagle or Summit Chairs to the best loaded powder at Falls Creek. I can't say too much, I want some powder this season.
Where do you ski the most during winter and why?
Summit Bowl & International/Maze at Falls Creek. It's the perfect combination of tight tree skiing & open bowl skiing. Both areas are serviced by the International Poma, in it's own right has a core following. It serves as a litmus test as to how good the snow conditions are too. If International is firing – the skiing is ON! It's top to bottom skiing at it's best.
Your favourite MB local character and why and where would we find them?
Ken Bell. The pulse of the town, Ken writes and edits the local newspaper 'This Week'. You'll often find Ken at a pub getting the next scoop on an opinion piece or upcoming event.
If you had to buy one thing to take back with you as a visitor to MB what would it be?
Alpine Green Tea that's locally grown and a Sweet Water Brewery four pack.

Don't just take Hocking's word for it, check out our other Insider Guides to Wanaka, Queenstown, Methve, Ohakune, Jindabyne, Mt Beauty and Mansfield as they are updated daily here.