If someone told me I could go to Perisher and ski fresh tracks for an entire Saturday in July, without waiting in a single lift line all day, I'd probably tell that person, 'you're dreaming'.
At least, that's what I would have told them – before I tried backcountry skiing.
I'm no sponsored athlete but I consider myself a pretty experienced skier. I've skied on and off-piste around the world in Australia, Japan, Canada and the US. I've held a season pass to Perisher for the past five years, and I reckon I've tracked out every possible route on the resort map over 15 years of skiing it.
But in all my time skiing, I had never tried backcountry skiing. It was time to change that.
What is backcountry skiing?
For the uninitiated, the concept of backcountry skiing is simple. Instead of waiting in lines for resort lifts to get you uphill, you strap special "skins" to your skis that help you grip the snow as you slide forwards and upwards, then take them off when you reach a peak you'd like to ski down.
The skis have bindings that release your ankles like a cross-country ski for the uphill trek, then click back down for full control of your turns on the way down. The idea is to combine the freedom of cross-country skiing with the adrenaline and control of downhill.
The trend has boomed around the world in the past five years. SnowSports Industries reported a 200 per cent year-on-year growth in sales of backcountry touring equipment in the US in 2017 and sooner or later it was bound to commercially sweep Australian slopes.
Steve Lee at Falls Creek has been running his backcountry snow mobile tours for a number of years, using snow mobiles and a purpose built trailer to transport skiers to the backcountry. Then Thredbo began running self powered (skins and split boards) backcountry ski tours in 2018. And in 2019, Perisher followed suit with small guided tours setting out from Guthega car park and run by Snowy Mountains Backcountry.
It's a great initiative, too, because some of the more easily accessible gentler slopes of the Australian backcountry near Guthega offer an ideal learning environment for first timers.
There is definitely some steep terrain in Australia for the more advanced and experienced backcountry skier but on the low angle pitch of slopes we were trialing on the BC Intro Tour, the risk of setting off an avalanche is lower. Especially when compared to trekking among the steep, powder-laden pitches of American and European mountains.
That said emergencies do happen in Australia and you need to be prepared for the worst. You should always head out with a qualified guide or expert – especially if you're new to the sport and take both emergency beacons and avalanche gear (and know how to use it).
My experience
The Perisher operation is owned by backcountry ski legend and "Mountain Ear" columnist of The Ski Magazine, Doug Chatten, so it promises good things. And when Doug promised he could make my dream of skipping the Perisher lift lines and finding fresh powder for an entire Saturday in July a reality, I challenged him to prove it.
That's how I found myself slogging up a snowy incline out the back of Guthega, with not a single lift line around, and no noise but the panting of myself, my partner Nick and our tour guide and qualified ski patroller Amy as our backing soundtrack.
Nick and I leave our cotton t-shirts at the tour office because Amy gives strict instructions that "cotton kills". Apparently, it's a terrible insulator and holds in moisture.
If you get caught in the backcountry and your sweat cools down, there's a serious risk you'll suffer hypothermia.
Doug decks me out with touring skis and bindings, adjustable poles and a light backpack to carry my prescribed two litres of water and snacks (BYO muesli bars) while Amy talks us through the use of avalanche beacons.
Nick, the first snowboarder to try the tour, gets a pair of snowshoes to attach to his snowboard boots and ties his board to a backpack.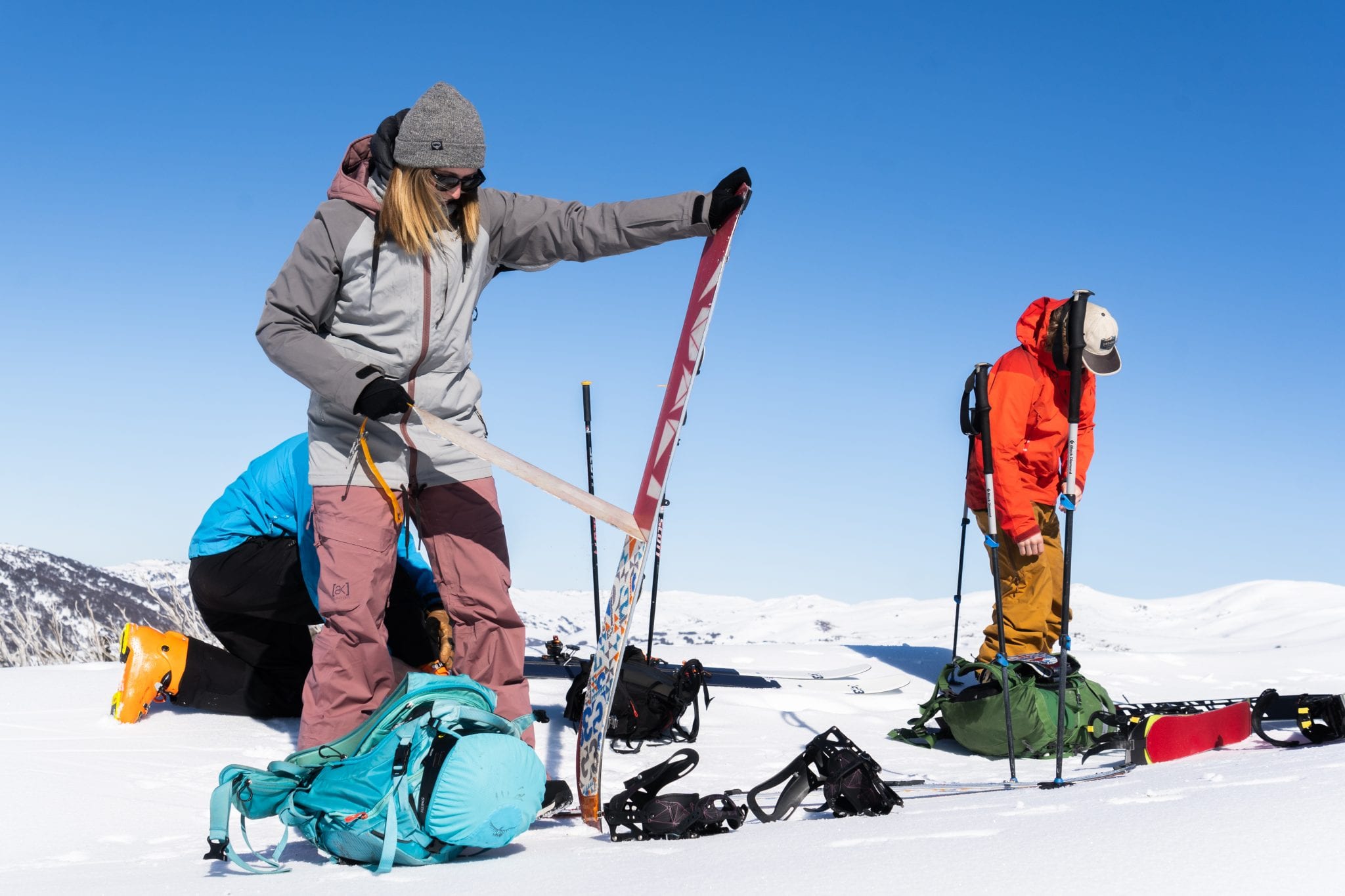 The snowshoes seem less technical to manoeuvre and allow a more direct hike uphill (skiers must make switchbacks up the slope) but Nick trades this off against the added weight of carrying his board on his back.
Amy and Doug warn us that fitness is more important than skiing ability in the backcountry, but the reality of this advice really hits me when I'm out of breath, quads and glutes burning. Nick and I train in the gym most days, run, lift weights, and play hockey and football – but there's no denying that the hiking part of backcountry skiing is physically demanding.
On each of our six ascents, we hike for the good part of an hour before reaching a slope we will shred in less than five minutes. You'd want to be capable of running 10km on foot before you commit to the day of uphill skinning.
Is the effort worth the reward? Absolutely.
We are blessed with six empty, untracked runs between the snow gums. It hasn't snowed in six days, but 10cm of light powder has stayed fresh on top. We're whooping like children as we descend.
I can only imagine the bliss that would come with more snowfall and steeper pitches.
My tips for first timers
Take a guide: Go with an accredited guide or at least a more experienced buddy that has avalanche safety certification and understands safe terrain choices.
Dress: layer up with wool thermals and synthetic materials under your ski pants and jacket (no cotton). Light layers that can be stripped off as you hike and skin up are best.
Food: bring energy-dense snacks that you can ram in pockets like muesli bars, nuts and a crusty bread roll with ham and cheese.
Water: carry at least two litres for a six-hour day, in light bottles or a CamelBak equivalent. A heavy insulated bottle will just add unnecessary weight.
Fitness: you should be fit enough to walk/run 5-10km without much trouble.
Skiing ability: The BC Intro Tour is for upper intermediate to strong skiers able to make turns and control their skis off the groomed snow.
The author was hosted by Snowy Mountains Backcountry.
Want more? Check out the backcountry section of SnowsBest.com for first timers to heli skiers and regular global backcountry enthusiasts.