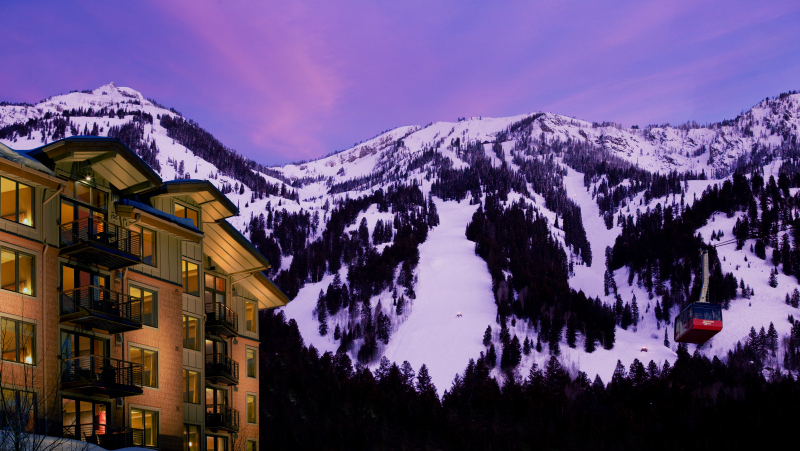 This eco chic slope side hotel in Jackson Hole sets the bar for boutique ski hotels in North America.
Long before hipsters became a thing, Hotel Terra was making a super cool mark on the Wyoming world of hip from its place at Teton Village at Jackson Hole.
Consistently loved by travel bibles Travel+Leisure and Conde Nast Traveller, Hotel Terra boasts 72 rooms and suites steps away from the famous Jackson Hole tram.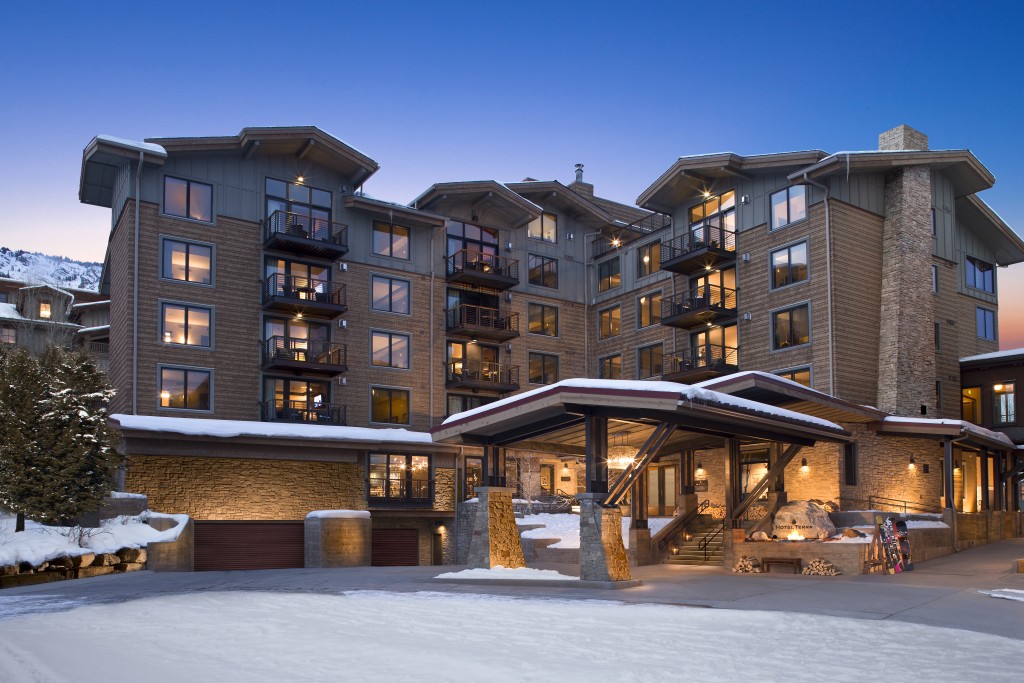 Two eateries serve up gourmet winter fare, local's favourite Terra Cafe for coffee and casual food in a hurry to get first chair and Il Villaggio Osteria for those looking to take their time over some of the best food on the mountain inspired by Italy.
Guests of Hotel Terra are offered aluminum water bottles, handy water stations for refills, and aluminum pump-bottles for bathroom amenities to reduce plastic bottle use.
There's an infinity pool, rooftop hot tub, fitness centre and the Chill Spa for massage and beauty treatments, ski valet and storage and underground heated parking.
Guest rooms have gas fireplaces, in floor heating, deep soaking Zuma Airbaths, flat screen tavs, Bose stereos, complimentary wifi, organic towels and the 100% natural and organic mattress of the Terra Bed.
And fashionistas will love both RODEO Jackson fashion boutique and nearby M.A.D.E.
Green goodness
The Terra Hotel is LEED certified and reduces greenhouse gases by using fluorescent light bulbs that use 75% less energy. The hotel's power usage is offset with the purchase of solar, hydro and wind energy and the organic Terra Bed mattress saves up to sixty pounds of petrochemicals from entering the environment.
Outdoor air is circulated within hotel guest rooms to recoup 81% of the heat from existing stale air and the hotel also uses low Volative Organic Compound carpets and pads, sealants, paints and adhesives.
But wait, there's more eco goodness…
The hotel's water-saving systems, low flow fixtures and dual flush toilets, and native landscaping requiring no irrigation, account for a 34% reduction in annual water use. Runoff water is collected in an underground tank, filtered and released back into the environment at a steady drip, reducing potential pollution. Just one of Hotel Terra's dual flush toilets has a proven water savings of up to 18,000 gallons of water per year.
Steel used throughout Hotel Terra's building structure is 80% recycled, while 50% of construction waste accumulated during the hotel's construction was either reused or recycled. Hotel Terra uses recycled glass in every bathroom countertop and soap dish and the roof of Hotel Terra is also made from 100% recycled "Eco Shake" shingles, created from reinforced vinyl and cellulose fiber from recycled tires and other materials.
The deal
Travelplan are offering 7 nights at Hotel Terra from AU$1389 per person in a two share Urban Studio between January 3 and February 17. They also have stay 5 pay for 4, stay for 10 pay for 8 deals available if you book by December 2 with a further 15% off if you book by September 16. Check out their website or call 1300 754 754.